Historical name and border changes can affect what records were created and where they are held today. In this article, we look at how to find vital records in Galicia, Austria-Hungary. 
Before historical records can be searched for any location, it is necessary to understand the historical names and border changes associated with that place, since this can impact what kinds of records were created and where they are held today. If you have ancestors that reported they were from Galicia, Austria-Hungary in an immigration record, locating that place on a map can be challenging at first glance, since the region is not known by either name today.
The Kingdom of Galicia and Lodomeria [Königreich Galizien und Lodomerien], also known as Galicia, was originally established as a result of the First Partition of Poland in 1772. The former territory was created from the entire southwestern part of the Polish–Lithuanian Commonwealth and became a crownland (province) of the Austrian Empire in 1804 under the name Galicia.
Inhabited by mainly Poles in the West and Ruthenians (Eastern Slavs) in the East, the multi-cultural province of Galicia also had a scattering of ethnic-German enclaves along with Jewish communities centered in cities and other towns throughout the territory.
After World War I, the former Austro-Hungarian province of Galicia was incorporated into the Second Polish Republic [Rzeczpospolita Polska], commonly known as interwar Poland, under the Treaty of Riga in 1921. Further complicating the geographical landscape, border changes after World War II split the lands of the former Galician territory between the Polish People's Republic [Polska Rzeczpospolita Ludowa] and the Ukrainian Soviet Socialist Republic [Украї́нська Радя́нська Соціалісти́чна Респу́бліка]. This means that depending on which part of Galicia your ancestors were from, their vital records could be held in archives or civil registry offices in Poland or Ukraine today.
History of Vital Registration (Births, Marriages, and Deaths)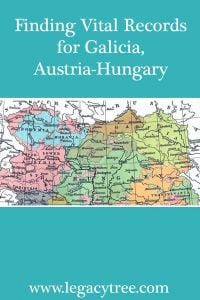 After the annexation of lands to form the new crownland of Galicia, the Austrian government implemented a requirement in 1784 making clergy responsible for recording birth, marriages, and deaths. A part of the new law included standardized columnar format registers.[1] Therefore, searching for Galician births, marriages, and deaths before World War I means searching in parish registers created by individual churches or synagogues, not governmental offices, and it is helpful to know to which religion your ancestors belonged. Austrian laws allowed Jews to maintain registers for their communities under Catholic supervision from 1789, but researchers will find most Jewish registers date from the 1830s or later. Under an Austrian government mandate in 1805, Jews were required to take surnames for the first time.[2]
The current civil registration records for births, marriages, and deaths were not created until the establishment of modern Poland and the Ukrainian S.S.R after World War I. Today, genealogists seeking vital records from Galicia (birth, marriages, and deaths) will find record collections scattered over a wide variety of archives throughout Poland, Ukraine and elsewhere. For this reason, it is essential to know the exact town from which your ancestors came before searching in civil or church records, because records were (and are) kept on the town or parish level and they are organized that way in the archives as well.
Note: Researchers should remember that not every town had a church or synagogue. Determining religious jurisdictions for parishes and Jewish communities is critical to achieve success in locating record collections.
Languages Used
For records kept according to religious confession, you will find many are recorded in Latin for Roman Catholic, Greek Catholic, and Protestant churches with Polish, Ukrainian or Church Slavonic interspersed throughout the records, depending on geographical location. Jewish records are often written in Polish or German but may also have adjacent Hebrew or Yiddish inscriptions.
Poland
Civil registration records in modern Poland are recorded in each town's Civil Records Office (in Polish, "Urząd Stanu Cywilnego", abbreviated "USC"), and records less than 100 years old are generally still kept there.  USC offices are typically located in the Town Hall.[3]
Privacy Restrictions: After 100 years, the vital records registers are scheduled for transfer to the Polish State Archives for the current archival jurisdiction for the town. However, it should be noted these transfers can only take place after 100 years has passed from the most recent entry within the volume.
Ukraine
Similar to Poland's governmental structure, modern Ukrainian civil registrations are maintained by the Department of Vital Statistics and Civil Status (RAHS) [Реєстрації Актів Громадянського Стану (РАГС)] offices for each town or city.
Privacy Restrictions: After 75 years, the vital records registers are scheduled for transfer to the State Archives of Ukraine Oblast Archives for the current archival jurisdiction for the town. These transfers can only take place after 75 years has passed from the most recent entry within the volume.
Accessing Vital Records
The complexity of access to records varies greatly between Poland and Ukraine. Since the introduction of the Polish State Archives digital portal Szukaj w Archiwach (SzwA) in 2013, over 38.4 million digital images of records held by over 100 institutions in Poland have been made freely available for research. In addition to SzwA, the Polish Central Archives of Historical Records [Archiwum Głowne Akt Dawnych w Warszawie] in Warsaw or more commonly known as AGAD, holds records not only for towns found in modern Poland, but for those located in Western Ukraine.
Unfortunately, the Central State Historical Archives of Ukraine has not followed the same path as its neighboring countries with digitization efforts and access to records. While some microfilmed record collections may be found on FamilySearch, many of these records still must be accessed in person, via correspondence, or through an onsite researcher, and still others are stored away in the Civil Registry Offices or still within the holdings of the local parish churches.
FamilySearch's collections of records for the former territory of Galicia can be found via a search of the catalog by country and town name to determine if there are digitized (or microfilmed) records available for a particular place.
If you've hit a genealogy brick wall because you can't find vital records for your ancestor, let Legacy Tree Genealogists' staff of experienced researchers help you. We have knowledge of where to look to help solve your "family history mysteries".  Contact us today to request your free quote.
[1] "Austrian Poland Civil Registration," FamilySearch Wiki, https://www.familysearch.org/wiki/en/Austrian_Poland_Civil_Registration, accessed August 2019.
[2] "Vital Records in Poland," JewishGen, https://www.jewishgen.org/infofiles/polandv.html, accessed August 2019.
[3] "Poland Civil Registration," FamilySearch Wiki, https://www.familysearch.org/wiki/en/Poland_Civil_Registration, accessed August 2019.