Where extant, church records can be an enormous boon to genealogical research. Catholic records in particular are some of the best in the world for three reasons: first, because of the level of family detail they tend to include; second, because of their far reach into the past—sometimes as distant as the late 1500s; and third, for their generally high level of accessibility to researchers today. We at Legacy Tree Genealogists have traced Catholic ancestors for our clients in places like Latin America, Spain, France, Italy, Germany, the United Kingdom, and Eastern Europe, but Catholicism is also found worldwide in other far-flung places like Vietnam, the Philippines, Caribbean nations, and the Middle East.
Background
The Roman Catholic Church is and has historically been the largest Christian denomination in the world, and even today remains the official state church of numerous countries. Catholics believe in (among others) the sacraments of infant baptism, marriage, and burial, administered by priestly rites. Because such rites are considered necessary for salvation in their faith, it has long been important for evidence of them to be recorded and preserved. The importance of the recording practice was cemented by the Council of Trent in the 1560s—an ecumenical council which mandated that parish priests from then on worldwide not only keep detailed books on their local members but make copies and share them with their bishops so there would be duplicates. With Catholicism then spread throughout the world via colonialism in the Americas, Asia, and Africa, these recordkeeping values were transported to new places as well.
The usefulness of Catholic records versus many Evangelical and other Protestant records in genealogy has to do with several key differences in belief and practice between those groups. First, Catholics are a centralized church, with a strict hierarchy that extends all the way up to the Pope as the highest mortal authority. This means that (at least in theory), the practices of the Catholic church (including the priesthood and the sacraments given) are the same throughout the world. This is not so for groups like Baptists, Methodists, and other Evangelical Protestant denominations which tend to have more localized structures. Furthermore, many Protestant groups do not share similar beliefs about infant baptism or the inherently salvific nature of other rites such as marriage or Christian burial. As a result, detailed church records for every member were not meticulously recorded and therefore are not typically available in heavily Evangelical Protestant areas such as the American South (Louisiana being the exception, as it was settled in the 1700s by French Catholic refugees).
Genealogical Value
There are several different types of Catholic records, with baptismal registers being the most commonly used by researchers. While the amount of detail in a baptismal entry can vary by priest, the average document (regardless of country) contains at least the following facts:
Name of the baby
Date and place of baptism (often date of birth as well)
Names of parents, including the maiden name of the mother
Names of godparents/witnesses—often family members
Many baptismal records will also contain the names of both sets of grandparents, and some will even contain racial designations. For example, this is often the case in colonial Mexico where Spanish settlers intermarried with local indigenous populations. Keep an eye out for handwritten marginal notes in baptismal records, too! Many priests would return to the entry years later and make note of the baptized individual's later death or marriage. These clues can lead to other records.
Marriage records usually consist of two types: marriage information packets, and the marriage records themselves. Marriage information packets, or pre-marriage investigations, can be several pages long and contain detailed data on the bride and groom and their families. This was done in order to prove that there were no impediments to the marriage such as bigamy or consanguinity. If the latter was suspected, the investigation files may contain several generations of ancestry as proof that the couple were not too closely related. Witnesses such as family or close friends were also interviewed and invited to testify to the good character and truthfulness of the couple's claims.
Marriage registers are simpler and usually contain only a record of the event having taken place. They will list the names of the bride and groom, the date and place of the marriage, and the names of the parents and/or grandparents of both parties. As with baptismal records, witnesses to the marriage will also be included. If the bride or groom was widowed, the marriage book may contain that designation and the name of the deceased spouse. It may also mention the occupation of the groom. This is especially useful in places like England and Ireland where differentiation needs to be made between several local men with the same name.
Burial records tend to be the least detailed of all, often containing only the name of the deceased and date of burial. In some cases, age or address might be listed, a relative (the parent of a deceased child or husband of a deceased wife, for instance), and in much rarer cases cause of death. The burial records will almost never, however, include such important information as names of both parents or birthplace or birthdate of the deceased.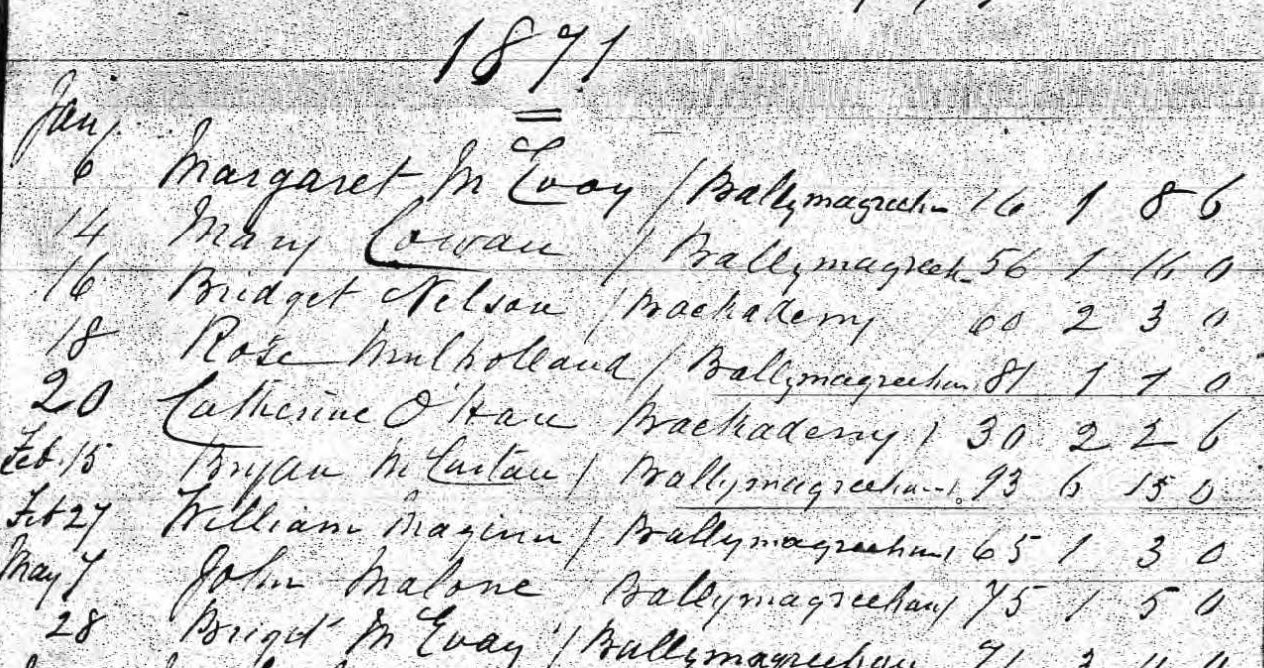 How to Access
Access to Catholic records can vary from place to place. Millions of Catholic books were microfilmed and have now been digitized on various genealogy sites (MyHeritage.com, FamilySearch.org, Ancestry.com, or FindmyPast.com). Many have been indexed and are searchable by name. Each of these sites contains a catalog which can be searched for the records in question.
Otherwise, Catholic documents may still be held in their original form at the parish church or the local diocesan archive. Legacy Tree has found this a common situation in recent projects in Germany, Spain, Italy, and Poland. In such cases, the most reliable method of accessing the records is to send a researcher onsite to visit the repository. Legacy Tree has experienced contacts in numerous countries who retrieve such documents on a regular basis. Letters sent with a fee to the parish or archive can be useful as well, but there is no guarantee that it will be received or responded to—especially if it is written in a language other than the one the priest speaks natively. Furthermore, it should be remembered that as private religious documents, churches are under no legal obligation to share their holdings with the public, and some individual parishes feel strongly about the privacy of their parishioners — even those long dead — and especially in regard to researchers from foreign countries like the United States.
Alternatively, sometimes the local churches are willing to accommodate, but maintain extremely limited hours. Also, books seldom have indexes, so unless you or the researcher knows the exact date of an event (or a very narrow window), searching the books can be quite time-intensive. Finding out more about the availability of the documents in advance is wise, as is contracting with a researcher who is already familiar with the repository and/or priest.
A Few Other Considerations:
Parish registers are most likely to be written in the language of the area, but may also be written (or contain key words) in Latin.
In some cultures, many couples had children prior to marriage and lived together in cohabiting unmarried partnerships. Their marriage later would "legitimize" their children in the eyes of the church. Exercise caution when finding a couple's marriage record and make sure to search the parish baptismal record books for children born both before and after that event—just because a couple was not married yet does not mean they waited until that time to start their family.
In most Catholic countries, babies were baptized as soon after birth as possible—sometimes the same day or week, but usually within the first few months of life. In most cases, this means that estimating the birth window of a child is convenient, even if the record does not give the exact date. However, this strategy does not work well in geographically isolated places without regular access to a parish priest, as the parents would have to wait and then baptized numerous children at the same time. If you observe this in a parish book—two or more children from the same parents being baptized on or near the same day—be aware that it doesn't necessarily mean those children are twins—it may mean they didn't have regular access to a church. This can often be the case in colonial areas which were sparsely settled; parts of Louisiana (USA), Mexico, and South America especially.
In situations of illegitimacy, whether the biological father was named in the baptismal record seems to have been up to the individual priest and/or local culture and legal system. In Ireland, for example, birth fathers were typically listed where known, but this was not as commonly done in records within the Spanish sphere of emphasis.
Foundlings (children who were left abandoned) were often adopted and named by the church, and the names they were given are frequently clues as to their mysterious origins. Some churches in Italy in particular made it easier for struggling mothers to anonymously give up their infants, depositing them in a "foundling wheel," or ruota dei proietti. For more about this topic, check out this Legacy Tree post on the subject: Finding Foundlings: Searching for Abandoned Children in Italy.
Legacy Tree Genealogists has extensive experience in tracing clients' ancestors in Catholic records worldwide. We would love to help you find yours. Contact us today for a free quote.