Language. This can be the most important skill – and also the biggest hurdle – for genealogists seeking their Ukrainian ancestry. For some, the heritage of ancestral languages crosses generations and is still maintained today. However, for those who are second, third, or fourth generations removed from the immigrant ancestor, the language of your ancestors might be a distant memory. Common sentiments shared by fellow researchers are "Baba spoke, but no one else in the family learned…" or "Didu often spoke to other adults, but the children weren't taught so the adults could talk without the children understanding." Many people worry that since they don't speak their ancestral language they won't be able to research their family lines. Luckily that's not true!
Today, genealogists don't have to panic over not speaking an ancestral language. There are tools that can assist you with reading non-English webpages, reading and writing messages, and translating documents. In this article we're going to talk about three of these must-have tools.
1. Google Chrome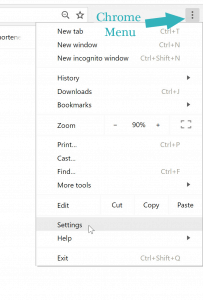 The first tool that you should have in your 'Genealogist's Toolbox' is Google Chrome. It is available for Windows, OS/iOS, Linux, and Android operating systems. The browser has built-in translation functionality. To confirm that you have optimized your browser, open the Settings, then scroll to Advanced Settings. This will expand the list of options, and you should scroll down to Languages. Make sure 'Offer to translate pages that aren't in a language you read' is chosen, and you can also specific how Chrome should interact with pages of other specific other languages. Keep in mind that depending on what version of Chrome you are using these steps and instructions might be a bit different for you, but you should always be able to find the "Languages" section under "Advanced Settings" and go from there.
Since the three main ancestral languages that you may deal with while browsing the internet for Ukrainian ancestry are: Ukrainian, Russian and Polish, you need to set up Chrome's settings with your preferred handling method. In most cases, you would want Chrome to "ask or confirm" that you want the webpage translated from its native language, instead of "auto translate". For those with rudimentary language skills, this reduces the frustration of the annoying side-effect of surnames being translated into their English equivalents. Nothing is more frustrating than loading a webpage and auto-translate occurs, and seeing "Beetle" when you're seeking the surname Жук (Zhuk). Having this feature turned "off" enables you to review the webpage first, allowing you to translate the webpage by a simple right-click on the page and choosing Translate This Page. You can always revert to the original language through a simple right-click or by clicking the key icon in the browser bar when you want or need to.
2. Google Translate
The next tool we recommend is Google Translate. It is not dependent on having Google Chrome, but is available to anyone using the internet or via their app for OS/iOS and Android. For many researchers, Google Translate is a tool used too many times to count. While translations are not perfect, you are able to get the "gist" of the message or get your sentiments translated to send to fellow researchers around the world. One important recommendation is to write simply, like you would to an elementary school child. Don't use idiomatic phrases, slang or compound sentences. Less is more!

As a side note, if you are a Facebook member and want to read non-English messages, using the "See Translation" option often leaves you with less than stellar results. The best method is to copy and paste to Google Translate so that you get a better translation.
Other key features of Google Translate include:
• Keyboard: A cool pop-up feature for typing in printed words or sentences. This feature is helpful with family documents that are pre-printed forms, such as Metrical certificates.
• Handwriting: A super-cool feature to use that is best used on a mobile device or tablet. You can use a stylus to write the word and Google Translate will show its interpretation and variations for you to choose. It will provide a translation after you make the appropriate selection.
• Definitions and Translations: Once you've typed in the word or sentence, Google Translate offers word definitions as used in different parts of speech. Also, under the box containing the translation a list of alternative translations is provided.
3. Language Guides for Ukrainian Ancestry Research
The third tool isn't technology based at all. This is where researchers return to traditional methodology and utilize language guides written specifically for translating genealogical documents. As we discussed, records could have been recorded in a number of different languages depending on the time period and location. Today's Ukraine comes from former territory of the Russian and Austro-Hungarian Empires. Within each of these territories, a diverse ethnic population can be found and their languages did impact record-keeping.
The first language of focus should be Latin. As the majority of church metrical book entries are recorded in Latin by the local clergy, having a genealogical word list for Latin, finding an 19th century Latin dictionary, or the multi-volume set, "In Their Words: A Genealogist's Translation Guide to Polish, German, Latin and Russian Documents" by Jonathan D. Shea & William F. Hoffman, will provide you with a worthy arsenal of tools to tackle interpreting your family's documents. The Russian volume will be invaluable for those researching their Jewish family in the former Russian gubernias in today's central and eastern Ukraine, Lithuania, and Belarus. However, it should be noted that these publications do not contain a complete word list or an example for every type of document.
As you begin your foray into using the metrical records, a common first question beyond the language is first names. No, you won't find Bob or Jane within these records, but a new set of names recorded with Latin case endings. So, John becomes Joannes and Antony becomes Antonius. Again, having a good genealogical word list and a resource like "First Names of the Polish Commonwealth: Origins & Meanings" by William F. Hoffman and George W. Helon will help you wade through the sea of "foreign" first names.
Using these tools will make you a more efficient and effective researcher. Less of your time will be spent trying to decipher documents or webpages. As more and more historical and genealogical websites are being created in Ukraine, Poland, and Russia, these tools open doors that would have been otherwise closed to non-speaking users. And as a bonus to those who have rudimentary knowledge of a language, using the translation functions can actually strengthen and build vocabulary and understanding.
If you have Ukrainian ancestry and need help locating or translating documents to learn more about your heritage, our professional genealogists and onsite agents are ready to assist you. Contact us to discuss the details of what you're looking for, and we'll help you determine which of our projects options works best for your needs.