Searching for a female ancestor? Check the newspaper social columns!
Tracing our female ancestors and learning about their lives can be a difficult proposition in American family history research, so it is important to leave no stone unturned and utilize all the tools available to the genealogist in that endeavor. One such crucial tool in the 19th and 20th centuries is the local newspaper, and the social columns in particular.
Newspaper Social Columns: 19th Century Social Media
In the years prior to the online connectedness of Facebook, blogs, and Instagram, communities used a section of the local newspaper to report on the goings-on of the neighbors. Even in the smallest, rural communities, the daily or weekly publications were home to brief social commentary—who had a baby, who was sick in the hospital, who was in town visiting relatives, and who attended Mrs. Smith's 75th birthday party. In most cases, these kernels can be fun bits of information, flesh on the bones of our ancestors' lives and personalities beyond the skeletal formula of "birth, marriage, death." In other cases, even the shortest one-line entry can be a surprisingly useful clue to solving a mystery.
Solving "Brick Walls" with Newspaper Social Columns
Such was the case with Amelia Winter.
Amelia, born about 1867, was the youngest daughter of German immigrants Phillip and Catherine (Jung) Winter, who had arrived in Allen County, Indiana in the 1840s. She was enumerated there on the 1870 and 1880 U.S. Censuses, alternately by the name Amelia and by the nickname "Mele" ["Millie"].[1]
One by one, most of Amelia's older siblings found spouses and were located in Indiana marriage records, including her sister Elizabeth, who married a man named Herman W. Tapp and would soon become relevant to our research. Amelia herself, however, soon disappeared. No marriage document could be found for her, and she was likewise absent from the death databases and the cemeteries in which her family members were known to be buried. The 1890 census was destroyed for Indiana and no entry was found for the woman—then in her thirties—in 1900 either. It was often easy for unattached women to slip through the cracks of history, dying quietly without documentation. Alternately, they married and moved away to an unexpected area under a different surname and were only uncovered through great effort, if at all.
It is fortunate the Fort Wayne, Indiana newspapers have been widely digitized and indexed online, which made the next steps much easier. On the hunt for a marriage announcement or obituary for Amelia, we found neither, but did locate something else—a clue which shifted the entire direction of research in the form of two sentences in a Wednesday evening "local line," sandwiched between the weather forecast and a price list for eggs and butter at a local shop.
The snippet read, "Miss Amelia Winter left last evening for her home at Joliet, Ill[inois]. Miss Winter had been the guest of her sister, Mrs. H.W. Tapp…for two weeks."[2]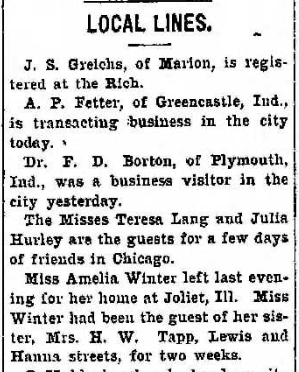 Amelia, still unmarried, had apparently left the town of her upbringing and all of her family and, unusual for a single woman of her era, had moved to a different state. It was her visit back home which was considered noteworthy of publication and which led to a whole new set of records.
Ultimately, she was located in census records in Joliet, Will County, Illinois (indicating her self-support as a dressmaker) and connected to her eventual husband, William H. Pritchard, whom she married sometime prior to her enumeration on the 1920 U.S. Census at the age of 52.[3] Her 1943 death record was the final necessary linchpin connecting Mrs. Amelia Pritchard of Joliet, Illinois to the Amelia "Millie" Winter of Allen County, Indiana, as it listed her correct parents and provided confirmation of her maiden name.[4]
Given the lateness of her first marriage, Amelia never had any children and therefore no direct-line descendant genealogy sleuths looking for her—a fact which made these discoveries all the sweeter.
Newspaper Social Columns: Providing a Record for Otherwise Unnamed Female Ancestors
A look at Fort Wayne newspapers for the same year provides other interesting examples of the doings of women who might otherwise have appeared in regular records simply as the wife or daughter of the men in their lives. Such clues might lead other researchers to other sources as well, perhaps even solving mysteries like Amelia's.
A few examples:
#1: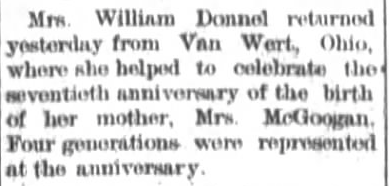 Mrs. William Donnel's journey from Fort Wayne, Indiana in 1896 to celebrate her mother's birthday in Van Wert, Ohio, provides important information about both women. From this one document, we can extrapolate that Mrs. McGoogan was born in 1836 and that Mrs. Donnel may have had roots and other family members in that part of Ohio and may have carried the maiden name of McGoogan.
#2:

Descendants in California interested in their Shrive-Fairfield ancestry would likely be pleased to find this four-line snippet connecting their maternal ancestor to her roots in Fort Wayne, Indiana.
#3:

This entry has several key details crammed into a small paragraph! We have the connection of several generations via Mrs. Barrett and her granddaughter, and perhaps also the Maxwell family whom they visited in Fort Wayne. There is also the fascinating description of Tilda Barrett's involvement with her church—a detail you wouldn't find in a census or death certificate. And while mention of a church is an interesting biographical detail for its own sake, it could also be even more significant than at first glance—many churches kept records of their parishioners and knowing the religious preferences of your ancestors can often be an important step in locating further records about them.
Where Can I find Newspaper Social Columns?
Many newspapers can be found at subscription sites such as NewspaperArchive, Newspapers.com, or GenealogyBank—all of which are continually updating their collections. The major genealogy sites such as MyHeritage, Ancestry, and FamilySearch can also be useful in this regard, as can Google Newspaper Archive (free), Chronicling America (free), and historic newspaper databases run by various state universities, historical societies, and other entities. If, as is frequently the case in smaller communities, the newspapers aren't digitized, try visiting or writing to the local public library or sending a lookup genealogist to go on your behalf. Give the librarian a call ahead of time to determine what collections and years they have.
Another tip: when searching, be sure to look not only for your ancestor but for close family members with whom she was likely to associate. Perhaps she was mentioned in conjunction with another person, but only your ancestor's first name was given, or her name was misspelled, causing her to fail to appear in more targeted searches. Pay attention as well to articles which may not seem useful on the surface. Frequently, genealogists go to newspapers for evidence of the big events—weddings, funerals, obituaries, military service. But as was the case with Amelia, sometimes the brick wall-breaker is the two-line ostensible "throwaway" about a weekend visit, land transaction, or an unclaimed letter at a post office. Whether you're looking to solve a century-long family mystery or simply learn more about an ancestor's personality, don't skip these sources! Want more advice on researching female ancestors? Check out our article, 5 Tips for Finding Female Ancestors.
Legacy Tree Genealogists has helped thousands of clients find long-lost family members and solve multi-decade mysteries. Our staff of highly-trained experts is ready to help you with yours. Contact us today for a free consultation. 
[1] 1870 U.S. Census (population schedule), Jefferson Township, Allen County, Indiana, p. 464B, Christian [Phillip] Winters household, http://myheritage.com, subscription database, accessed September 2018; and
1880 U.S. Census (population schedule), Jefferson Township, Allen County, Indiana, ED 111, sheet 363A, Philip Winter household, http://myheritage.com, subscription database, accessed September 2018.
[2] "Local Lines," the Fort Wayne Evening Sentinel, Wednesday, 26 February 1902, p. 9, http://newspaperarchive.com, subscription database, accessed September 2018.
[3] 1920 U.S. Census (population schedule), Joliet Ward 5, Will County, Illinois, ED 171, sheet 1B, W.H. and Amelia L. Pritchard household, http://myheritage.com, subscription database, accessed September 2018.
[4] Illinois, Deaths and Stillbirths Index, 1916-1947 (transcription only), death of Amelia Pritchard, 5 April 1943, Joliet, Will County, http://ancestry.com, subscription database, accessed September 2018.