Legacy Tree Genealogists works with onsite researchers around the globe. Our editor, Christy, recently traveled to Indiana for a genealogy conference and didn't miss the opportunity to research at this fantastic repository while there. Check out her thoughts!
Fort Wayne, Indiana is home to one of the largest genealogical libraries in the country. The Allen County Public Library (ACPL) is most well-known in genealogical circles as the home of the Periodical Source Index (PERSI), an important and often under-utilized resource. The library also contains the largest collection of English-language local history and genealogy periodicals in the world—they subscribe to more than 4,100 periodicals including newspapers, magazines, scholarly journals, and more! These publications have been indexed in PERSI, and in addition to their availability onsite, copies can be requested via mail from the library itself.
But the Genealogy Center at the Allen County Public Library has so much more to offer the genealogical researcher. Their collection includes over 350,000 printed volumes and over 500,000 microform publications. While it is easy to assume that this repository is relevant only to those with Indiana or Midwestern roots, in actuality their collection covers all fifty states and many countries beyond the U.S.
Key Record Sets
Local History—A particular focus of the ACPL is U.S. local history. Their collection of more than 210,000 local history volumes includes county and town histories, "mug" books, yearbooks, cemetery transcriptions, church records and histories, and other sources documenting the most detailed levels of U.S. society. Of particular note here is the National Union Catalog of Manuscript Collections and the American Genealogical-Biographical Index (AGBI). This last source is often referenced on online family trees, but without any indication of what records are represented. The ACPL, according to their website, holds all of the books indexed in the AGBI.
City Directories—City directories can be a particularly useful resource in sorting out same-name individuals based on address or occupation, in discovering potential associates in the same neighborhood or working in the same field, and in filling in significant gaps left by record destruction. The ACPL holds 48,000+ R.L. Polk city directories both from the present and more recent past, as well as the distant past.
State and Territorial Census Records—Although major databases like MyHeritage, FamilySearch, and Ancestry, have made the United States federal census readily available, the number of state and territorial censuses that have been digitized are far less, but many may be obtained on microform at the ACPL. A complete listing of state and territorial census records held by the ACPL can be found on their website.
Family Histories—Compiled genealogies and family histories should always be used with caution and evaluated based on their listed sources, but they can also often provide valuable clues that might otherwise be missed. The ACPL is home to more than 55,000 compiled family histories from throughout the U.S. and Europe, many of which have only been published in small runs and are not available publicly anywhere else. The library boasts a unique photocopy exchange program. This program allows any family historian to provide the center with their family history manuscript, and the center will photocopy and bind two copies, send one back to the researcher, and add the other copy to their collection. Through this program, the ACPL has gathered materials into their collection that are available nowhere else in the world.
Newspapers—Primarily on microform, the ACPL holds an impressive collection of major U.S. newspapers from the 1800s and 1900s as well as some runs of smaller rural papers.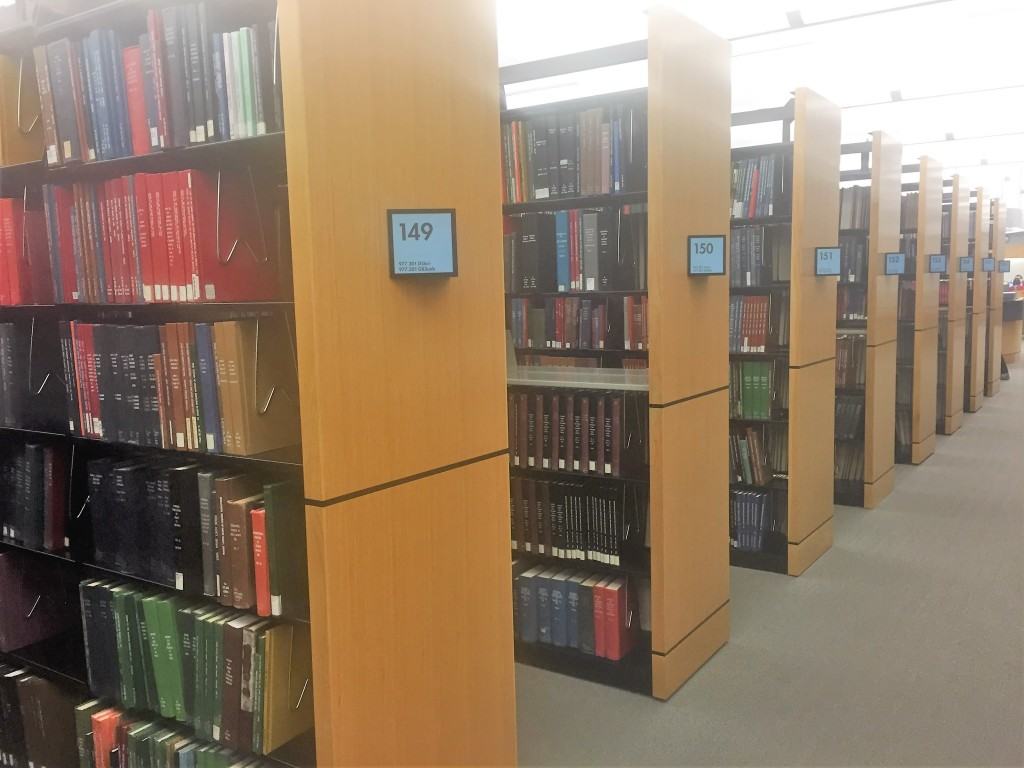 Researching Onsite
Researching onsite at the Allen County Public Library, as with all onsite repositories, should begin with the collection's catalog. The ACPL's catalog is available here, and includes options to search by author, title, keyword, or subject. The catalog can be a bit tricky, and it is a good idea to take a minute to read through the short brochure provided by the library to familiarize yourself with the ins and outs of how the collection is organized. In addition to their full catalog, the ACPL has created several finding aids to help researchers find the records they need quickly. Guides include Adoption Research, Census Research, Newspaper Research, Church Records, and a different section for each state and country. In addition to these, the knowledgeable staff is available to answer any questions that may arise.
A few other considerations should be kept in mind as you plan a research day there as well:
There is no eating or drinking inside the genealogy center; however, there is a lobby just outside with a few tables and couches where researchers can rest or take a break. There is also a small café on the ground floor.
The library will allow you to bring in bags, laptops, pens, pencils, cameras, scanners, and most any other equipment you need for research. If in doubt—ask.
The library is mainly open-stack with no waiting times between record retrievals.
There are four copy machines which all use copy cards purchased at the reference desk. These copy machines can also copy to a USB drive.
There are ten digital microfilm scanners that have the capability to scan to USB or print a hard copy from any microfilm publication.
We highly recommend taking a trip to Fort Wayne to utilize these great facilities, but if you can't make it—Legacy Tree Genealogists' onsite staff is happy to help. Contact us today for a free consultation!