Do you have English ancestry? We review the most requested English records and tips for using these records to build an accurate family tree. 
When seeking to extend your English ancestry, it is essential to first understand the records that are available. Following are examples of the most requested English records that are vital to researchers when building your family tree, and tips for using these records to help build an accurate family tree. 
General Registry Office for Births, Marriages, Deaths (BMD)
The General Register Office (GRO) has maintained birth, marriage and death certificates since 1837. Records in England are publicly accessible and available to order by visiting a local registry office, ordering on the registry website or via telephone. Telephone orders are priced slightly higher to cover administrative costs. Check out our article Ordering Records from the General Register Office of England and Wales for step by step instructions on how to obtain records from these offices.
The types of record services are: 
PDF: £7 (approximately $8.75 USD). The most cost effective and quickest way is to purchase an electronic copy of the certificate. If you want the actual paper certificate, prepare to pay an extra few dollars and then some for the postage. The PDF copy is not a legal document.
Certificate: £11 (approximately $13.75 USD) plus international postage. The turnaround time can vary; for £35 (approximately $43.75 USD) you can secure a one- to two-day turnaround. Certificates are produced on colored paper: red for birth, green for Marriage, and black for death. This might be a nice idea as a gift, framing an ancestor's certificate.

 
To order the certificates in any format, you will need to know the year and quarter (March, June, September and December) along with the surname and first name of the relative, district, volume and page number. The GRO can do a general search, but you could end up getting a stranger's record without knowing the key facts of the family member. For example, if you were born 22 October 1906, you were born in the December quarter of 1906. If you were born 27 December 1906, it is more than likely the record of your birth would fall in March's quarter in the following year. 
FreeBMD allows the user to search all the birth, marriage and death GRO codes, making it easier to order the correct certificate of your ancestor. The site allows searches by mother's maiden name, spouse's name, and age at death or date of birth, all of which will narrow search results. Only births on and after 1911 state the maiden name. 
Birth Records
Certificate color and format have changed over the years. Certificates around the millennial era have abolished the red color and are now portrayed in portrait. There are two types of certificates, long form and short form. The short form only includes details about the baby, whereas the long form includes the parents' details. The short form is free of charge to the parents, compared to the £11 for the long form certificate.
Here are the examples of the short and long form certificates. If you order your ancestor's certificate, you will be guaranteed the long form version. You may see the short form versions in picture hints online.
Regarding the father, if the father is not present at the registration, he will not be on the birth certificate. Despite the mother knowing the name of the father, he must attend in person. Otherwise it will be left blank or have a line drawn through it. The child would then take the mother's surname as their own. If the father died before the baby was born, this is usually stated on the certificate in brackets under the father's name or occupation. The child in this instance would have the father's surname.
Historically, there was a stigma behind being a single woman with a child. Women would avoid this shame by registering the father as deceased. This enabled them to name the father or choose a name at random. Single mothers having sons may name the child after the absent father. 
In my personal research, my three-times great-grandmother cleverly put the father's surname as her daughter's middle name. I was 99.9% convinced this was the case and DNA confirmed my suspicions. The only paternal evidence is DNA; just because a man is named does not mean he is the father.
Baptism Records
Baptism records include lots of information besides an ancestor's religious denomination. Below is John Gittings' baptism. 
Date of baptism: 18 October 1896 – Baptism records can include the date of birth, written next to or after the baptismal record. Baptisms frequently occurred before the child's first birthday. In some instances, they occurred straight away, indicating slim chances of survival. However, you may find your ancestor being baptised later in life.  This was common where families could not afford the cost or time off of work. The sharing of baptisms with their siblings on the same day also occurred for these same reasons.
Name of person being baptised: John – Many parents named their children after themselves, parents or siblings. Middle names can often be the mother's maiden name, preserving her family name. You may also find three children named Edward with all the same details bar the date and year; this sometimes occurred when the parents named their next born after a previously lost child.
Parents Name/s: William and Annie – In 1837, England started recording birth, marriages and deaths and the creation of birth certificates began. People no longer relied on religious documentation. Pre-1837, baptism records are needed to reveal the previous generation of your family tree. When researching names, look out for the abbreviation: William becomes Wm., for example.  
Surname: Gittings – The mother's maiden name may appear in baptisms. This is shown by drawing a line halfway through the section, with the father's name on top, in line with his first name, and the mother's maiden name below, in line with her first name.
Abode: Addison Road – The street name allows you to cross reference information shown in English census records. For example, we know the year is 1896, so by checking the censuses of 1901, 1911 and 1891, we may see this family living in Addison Road with other family members.
Profession: Slater – Knowing the father's occupation can put limits on your research. If there is no father named on the baptism, the profession is usually listed as 'single woman, regardless of whether the mother had a job.
The final box is the priest's signature.
Adoption Records
In 1926, adoption records were legalized in England. Prior to 1926, adoptees could be found easily in census and baptism records. Below is the baptism of John's youngest brother, Henry Jack Gittings. I have included the 1901 and 1911 census, showing the change in surname with a switch of middle and first name, along with the names of his adopted parents. When doing your own research, finding one person can prove difficult if the names vary from record to record.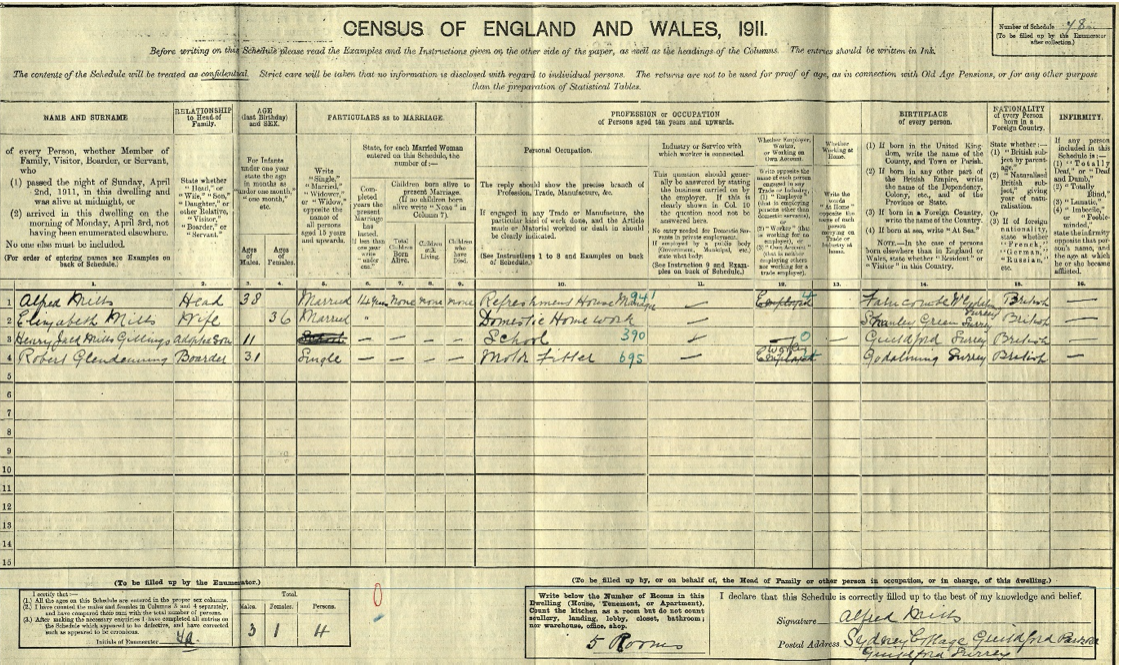 Marriage Records
Marriage certificates have remained in their original format. Wedding banns are read any three Sundays before the wedding. Hints in online sites can mistakenly log the banns date as the actual date of the wedding. Like birth certificates, just because the father is named, it does not mean he is the biological father. You may find an 'X', frequently used by illiterate individuals where others have written on their behalf. Impoverished weddings often occurred on Christmas/Boxing Day to prevent taking the day off of work. When looking at the witnesses on the certificate, double check their surnames as this could be a relative of the bride or groom, in turn being another possible family member to add to your ever-growing tree. For example, the witnesses on this certificate are Miss Martha Niblett, the bride's sister, and John Giddings, the groom's uncle.
Marriage records can be found online through companies such as Findmypast, MyHeritage, Ancestry. Records of marriages that took place in a registry office will have to be ordered at the GRO.
Divorce Records
Records of divorces between 1858 and 1937 can be found at the National Archives in person or online, as well as on genealogy websites. Records before this period were less regimented and therefore harder to find. From 1937 onwards, records are held at the county registrar's office.  
Death Records
The informant on death certificates tends to be a spouse, son, or daughter. Details of the deceased are written down by the registrar and are not always accurate.  
Death certificate formats have changed over time. This can be seen when comparing the death records of John Gittings and his father William. The death certificate is formatted like our long form birth certificates.
The evolution of modern medicine has eradicated many diseases that caused the death of our ancestors. Genetic diseases are interesting to track down, finding patterns within your family history. 
As you travel further back in time, doctors might have written the certificate and are known for their notoriously bad handwriting. Be prepared to painfully transcribe the document.      
Probate & Wills
Probate records can be viewed via sites such as Findmypast and Ancestry and can be purchased through the government website at £1.50 (approximately $1.88 USD); this price has only recently been reduced from £10 (approximately $12.50 USD) per record! Postal orders are also available. 
When searching for the probate record, you will need to know the surname and year of death. You will also need to check the type of Grant of Representation, as not all probates include a will. 
Wills can contain a variety of knowledge, revealing names, addresses, relationships and their wealth or lack of. Prized possessions from a diamond ring down to the bed linen will be listed along with their respective heirs. Reading the will may, therefore, give you an insight into your ancestor's character and what was important to them.     
Cemetery Records
English cemetery records may be found within the parish archives, the National Archives or the cemetery itself. Transcribed records via Ancestry may prove inaccurate. Deceased Online, a subscription site, holds the rights to certain towns/county cemetery records, teaming up with Ancestry, who transcribes them.
Stillbirths
Parents are given a medical certificate which they can present to their local GRO within 42 days of the stillborn delivery. This is optional and not a legal requirement. However, there may be a record of a burial or cremation. Historically, stillbirths are very hard to trace as some mothers had home births and home burials.    
Obituaries
Local newspapers were and still are the popular method of publishing a death notice. The notice is short and sweet. The use of pictures and mini autobiographies is uncommon in England. The funeral directors may put obituary memorials on their web page; the detail and content are on a smaller scale compared to the likes of Legacy.com. Newspaper clippings can be researched at our National Archives, local library, or various subscription sites such as Findmypast, MyHeritage, or Ancestry. The British Newspaper Archive (BNA) also is worth trialling, with over 30 million pages spanning a 300-year period.
Census
The household census records began in 1801. Inaccuracies often occurred as an enumerator carried these out. Ancestors' names would be written as they were heard. When carrying out your research, look for similar-sounding names. For example, the Gittings surname was often spelt without the 'G' (Gittins) or 'GS' (Gittin). When John's sister moved to Australia, the immigration papers were spelt 'Gettings'. 
Children may not show up one year because they have died, are at school or are living with grandparents/relatives. An elderly ancestor who isn't present in the next census may have died. However sad, this information gives you a rough estimate of when they passed, revealing a timeline and narrowing the research of our death records. A teenage daughter in the 1881 census but absent in the 1891 census may have died or more likely married. By researching our marriage records, with her name and location you should find a match. Through the years, more details have been added to each census. Below are the changes and what to look out for.
10 March 1801 – 30 May 1831 – Few records remain, mainly used for a basic head count of the population
6 June 1841 – Name, age, occupation, born in the same county, born elsewhere.

 

30 March 1851 – Relation to the head of household, marital status, place of birth, blind, deaf or dumb.
7 April 1861 –

 

No changes
April 1871 – Economic status, whether an imbecile, idiot or lunatic.
3 April 1881 – No changes.
5 April 1891 – Whether an employer, employee or neither; number of rooms occupied if less than 5.
31 March 1901 – Number of rooms in dwelling, work status, working from home.
2 April 1911 – Industry connection, number of years married, number of children (including the deceased), nationality, infirmity.
19 June 1921 – To be released in 2021
26 April 1931 – Destroyed by fire in World War II.

 

29 September 1939 – Recorded just after the outbreak of World War II; information was used to produce identity cards. The register includes the above plus gender, date of birth and married names, recording single women who have gone on to marry. Blanked-out sections indicate the person recorded is still living, abiding to the 100-year rule.

 

1941 – No census due to World War II
National Archives
Situated between London Heathrow Airport and Central London, Kew is home to The National Archives. Nearby are Kew Gardens, Hampton Court Palace and Bushy Park. Although the National Archives is beautifully organized and worth a day trip if you find yourself visiting England, some records can be purchased online through the National Archives. Some records are also available at Ancestry or Findmypast. The reading room contains newspapers and more in-depth records when it comes to military, immigration and prison records.
If your ancestors are from a naval background, they likely were based near Portsmouth. When looking for records in Portsmouth, you will only be able to view it depending on who holds those rights. The records will be at the archives in Portsmouth or Kew. The brick wall you've hit could be solved by a record sitting in a book in Kew.
Prison Records
Newspaper articles would regularly inform the public of local and national crime cases from petty theft to murder. This can lead you to further your search by obtaining the prison records. If you are lucky, you may come across photographs in the record, although a 'mug shot' may not need framing.    
Criminal registers through the Home Office are held by the National Archives and can be viewed on Ancestry. Criminals, convicts and prisoner records along with judges' reports on criminals and index to criminal petitions are held by Kew and Findmypast. Ancestry holds fewer rights than Findmypast. You may need to use more than one site to answer your research questions.
The Old Bailey is London's central criminal court, and the proceedings of the Old Bailey trial records can be found on their website. 
Military Records
English military records can be viewed online at Fold3 by Ancestry, Forces War Records and the Imperial War Museum (IWM) in London or Manchester. If given the chance to visit the IWM, you will find there is much more to see than just records. For example, you can visit HMS Belfast, the most significant World War II Royal Navy vessel. 
For more historical maritime documents, the National Museum of the Royal Navy in Portsmouth will be your next port of call.
RAF records can be viewed at the RAF Museum in London or in Cosford. The National Army Museum in London contains historical archives from the seventeenth century onwards.    
A website I often use is the Commonwealth War Graves Commission, commemorating the fallen. Its databases include information for 1.7 million men and women who lost their lives in World War I and World War II. The cemetery database features 23,000 locations in more than 150 countries. Once you have located the record you're looking for, you can download a PDF commemorative certificate. Here is an example for John Gittings' nephew William, who was killed in action.  
A great tip when researching veterans is to cross reference the file with medals. World War I medals have the name and regiment number engraved around the rim. You may also find engravings on the reverse side of the medal. World War II medals do not have any personal details on them.
Looking forward
We have lots to look forward to!
Programs such as "Long Lost Family" and "Who Do You Think You Are?" have driven interest in family history and in DNA testing. AncestryDNA tests are popular in England, though many users will not have posted an actual family tree, just their results. Fortunately, you can upload your Ancestry GEDCOM to the likes of MyHeritage and others. 
In 2021, the 1921 census will become available to the public. Many people are excited to view these records, as you will be able to see what affects World War I had on the population. As a fire and war affected both the 1931 and 1941 censuses, we will have to wait thirty years to see the 1951 census in 2051.
With the help of volunteers, the National Archives are constantly transcribing and updating English records and making them digitally available the public
This year alone will certainly feature in the history books. People in years to come will talk about the pandemic of 2020: Marriages and funerals with no guests, postponed weddings, mothers giving birth alone, and Covid-19 being the cause of death on a death certificate. 
As you research your English ancestry, familiarizing yourself with the available records and how they may be used will prove invaluable in your research efforts. Happy searching! 
Legacy Tree Genealogists has extensive experience in tracing clients' ancestors, whether they originate from England or elsewhere around the globe. Wherever your ancestors are from, we would love to help you learn more about their lives. Contact us today for a free quote.