In Part II of our two-part series on how to date old family photos, we discuss how to use women's fashion to date old photos you encounter in your genealogy research.
Sometimes, there are no clues within the photograph or imprinted on it. In those situations, we need to rely on an understanding of the fashions of the 1850s through 1900s, both hair and clothing, to accurately determine when that particular photograph was taken. At least one of the three key aspects of women's fashion—hair, the bodice of the dress, and the skirt of the dress—is depicted in every photograph. Knowing what to look for and what is suggested by hair and clothing styles can assist us in identifying the person or people in our unidentified family photographs.
Using Women's Fashion to Date Old Photos
The 1850s
Hair was parted in the middle, ears probably show, the hair is styled so that there is volume at the side of the face.
The sleeves are set into the bodice to make a sloping shoulder look; the corset is designed to flatten and support the bosom.
Skirts are full and rounded with flounces or layers of ruffles with a hoop worn underneath.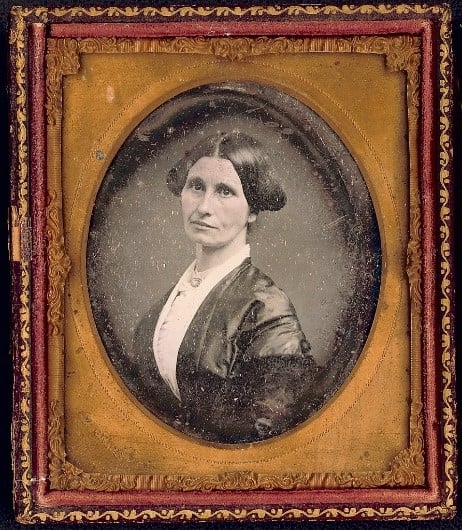 The 1860s
Hair continues to look like the 1850s – parted in the middle, ears showing, volume at the side of the face.
Sleeves designed to make a sloping shoulder, but as the decade progressed the sleeves moved closer to the top of the shoulder; corsets held up and supported the bosom and created a smaller waist.
Skirts become ovals, rather than bell-shaped; hoops are still worn under the skirts.
The 1870s
Hair continues to have a center part with more emphasis on height rather than width, often with a fringe or bangs.
Attention was drawn to the face by the use of bows, lacy collars, and decorative details at the neck of the bodice; sleeves set on the shoulder of the bodice; cuffs are often large and elaborate; the corset is elongated, flattening the stomach and smoothing the hips.
Skirts are narrow and close-fitting with no hoops; bustles of various shapes and sizes; trains not uncommon.
The 1880s
Hair brushed straight back with no part; height, not width, emphasized; hair had a softer look but was still confined.
High, tight collars; corsets created very small waists; sleeves have a "poof" at the top of the shoulder, moving toward leg-o'-mutton style.
Skirts very narrow and fitted in the front; excessively trimmed; trains very small or completely gone.
The 1890s
Hair styled softly, with no severity and excessive height, highly decorative additions to hair.
Decorations on dress concentrated on the bodice; high, stiff, straight collars; leg-o'-mutton sleeves; exaggerated poof between shoulder and elbow.
Skirts have "tulip bell" shape—snug and smooth over the hips with a dramatic flare at the hem.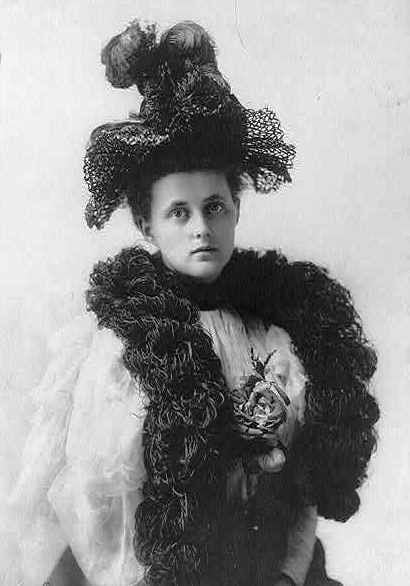 The 1900s
Hair in a pompadour style; huge and elaborately decorated hats.
Corsets extended over hips to the top of legs, bosom lifted and exaggerated, creating an S-curve shape in the upper body; bodice lavishly decorated; sleeves puffed from shoulder to elbow and tight from elbow to cuff.
Skirts heavily frilled, either continuation of tulips bell with a train or tailored.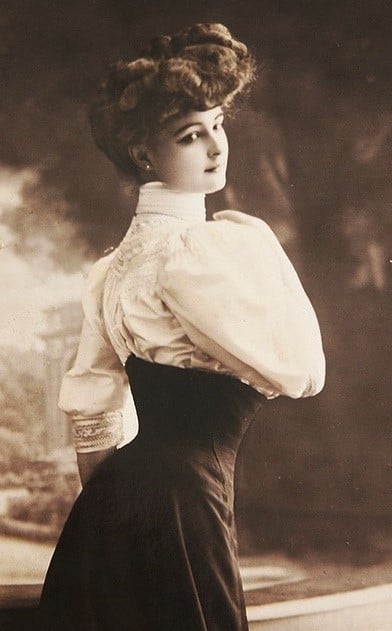 The 1910s
Hair still piled high; curls beginning to return.
S-curve corsets gone, replaced with flat-front corset with a more natural/looser waist; bosom no longer lifted and high and appears to be unconfined (but it is); smock style fronts; v-neck begins to become popular.
Hobble skirts appear briefly; skirts as high as 8 inches above the ankle and full; one-piece straight dresses.
The 1920s
Hair becoming short (bobbed) and crimped; longer hair is less elaborate; cloche hats popular (tight round hat worn over brow).
Elasticized undergarments appear, creating the flat-chested, no-waist boyish look; short sleeves appearing for daytime wear.
Skirt length between ankle and knee, either straight or slight flare.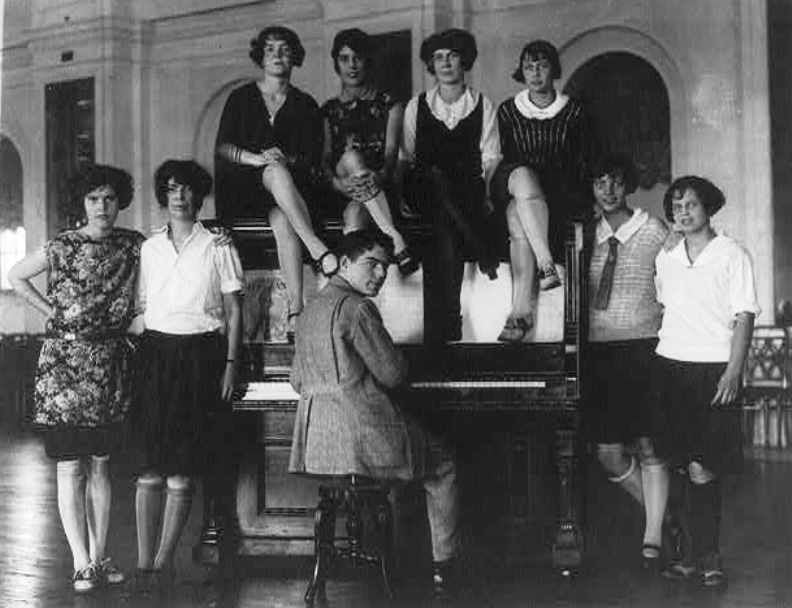 The 1930s
Hair short but not bobbed; softer, curled, more feminine; flat-brimmed hat worn tilted to the side.
Curves back in style with a more natural look; slender, but not boyish, flat look.
Skirts between ankle and knee, either tailored or full; again, more feminine.
There is one important thing to remember when attempting to date photographs based on the style of clothing worn by the women depicted: up to the early 1900s women tended to wear the same style of clothing they wore in their 20s and 30s. It was what they were most comfortable wearing, what they knew how to sew, and what they already had in their closet. Therefore, when dating photographs of middle-aged or older women, it is useful to pay attention to every clue in the image.[1]
Using Children's Fashion to Date Old Photos
Girls' hair parted in the center.
Boys' hair parted on the side.
Boys wore Little Lord Fauntleroy suits between 1885 and 1920.
"Breeching" happened when a boy was placed in pants or knickers rather than skirts. This occurred at around age five until 1890; after that time, breeching occurred around the age of three.
Tips to Figure Out Who's in Your Unidentified Old Photographs
Although it can be frustrating to discover you have photographs with no names to tell you who that person is, there are always clues to assist you in determining the identity of the person—or at least help you to narrow your search.
If the image is of someone who died before 1830, it isn't who you think it is, as there are no photos of individuals prior to that date.
If you have a glass or metal photograph it is likely a very old image, made in the early days of photography, 1850-1880.
Photographs printed on paper began in the 1860s.
A sepia-toned photograph dates from the 1880s through the 1900s.
Hand-coloring can occur in any era.
Full-on colored photographs are generally from 1935 or later.
Observe clues within the photograph—a sign, an automobile, something which can be traced to a specific date and/or place.
Look for the photographer's imprimatur on the back of the photograph or stamped on the bottom.
Consider the hair and clothing of the person or people in the photograph. Women's fashions changed from year to year and what a person wore to be photographed can provide valuable clues for dating the year the image was made.
If you need assistance putting a story to the photographs in your collection, Legacy Tree Genealogists can provide a well-researched narrative history of an individual, a couple, or an entire family. Contact us today to get started!
[1] Except where noted, all photographs are in the public domain and can be found at the Library of Congress's website https://www.loc.gov/pictures.