Finding photos of ancestors is one of the best ways to bring their heritage to life. Here's how to find family photos online.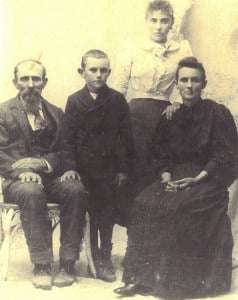 As professional genealogists, our job is to seek out the details of ancestors' lives so that our clients are able to understand the people with whom they share a connection. These bits of information can include occupation, military service, education, immigration, religion, and more. A question we get pretty often is "Can you find photos of my ancestors?"
One of the best ways to make the history come alive for both our clients and ourselves personally is to find photographs of those ancestors, so we definitely love to try! However, this can be challenging since photography was in its relative infancy during the 19th and early 20th centuries. Having a picture taken was far less common, and it can be difficult to track down who ended up with it 150 or more years later. As with most things in genealogy, however, sometimes it just takes a little creativity and knowing where to look!
How to Find Family Photos
The first recommendation is to reach out to distant relatives. Great-aunts, second cousins, and even your grandparents may have old photos you didn't even know existed. Many genealogists have had the experience of reaching out to a previously-unknown relative and being showered with stories, pictures, books, and other family artifacts that they simply had not known what to do with otherwise.
Second, use the wealth of the internet! There are now several wonderful sites that exist for people to share their historical photos. Some specialize in taking in "orphan photos" found in attics and antique shops and working to find out the identity of the person pictured. Here are a few:
This free site contains both a searchable index to identified photos uploaded by users as well as a mystery section of those whose names are not yet known.
Debra Clifford has amassed an impressive collection of 19th century photos, along with other memorabilia and artifacts like posters, papers, journals, family Bibles, and other treasures. Each contains an image, the quality of the item, and the name of the person identified in it. These are then for sale, typically in the $10-$20 range.
A bit like a genealogy Pinterest, Ancient Faces allows you to search, upload, and even comment on others' historical family photos, all for free.
Having met the owners of this site at the National Genealogical Society conference in Richmond, Virginia last year, we can attest that JustaJoy's heirloom collection is worth checking out! They describe themselves as "antiquers" and sell not just family photos, but other heirlooms as well. Like many other groups of the kind, JustaJoy's collections are too massive to post each individual item on their website. However, they keep their surname index up-to-date.
Yes, the popular social network site can be used for genealogical purposes! There are tons of groups organized around the genealogy of a particular place – Tennessee, or Madison County, Indiana, for example. Although these are generally places where people researching in those areas can collaborate, get help, and meet relatives, they frequently also post photos. Simply search for the geographic region you're seeking in the search bar at the top of the page and request to join the group you've chosen.
And finally, definitely don't neglect the mainstays of Ancestry.com and FamilySearch.org. Both have user-generated trees containing thousands of photos and stories uploaded by patrons. You never know what you'll find.
Happy hunting!
We'd love to help you with your family history, whether we're breaking down brick wall mysteries, finding your biological parents, or just starting from scratch finding the stories about your ancestors. Contact us today for a free consultation.