When researching your ancestors, U.S. passport applications can be a goldmine for genealogical information! 
We have a wide variety of documents to search for information about our ancestors: birth, marriage, and death certificates come to mind, as well as baptismal records, census forms, obituaries, and naturalization documents. But another source is one that we don't often consider: passport applications. If you have any ancestors or relatives who may have left the country at any point – even just on vacation – this is an excellent resource not to be missed.
Passport Applications and Genealogy
In the United States, passports have been issued since October of 1795.  They were not routinely required until 1941, yet almost half a million passports were issued before 1900. In total, FamilySearch.org has a collection of over three million passport applications available for the years 1795 – 1925. Many of those applications have been indexed and all of them can be searched here.
Passports were often issued in the name of the head of the household, with the wife and children who were traveling noted on the document. If a woman was traveling alone, however, she could acquire her own passport. If her under-age child or children were traveling with her, they would be included on the mother's passport.
Information Found in Passport Applications
Early passport applications contained only very limited information. John Armstrong's 1830 application gives us a vivid description of his appearance, but little more. The document noted that John was 67 years old and stood five feet six and a quarter inches tall. He had blue eyes, grey hair, a fair complexion, and an oval shaped face. In addition, we learn that his forehead was "rather high," his nose was "rather long," he had a "common" mouth, and a "round" chin: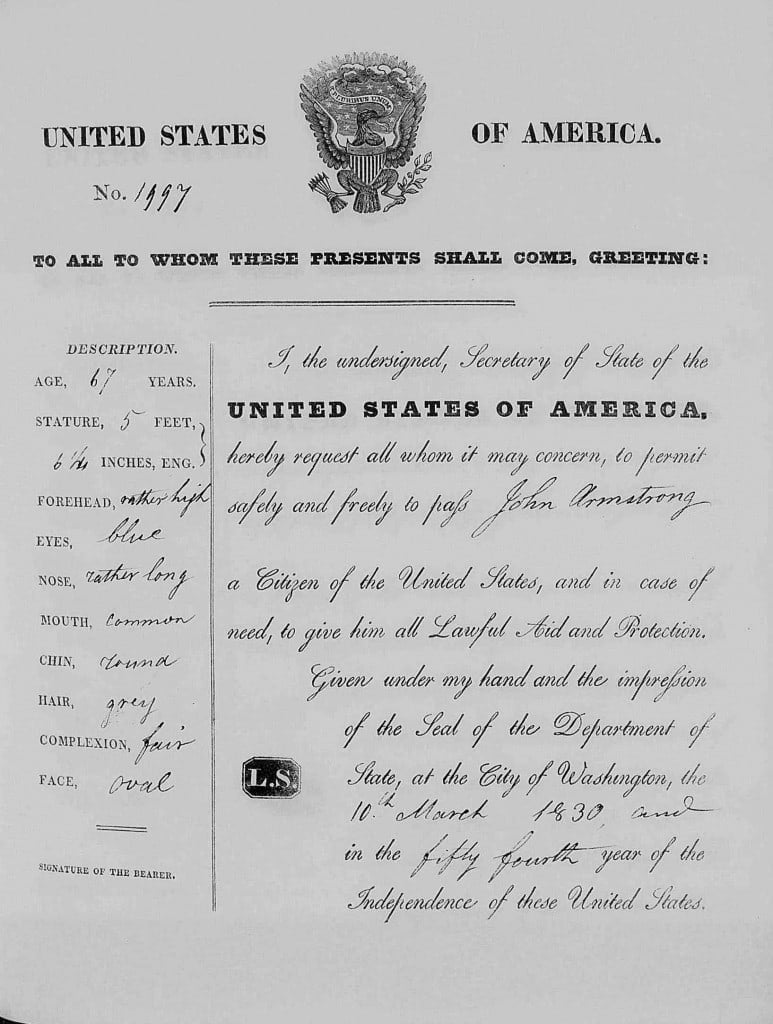 Later passport applications (those created in the 20th century) contained much more information, as the 1923 document for Carlton P. Mills exemplifies. Carlton's application notes that he was born in Williamstown, Massachusetts on 29 April 1857. His father, Benjamin F. Mills, had also been born in Williamstown, but had died prior to 1923. Carlton's Boston-born wife, Alice K. Mills, planned to accompany him on the journey and so was included on his application. As proof that they were married, Carlton and Alice provided the date of their wedding almost three decades prior: 28 April 1896.
In addition to biographical information, residence and employment data were also recorded, as were the particulars regarding the proposed trip. At the time of his application for a passport, Carlton lived in Lexington, Massachusetts where he was employed as a clergyman. He and Alice intended to visit relatives for three-and-a-half months in France, Belgium, and England. They had already booked passage on the S.S. President Garfield and planned to depart on 23 May 1923:
On the back of the application was a description of Carlton's physical appearance. As with earlier applications, this one, too, was quite detailed:
An affidavit was sworn to by a third party verifying that the applicant was Carlton P. Mills, and at the bottom of the application a photograph of Carlton and Alice was affixed. (When searching these documents for your ancestor, be sure to "turn the page" by clicking the arrow to go to the next image. Photographs tended to be pasted on the back or second page of the application rather than the front.)
Who Was Eligble for a Passport?
Naturalized citizens were also eligible for passports, and their applications can be very useful in tracing them to their original places of birth. In 1905, Leon Gabriel Szefczyk, a naturalized citizen, applied for a passport. A designer living in New York City, Leon attested that he was born in Gursztyn, Galicia, Austria (what is today a part of Poland) on 18 March 1882. He arrived in the United States on 4 October 1898 aboard the S.S. Barbarossa, and had become a naturalized citizen of the United States on 21 July 1904:
Although not everyone applied for a passport, these documents are a potential gold mine of information for those ancestors who needed or wanted to travel abroad. Except for the very earliest passport applications, we can learn the date and place of birth of the applicant. Oftentimes the name of the applicant's father or husband was included on the form. Every passport application included a physical description of the applicant and after 1914, a photograph was required. Check them out!
If you need assistance finding out more about your ancestors, with or without passports, Legacy Tree Genealogists can help. Contact us today to request a free quote!
All passport images used in this article are taken from United States Passport Applications, 1795-1925, https://familysearch.org.