The occupation of "keeping house" in the 19th Century, was no easy task! Here's a look at what such an occupation may have entailed for your ancestors. 
Fanny Belle Kough was eighteen years old when she began her vocation of keeping house, as noted on the 1880 United States Federal Census:
Becoming the wife of Hatch Harman on 16 December 1879, Fanny Belle kept house for a man more than twice her age and his eight-year-old son from a previous marriage. Eventually, Fanny Belle would also keep house for the five children she and her husband would have together. The daughter of an Irish immigrant and a Kentucky native, Fanny Belle lived forty of her forty-two years in Hickman County, Kentucky. Her final resting place was in the beautiful, tree-lined Oakwood Cemetery in Hickman County, just a few miles from where she was born.
Fanny Belle and Hatch Harman lived during a time of certain cultural expectations and familial patterns. One of those expectations was painted in bold colors on the 1880 United States Federal Census. Nearly every wife enumerated on the census reported her occupation as "keeping house." What did "keeping house" mean to Fanny Belle and the families living in 1880? What were the expectations?
The Culture of "Keeping House"
Advice literature during the 1880s educated women about the nobility found in keeping house. "To be a homemaker is…a privilege which none dare think slightingly of," expressed Mrs. John A. Logan, "for is not the position of homemaker one which, nobly performed, will bring to every good woman the promise spoken of in the Bible, that 'her children will arise and call her blessed?'"[1] Keeping house was the way in which a woman nurtured her family, as expressed by Shirley Murphy in her book, Our Homes and How to Make Them Healthy. "A clean, fresh, and well-ordered house exercises over its inmates a moral, no less than physical influence," counseled Murphy, "and has a direct tendency to make members of the family sober, peaceable, and considerate of the feelings and happiness of each other."[2] A messy, unkempt home indicated a less than moral family and probably a less successful family than one who resided in a well kept home. "Many a day-laborer, on his return at evening from his hard toil is repelled by the sight of a disorderly house and a comfortless supper," lamented Mrs. M. H. Cornelius in her book, The Young Housekeeper, "and he makes his escape to the grog-shop or the underground gambling room."[3] A wife who failed at keeping house caused irreparable harm to the members of her family.
A woman keeping house could expect to be measured by the state of her home. In their book, The American Woman's Home, Catherine Beecher and Harriet Beecher Stowe lamented that women were not trained for their vocation of house keeping the way men were trained for their worldly vocations. They wrote, "Women are not trained for these duties as men are trained for their trades and professions. . . .nor is there any qualified body to certify that a woman is duly prepared to give proper instruction in her profession." [4] Beecher and Stowe worried that as mistress of the home, the unprepared woman would not be able to "honor and enjoy" her duties. They explained that a woman's profession "embraces the care and nursing of the body in the critical periods of infancy and sickness, the training of the human mind in the most impressible period of childhood, the instruction and control of servants, and most of the government and economies of the family state." [5] Proper housekeeping was to be the goal of every lovely woman.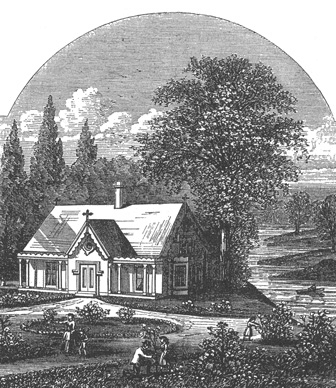 The "Christian house" as depicted in The American Woman's Home
In reality, keeping house in the 1880s involved hard manual labor including sewing, cooking, cleaning, laundry, nurturing children, and often outdoor work like milking, gardening and caring for animals. Nineteenth-century kitchen ranges were fueled by coal or wood. Water had to be hauled in and boiled on laundry day. Food was preserved in jars. While men slaughtered the larger animals, women keeping house "killed and dressed poultry and did all the rest."[6] Butter had to be churned, coffee grinded, and bread baked. Laundry was termed the "weekly affliction" and was most often done on Monday, followed by an entire day of ironing on Tuesday.[7] The items being washed were often hand made by the women keeping house. And the one keeping house was to do all this with a "cheerful temper" and be one who "carries an atmosphere about her which imparts a soothing and sustaining influence."
Keeping house in the nineteenth century was full-time, all-encompassing work seen as the salvation of the family, employing nearly every married woman of the day.
The experts at Legacy Tree Genealogists have the knowledge and experience you need to help navigate the various nuances you may encounter as you explore your heritage. Our network of researchers extends all over the world, meaning we can access records necessary to extend your genealogy as far as possible. Contact us today for a free quote!
---
[1] Mrs. John A. Logan, The Home Manual, (Boston: A. M. Thayer and Company, 1889) quoted in Norton Juster, So Sweet to Labor: Rural Women in America 1865-1895 (New York: Viking Press, 1979) 103.
[2] Shirley F. Murphy, Our Homes and How to Make Them Healthy (London: Cassell & Co., 1883) 312, Books.google.com, accessed August 2014.
[3] Mary Hooker Cornelius, The Young Housekeeper's Friend (Boston: Tagard & Thompson, 1868) 9, Archive.org, accessed August 2014.
[4] Beecher and Stowe, 14.
[6] Harvey Green, The Light of the Home (New York: Pantheon Books, 1983) 66.
[8]Beecher and Stowe, 212.