A surprising ethnicity estimate leads Tom to explore the possibility that the father who raised him was not his biological father.
Sometimes, genetic genealogy test results don't fit with what you might expect given what you know (or think you know) about your family tree. These anomalies can sometimes be explained by the way in which estimates are generated. Other times, surprising ethnicity results are instead due to cases of recent misattributed parentage. Such was the case with Tom.  We share his story with permission. 
Tom's Story
At 70 years old my wife figured I didn't need another shirt for Christmas so she bought me a DNA kit. I was in no hurry to send it in as I knew my ancestry. My Mom was Irish on both sides and my Father's Dad was an Irish immigrant and his Mom was born in Germany. I always just considered myself Irish.  
After much pestering I finally sent it in. The results came back that I was largely Italian. I dismissed that as ridiculous and bought a DNA kit from a different company. When these results came back exactly the same as the first kit, I figured they must copy each other's results. Still, I was troubled by this. My wife said, "At your age why not just forget it." But I couldn't. I had to find out the truth, and if these tests are correct, I had to find out who I am. 
An Unexpected Ethnicity Estimate
Tom took autosomal DNA tests at several different testing companies. Individuals inherit half of their autosomal DNA from each of their parents. Beyond that, the amount of DNA shared in common is only approximate due to a random process called recombination, which shuffles the DNA each generation. Each individual will inherit about 25% from each grandparent, 12.5% from each great-grandparent and approximately half the previous amount for each subsequent generation.  
From what Tom knew about his ancestry, he expected to find Irish and German ancestry. When our researchers at Legacy Tree Genealogists reviewed his ethnicity results at several testing companies, we confirmed that while he did have some British and Irish admixture, approximately half of his DNA was found to originate from Southern Europe and North Africa – an admixture profile typical of individuals with ancestry from southern Italy and other Mediterranean populations. Since each individual inherits exactly half of his or her autosomal DNA from each biological parent, Tom's test results suggested that one of his parents had Italian ancestry, rather than the expected Irish or German. We suspected that either one of Tom's parents was not his biological parent or that one of Tom's parents was adopted. Determining which scenario was more likely would require more investigation.  
Tom's Story
Determined to find out who I really was, I did a Google search for 'genealogy research companies.' After reading reviews, I called Legacy Tree Genealogists. I found them polite and understanding so I hired them.   
When I received my completed research project, it said the man who raised me was not my biological father. My first reaction was negative and upset, but I soon regained my determination to find out who I was. The folks at Legacy Tree were amazing. "These are your paternal grandparents who immigrated to the USA from Sicily," the report said. One of their sons was my father. 
Examining Genetic Matches for Clues
While genetic genealogy test results do provide ethnicity estimates that can offer genealogical context and clues, they also include lists of genetic cousins whose relationships are much more useful for proving genealogical connections. Review of Tom's DNA match lists revealed that not only did he have ethnic admixture linking him to southern Italy, he also had close genetic cousins who descended from a family of Italian immigrants. Based on the relationships between these individuals, it seemed most likely that Tom was also descended from this same family. While Tom had genetic cousins who were related through his known maternal ancestors, suggesting that his proposed mother was indeed his biological mother, he had no genetic cousins who could be identified as relatives of his proposed paternal ancestors, suggesting that the man who raised him was not Tom's biological father.  
Genetic genealogy testing companies prioritize and organize genetic cousins based on the number of centimorgans of DNA they share with a test subject. Centimorgans are a unit of measurement commonly used in genetics to specify how much DNA two individuals share in common. Larger segments with high centimorgan values typically suggest that two individuals share a recent common ancestor. 
Collaborating with Descendants
Tom had a close estimated first cousin match who was sharing 836 centimorgans on 36 segments of DNA. Given this amount of shared DNA, there was a 95% probability that this match was indeed Tom's first cousin. Unfortunately, however, this match had published no family tree or identifying details in connection with their DNA test profile. Even so, using just the unique username of this match, we performed a search on BeenVerified and determined the identity of the match. The match's BeenVerified profile revealed details of the match's father, including his birthdate and death date. We were able to use this information in conjunction with other genealogy research websites to extend the match's family tree, find how he was related to other genetic cousins and identify the likely paternal grandparents of Tom: John S. and Grace L.  
John and Grace were natives of Sicily who migrated to New York around the turn of the twentieth century. After their marriage in 1903, they had fourteen children, including eight sons. One of those sons was the father of Tom's first cousin match and therefore could not be the father of Tom himself. If he were, then Tom would share much more DNA with his genetic cousin. The seven other sons were each an appropriate age to have been the father of Tom, but the youngest three were less likely given their ages. Additional exploration revealed that two of the older sons were living in the same city as Tom's mother around the time of Tom's birth, making them likely paternal candidates.  
While both of these candidates are now deceased, their obituaries revealed they both had living descendants. Using the details reported for these descendants from the obituaries, we located contact information for Michael, a son of one brother, and Carla, a granddaughter of the other brother. Both individuals agreed to test.  
Michael's Story
Several months ago, I received a phone call from my cousin Carla. Little did I know that this would turn out to be one of the most important calls of my life. She told me about a call she had from a stranger by the name of Tom. Tom explained to Carla that he was researching his heritage and discovered that the man he knew as "Dad" for seventy years was NOT his father. As with anyone hearing this type of news, Tom was very upset and really needed to know who his real father was and who, if any, the rest of his new family were. 
 At first, I was very upset and skeptical since my father was a prominent surgeon and family man. Could this be one of those scams I had heard all about? Then I thought that if this were me looking for my real father I would hope that someone would be kind enough to help. I was in my early seventies, and after much pondering and prayer I decided to send in my DNA just as Carla had sent in hers.   
Honing In On the Results
Assuming that Tom was the biological son of one of these brothers, then there were two possible relationship scenarios with Michael and Carla:  
Tom was the half brother of Michael and a first cousin once removed to Carla; or 
Tom was a half uncle of Carla and a first cousin of Michael.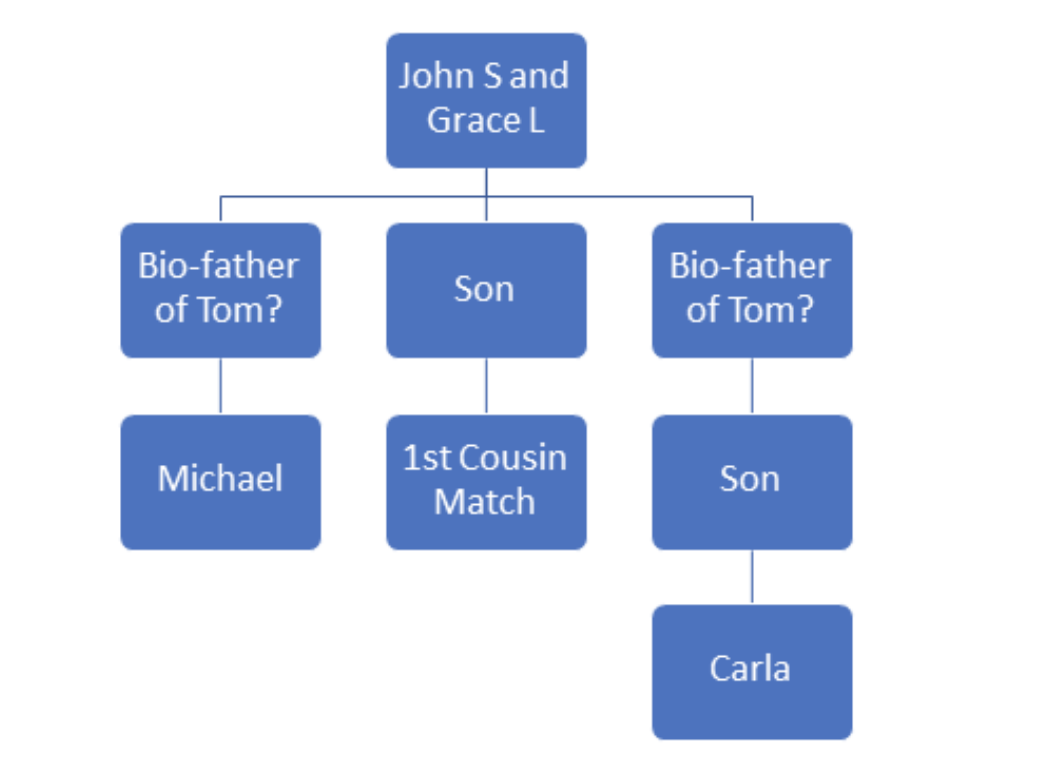 Carla's test results were the first to complete processing, and they revealed that she shared 838 centimorgans of DNA with Tom. At that amount of sharing, there was a 96% probability that she was a half niece and only a 4% probability that she was a first cousin once removed. If these were the only test results that we had obtained, then we might have concluded that Tom was most likely the biological son of Carla's grandfather. However, when Michael's DNA test results completed processing, they left no room for that possibility.  
Michael shared 1987 cM of DNA with Tom. This amount of shared DNA is only possible for half sibling, uncle/nephew and grandparent/grandchild relationships. It has never been observed between two first cousins, though it is possible for double first cousins. In this case, Carla's grandfather and Michael's father married unrelated individuals and share an appropriate amount of DNA with each other to be first cousins once removed, ruling out the double first cousin possibility. Even though Carla's test results alone suggested she was more likely a half niece, they still left open the small possibility of a first cousin once removed relationship. Meanwhile, Michael's test results clearly suggested a half sibling relationship and left no room for a possible first cousin relationship. Therefore, we concluded that Tom was the half brother of Michael and a first cousin once removed to Carla.   
"I Have a Brother!"
When my cousin Carla's test results came back, it verified that she was a first cousin match to Tom. When I received my DNA results, it left no doubt…my DNA came back 100% proof that I had a brother Tom!
How did this happen? Tom and I started calling each other to try and find the connection between his mother and my father. Where did they live? What did his dad do? What was his mom like, etc.? We discovered that his mom and my mom were very social, usually the center of attraction at parties, loved to dance and drink, and both were very attractive. Then Tom said his dad was in charge of the Convention Center in Atlantic City, NJ. BINGO!!!!!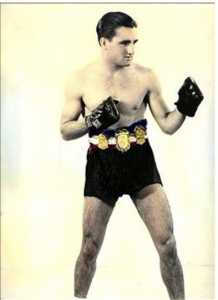 My Uncle Lou was the World Bantam Weight Champion in the late 1930s and early 1940s. If you were having a championship title defense in boxing on the East Coast, it would be held either in Madison Square Garden in NYC or at the Convention Center in Atlantic City, NJ. My dad always went to his brother Lou's championship fights. The world champion always sat at the dinner table with the big bosses of the convention center. So now we had the connection! THIS WAS REAL! 
I sent Tom many photos of our dad and our family. We also described ourselves to each other. We have very similar likes and dislikes, same sense of humor, and the same religious and political views. Tom is larger than me and we don't look that much alike other than the same nose and I'm better looking LOL. While sifting through photos, I came across our dad's wedding picture that included his parents and siblings. There was an uncanny resemblance between Tom and our grandfather. I sent the photo to Tom's phone, called him and asked him to put his phone on speaker, go stand in front of a mirror, and zoom in on our grandfather in the center of the photo. When he did so, I heard Tom say, "Oh my God. I have found my family." At that moment, two septuagenarian brothers broke down into tears. 
A Cautionary Tale
This case demonstrates the importance of not discounting possible relationship levels just because they are less likely. Carla's results suggested she was more likely to be a half niece, but in fact, she and Tom are among the 4% of the population sharing this amount of DNA who are first cousins once removed. Though researchers might be in the habit of dismissing these lower possibilities, some relationships do fall in those ranges of possibility, and someone makes up the 4%. Therefore, before assuming that a relationship is proven, we recommend exercising caution and getting as close to 100% probability as possible.  
Through DNA testing, analysis of genetic cousins, contact with testing candidates and targeted testing of close relatives, we were able to determine the identity of Tom's biological father. 
Do you have a genetic genealogy mystery you would like help resolving? Contact Legacy Tree Genealogists today. Our team is experienced at utilizing DNA evidence from all major testing companies in combination with thorough records research to break down the brick walls in your family tree.