What are the stories you remember about your grandparents that make you smile, laugh, or even cry? Is it the poem your grandmother wrote in grade school about trees, or maybe her tap-dancing practice that kept her parents up at night? 
Perhaps it's the stories of the hard times your grandparents went through, like losing daughters to unexpected illness or the loss of precious generational ranch land after the death of a husband. To keep these stories of joy, sadness, and strength alive, they must be shared.  
What personal stories can you share that will help your family know who they are and where they come from?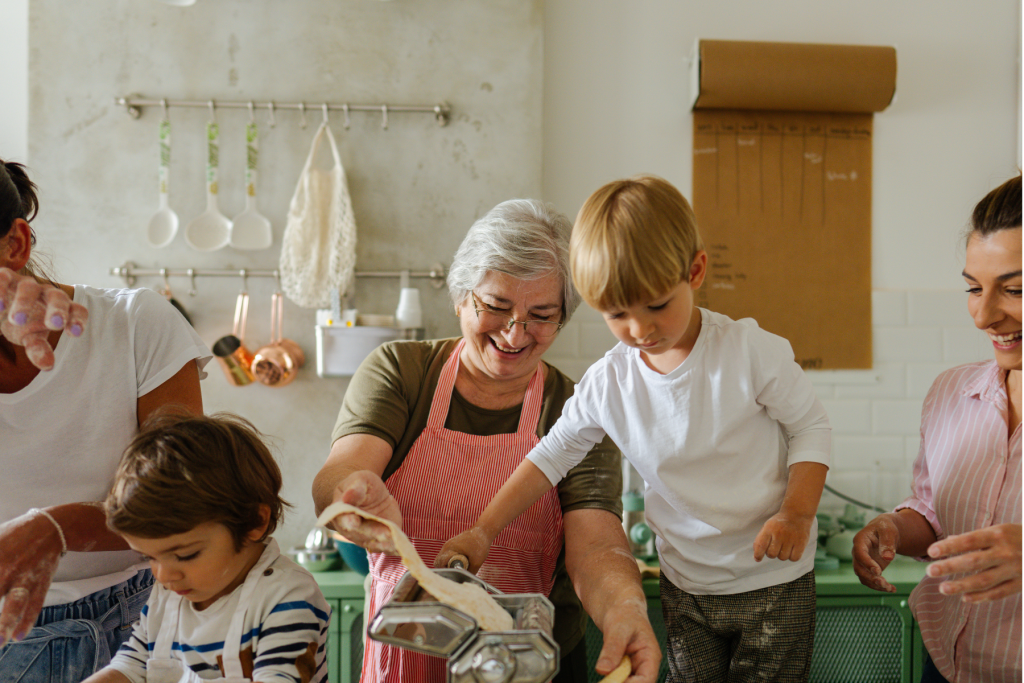 Why should you share your family history with your grandchildren?The story of your own life is uniquely yours, and, if not shared with your children and grandchildren, will become lost forever. You can't just assume that your children already know your stories and will pass them on. They must be shared in a way that brings them to life and gives meaning to others.   
Your story isn't just about you, but includes your ancestors. Sharing this rich tapestry of family history with your grandchildren not only connects them to their roots but also imparts valuable life lessons, traditions, and a sense of identity.   
If you could leave just one legacy to your grandchildren, it may be that the most meaningful one is knowing who they are and how they fit in this world. In this article, we will delve into the benefits and art of preserving and sharing your family history with your grandchildren.  
1. Start with Your Own Journey
Before you can share the collective history of your family, it's essential to start with your own story. Take some time to reflect on your own life experiences, including your upbringing, childhood memories, education, career, and personal milestones.  
 Share anecdotes, both humorous and poignant, that shaped you into the person you are today. This will help your grandchildren relate to you on a deeper level.  
 And while you may assume they already know key facts about your life, you'll be surprised what they don't know and how interesting these stories are to them. Unsure how to get started? Read here to learn more about how to tell your story.  
2. Gather Family History Artifacts
Family heirlooms, photographs, and documents are windows into the past. Gather and preserve these artifacts to share with your grandchildren. These items can include old letters, diaries, photographs, heirloom jewelry, or even recipes passed down through generations. Each item tells a unique story and can serve as a tangible link to the past. By connecting these heirlooms to real people and telling the story of great grandmother's brooch, your father's watch, or the history behind the family fruit farm, these people become real to your grandchildren. You can even gather artifacts by taking photographs of important heirlooms and preserving them digitally.  
 3.
Create a Family Tree
A family tree is an excellent visual representation of your family's history. Include names, birthdates, and brief descriptions of each family member, along with photographs if available. Explain how each person is related to your grandchildren, helping them understand their place in the family tree.  
As you go through this process you may find holes or entire branches that are missing from your family tree. And if you are finding your family tree online, verifying the accuracy of the information is vital.  
This is when it is helpful to reach out to a professional genealogist for help to find missing ancestors and ensure the accuracy of your family tree.  
4.
Record Oral Histories
One of the most powerful ways to pass down your family history is through oral storytelling. Record interviews with older family members, including yourself, where you discuss your memories, experiences, and significant life events. These personal narratives provide a deeper understanding of your family's journey and create lasting memories for your grandchildren. Read here for more resources on how to create an oral history. 
 5.
Visit Ancestral Places
If possible, take your grandchildren on a journey to visit ancestral places. Explore the towns, cities, or countries where your family originated. Share stories about your ancestors' lives in these locations, and encourage your grandchildren to ask questions and absorb the culture and history of their heritage. 
This can include visits to the cemetery to see headstones of ancestors and share stories about their history.  
If you need help finding exact locations for your heritage tour, start with a research project to identify the details of your family history and then add on a heritage tour package. Learn more here.  
 6.
Preserve Traditions and Recipes
Family traditions and recipes are an integral part of any family's history. Food connects families and just the smell of grandma's cobbler can take you back to your youth. Taking time to teach your grandchildren about the customs and recipes that have been passed down through the generations allows those traditions to live on. Whether it's a holiday tradition, a family game, or a special dish, these elements contribute to the unique identity of your family.  
 7.
Embrace Family History Technology
Today's digital age offers numerous tools and platforms for preserving and sharing family history. Consider creating a family website or social media group where you can post family stories, photos, and updates. Encourage your grandchildren to contribute by sharing their own experiences and memories.  
When you hire a genealogist at Legacy Tree Genealogists, you receive a website with all of your research results that you can share with your grandchildren so they can get excited about their history as well.  
Sharing your family history with your grandchildren is a gift that keeps on giving. It connects them to their roots, imparts wisdom, and fosters a sense of belonging.  
Through creating an accurate family tree, storytelling, artifacts, and personal experiences, you can create a lasting legacy that will be cherished for generations to come. Remember, genealogy is not just about the past; it's about building a bridge to the future. 
Do you need a partner in building your family legacy? The experts at Legacy Tree Genealogists are here to help research your tree and tell your story. Contact us for a free research quote today.