If you're planning a heritage tour, whether with a travel agency or on your own, hire our genealogists to discover the details of your family's history before you go.
Our ancestors' stories are an integral part of who we are. Many are drawn to their ancestral homeland with the quest of discovering the details of the lives of those who came before them.
Our team can access archives around the globe and overcome language barriers to discover the story of your ancestors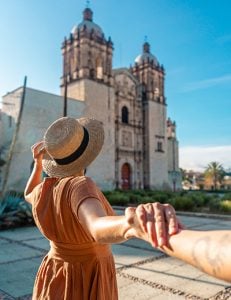 We have a team of professional genealogists all over the world, with access to archives and repositories in more than 150 countries. Our genealogists speak and read a multitude of languages, and have the skills and expertise necessary to discover the details of your ancestors' story and help you plan your heritage tour.
For example, if you are planning English, Jewish, Italian, or Irish heritage travel, we will work with you to find your ancestral hometown, which can often be the hardest part. If you are planning a heritage tour, be aware that it may not be as easy to delve into research in some countries as it is at home. Irish heritage research can be difficult because of lost and destroyed records, but with enough time and effort, we've seen some great success stories. If a record exists, we can find it. For those areas that don't have records available online or on microfilm, our onsite agents can visit that location to obtain any documents that are available.
Know before you go with a custom Heritage Travel Plan to guide your travel tour
Make the most of your heritage tour. We can do the preliminary research in immigrant destination countries so your heritage travel will be meaningful, and time well spent. Using genealogy information we discover during your full-service project (or discovered by us in a previous full-service project), we'll create a personalized travel plan for one ancestral hometown, which may include locations of your ancestors' homes, churches, and other life events, that will help you make the most of your journey.
View our sample Heritage Travel plan.
The report will be provided in digital format only.
The report will be completed in conjunction with your research project if ordered at the same time.
The report will be completed in 4 to 5 weeks if ordered after your research project is finished.
Heritage Travel Plans are based on your ancestors — it's not just another generic group tour.
If you're planning a heritage tour in the near future, know before you go. Hire the highest-rated genealogy research firm in the world to bring the details of your ancestors' journey to life. Contact us today for a free estimate.
And when it is time to put that newfound information into practice to actually explore the places where your ancestors lived, turn to the experts in travel planning to make sure your heritage tour goes off without a hitch.
---
"I was traveling to Denmark and contacted Legacy Tree Genealogists. They did an outstanding job of helping me find my ancestral home, and were able to answer the questions I had about our family surname. I would highly recommend this company!" – Wolfgang W.