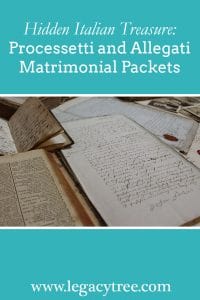 One of the most useful record sets for extending your Italian ancestry quickly is the marriage supplements or allegati records. Allegati, also called processetti, is the name for the packet of documents that a bride and groom were required to present to the priest or mayor in preparation for their upcoming marriage. Depending on when the marriage occurred historically determines whether the packet was called processetti or allegati.
1804-1815: allegati
1816-1865: processetti
1866-present: allegati
Genealogical Value – Gold
 Processetti and allegati packets exist for both church and civil marriages. They can hold a variety of different documents. Keep in mind that most are hand-copied from the original the bridal party brought with them, and as is always the case with copies, transcription errors can be made. However, details such as the document number, and other identifying information can be used to search for the original later. Apart from the information about the marriage itself, these packets can also include:
Copies of birth or baptism records for both the bride and the groom
Copies of the marriage banns – these were posted on two to three consecutive Sundays
Dispensations
Copies of death records of fathers, paternal grandfathers, mothers, and previous spouses – if either the bride or groom was underage, consent was to be given by both fathers, and if the father was deceased, then consent was obtained from the paternal grandfather. If the paternal grandfather was also deceased, then the mother could give permission.
Military service declarations
Declarations of poverty
Notary documents, such as those concerning the legitimization of natural children after a marriage, or the rectification of a surname that was spelled incorrectly.
Not every allegati or processetti packet has all of these documents, but at the least, they almost always have the bride and groom's birth records. And if you are one of the lucky ones to have a bulging packet, you are in for a treat.
When my great-grandparents Salvatore Esposito inteso Palumbo and Maria Giglio were preparing for their marriage in the summer of 1904, Maria was just seventeen and needed her father's permission. From their allegati packet, I learned that Maria's mother, Salvatora Fulco, appeared before the magistrate and stated that her husband, Paolo Giglio, had immigrated to America four years earlier and they hadn't heard from him since he left and didn't know if he was dead or alive. She asked four witnesses to come forward to testify to that fact. I also learned that Salvatore had been to America prior to his wedding because he had to create a notary act stating that while he was abroad in New Orleans, he had not married and that he was in fact still single, and eligible to marry. This led to the discovery of him on a ship's passenger list in 1898 sailing to New Orleans with his brothers Vincenzo and Pietroangelo. These records allowed me to add some interesting details to my ancestors' lives, and gave me new clues to research!

Where to Find These Gems
 Allegati packets are typically stored separately from the marriage register. They are loose papers filed in a folder or packet and are filed in the same order as the marriage records, so take note of the marriage record number when looking for the allegati/processetti. The Family History Library (FHL) has microfilmed these wonderful treasures and many are digitized. In the FHL catalog, look for the word allegati or processetti in the film notes section for the town you are researching. If your town's records have not been microfilmed or the years that you need are not available, you can write to the town for a copy – you'll need the bride and groom's names, their date of marriage, and the marriage record number from the marriage act record.
Italian marriage records and the supplementary documentation that accompany them are one of the best sources of genealogical information for researching your Italian ancestors. Not only did I learn new and interesting facts about my great-grandparents and their parents with the allegati packet I found, but I was also able to add new names to my tree because of the very helpful record-keeping practice of adding the father's name after the person of interest to help identify them. When Salvatora Fulco was identified in the record, she was called "Fulco Salvatora di Vincenzo" identifying her father as Vincenzo. (Note that Italians write the surname first in their records). Paolo Giglio's father was "fu Giovanni" meaning he was deceased at the time the record was made. I just pushed back one more generation!
Italian record-keeping practices, including the requirement of marriage supplemental records, can extend your Italian genealogy several generations with just one record and can add fascinating details to your Italian family history. You never know what gems you will find hidden in this wonderful record set.
Our experts and onsite agents are experienced at tracking down all kinds of Italian family history records in a variety of locations, and can help you extend your Italian ancestry as far back as records will allow. Contact us today for a free consultation!
[1] Italy, Palermo, Termini Imerese, Civil Registration (Tribunale), 1862-1910, Registri dello stato civile di Cefalù (Palermo), "Allegati (vari) 1904-1906, allegati for Salvatore Esposito inteso Palumbo and Maria Giglio, no. 68, 1904, https://familysearch.org, accessed March 2018.