Fire insurance maps can be a useful resource in helping you learn more about your family history–we'll show you how!
At the time of the 1880 census, 44-year-old stonemason Frederick Richter and his 41-year-old wife Wilhelmina were living on Beecher Street in Indianapolis. Also in their household resided daughters Matilda (age 17), Anna (13), and Rosa (7) and sons Frederick (age 10) and Harry (5). Their oldest daughter, Louisa (21), and her husband, John Heimbeck (23), were also living with them.
Only four households were listed on this small block, of which the enumerator noted no house numbers existed. One household was that of 39-year-old Antone Richter, his wife Catharine, and their four sons—perhaps relatives of Frederick. Frederick, Wilhelmina, and Antone had all been born in Prussia. Catharine had been born in Wurttemburg, and Louisa's husband John in Hesse-Darmstadt. They were in familiar company, as their growing southeast-side neighborhood was filled with other German immigrants.
The 1880 Indianapolis city directory provided a little more information about the Richters' residence, noting Frederick resided on the south side of Beecher just east of Shelby Street. It's likely the family did not move far, if at all, in the years that followed: the 1900 census identified their residence as 1111 Beecher Street, and a look at a modern map shows 1111 Beecher nearly at the corner of Beecher and Shelby.
Unfortunately, the modern map also shows Beecher Street is now a dead-end street cut off by the interstate highway that runs through the center of the city. While sometimes we're lucky to see an ancestor's home still standing, the south side of this block of Beecher today is a vacant, overgrown lot. A vestige of the old German neighborhood does remain, in the form of a German meat market just two blocks north of the Richters' home.
However, one unexpected source can help us go back in time and picture the Richters' neighborhood: fire insurance maps.
What are fire insurance maps?
In the mid-nineteenth century, insurance companies began to use maps to facilitate the process of underwriting properties for coverage. The maps allowed companies to complete this process in the office without having to physically visit a property, an expensive and time-consuming endeavor. In 1867, surveyor Daniel Alfred Sanborn founded the D.A. Sanborn National Insurance Diagram Bureau, later to be known as the Sanborn Map Company. Although it would not be the only company producing fire insurance maps, by the early twentieth century, the Sanborn company held a monopoly in the mapping business, and its maps are those most commonly known today.
What information may be found in Sanborn fire insurance maps?
Created by the company's field surveyors and cartographers, the Sanborn maps illustrate the location of individual buildings and, through a specific set of symbols, provide information about:
• Whether a building was residential, commercial, or industrial
• Building construction, including number of floors, building material, and (generally for commercial and industrial buildings) location of doors and windows
• The location and type of fire suppression systems
• The type of business in an individual building
Cities and towns were divided into smaller areas, each being an individual map. Maps for larger cities sometimes would be spread across multiple volumes. Each volume or map set includes a key map that illustrates how the city was divided for surveying and mapping. Researchers should begin with this key map to identify the specific map that covers the area of interest. The key map also includes a general key to the maps' detailed symbols and colors, necessary for understanding what each map represents.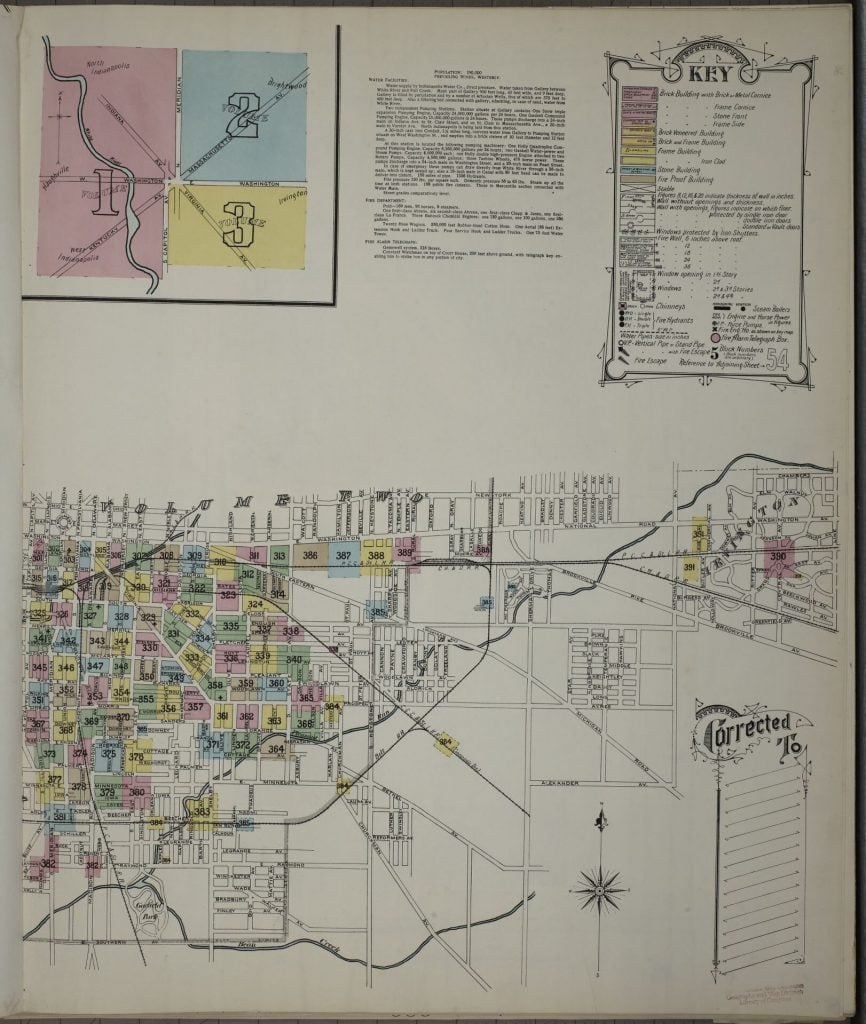 Volumes also often include a street index and, sometimes, a "specials" index, which might identify locations of institutions, factories, churches, schools, and the like. Individual maps do not always illustrate contiguous areas; smaller neighborhoods or institutions might be combined with other areas on one map or combined with others of similar size. Therefore, it's important for researchers to use the provided indexes to properly identify a location. Individual maps usually include notes or marginal numbers to indicate on which map adjoining areas can be found.
Where can I find fire insurance maps?
The Library of Congress has an extensive digitized collection of Sanborn maps from 34 states as well as Canada and Mexico, and the collection's homepage contains additional information about reading and interpreting Sanborn maps.
Fire insurance maps from Sanborn and other companies can also be found online, on microfilm, and in their original print form in the collections of local, state, and university libraries; archives; and historical societies. Due to copyright restrictions, the majority of freely available online versions will date from before 1922. Newer editions may be available online through institutions with a subscription to the Fire Insurance Maps Online database (FIMo), as well as in print and on microfilm for viewing onsite.
How can this information be helpful for my family history research?
Because the maps were updated and corrected over time, they demonstrate how neighborhoods grew and changed. We can see how areas were platted, buildings were demolished and constructed, businesses came and went, and street names and numbers changed. They often provide a record of a built environment that may no longer exist. For this reason, they are an essential resource for historic preservationists, historians, and city planners.
However, they also can be an important resource for genealogists seeking to understand the surroundings of their ancestors. We can understand the buildings in which people would have lived, worked, and shopped, and how their neighborhoods changed during the time in which they lived there. These maps can help us visually understand how a census enumerator passed through the neighborhood, and when used with other sources, such as the census and city directories, provide greater context for ancestors' lives and facilitate research involving extended family, associates, and neighbors.
How we used fire insurance maps to learn more about our clients' ancestors
Reviewing the 1898 Sanborn map of Indianapolis, we learn the Richters' neighborhood likely was not a quiet one. 1111 Beecher was a one-and-a-half-story brick dwelling with a one-story frame addition at the rear. It was set toward the back of its lot, leaving a yard between it and the street, and a small frame building, perhaps a shed, also was placed at the rear. The home abutted the tracks of the Indianapolis Belt Railroad. A flagman at Shelby Street would have helped warn passersby and control traffic at the intersection, as the railroad overpass over Shelby Street that exists today had not yet been constructed.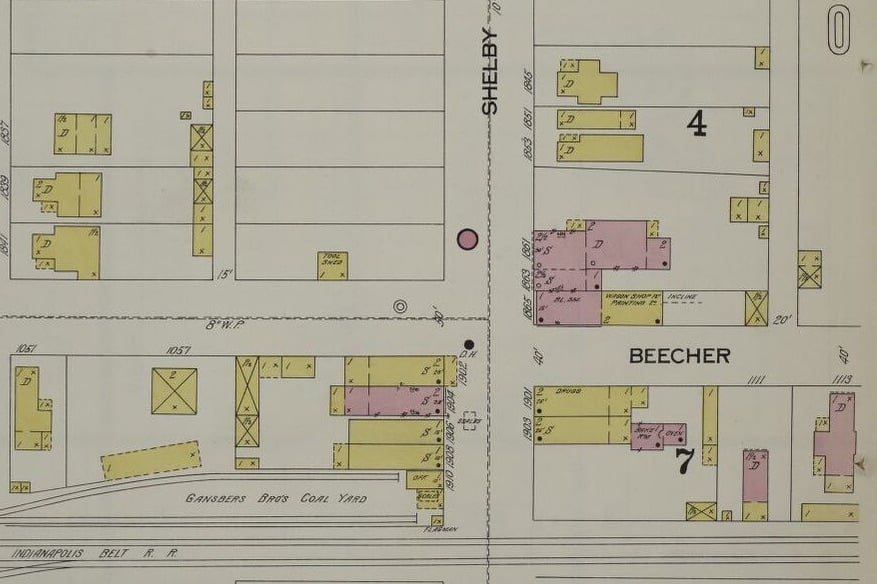 Next door, at 1113 Beecher, was a larger brick home. In 1900, this was the home of blacksmith Charles Zahl and his family. The map noted that 1865 Shelby Street, a brick building across the street from the homes of the Zahl and Richter families, housed a blacksmith; this could have been Charles's business. Just to the west of 1111 Beecher, facing Shelby Street, were two two-story wood frame buildings, one housing a drugstore. A brick bake shop and oven were located at the rear of the other building; perhaps this was where son Henry (Harry) was employed as a clerk in 1900. The broader neighborhood included a coal yard, multiple wagon works, several woodworking facilities (one of which may have employed son Lawrence, who in 1900 was a laborer at a veneer works), a florist with a greenhouse, and a factory that manufactured playing cards. The map also showed the neighborhood was platted but not yet fully developed, with wood frame dwellings placed among empty lots in the surrounding blocks.
Within a few years after the 1900 census, Frederick and Wilhelmina moved to a home on Raymond Street. In 1902, they received approval to subdivide their Beecher Street property, perhaps to take advantage of the area's growth. More than one hundred years after the Richters lived on Beecher Street, their name lives on: city property records still refer to the area as "Richters" subdivision.
As professional genealogists, we are skilled at thinking "outside-the-box" and researching every possible avenue to discover your family's story. We'd love to help you learn more about your ancestors, and will leave no stone unturned in our quest to do so! Get started today by requesting your free quote.