DNA has taken a far-ranging journey from our ancestors of long ago. The stories in this article demonstrate how mtDNA and Y-DNA can be used to solve research problems based on DNA inheritance patterns.
*This article originally appeared in NGS Magazine, and is reprinted with permission.
Each human has DNA, a biological code that affects many physical, emotional, and behavioral characteristics. Humans inherit copies of DNA from their parents, who in turn inherited portions of DNA from their parents, grandparents, and other ancestors.
The journey that DNA takes from ancestor to descendants, from generation to generation over hundreds of years, follows four major DNA inheritance paths. DNA testing and consideration of these patterns enable researchers to uncover information about their biological heritage. Two inheritance paths, mitochondrial DNA and Y-DNA, are discussed in this article.
The nature of genetic inheritance can sometimes make DNA even more valuable for genealogical research than documents dealing with inheritance. Genetic inheritance is:
Universal—children cannot be excluded from their genetic legacy like they might be excluded from a will.
Uniform—with genetic inheritance, no child inherits more DNA than other children.
Independent—the fact that one child inherits a part of the DNA does not exclude another child from inheriting a copy of the same DNA.
Mutual—descendants share copies of the DNA they inherit from their ancestors.
DNA is like a family photo album containing pictures of many of an individual's ancestors. Those photos may be copied from other historical family photo collections. Each photo has its original story, and the path that the photo or photocopy took to arrive in the final collection is a story in itself.
Mitochondrial DNA
Mitochondrial DNA is a small, circular genome in the mitochondria (energy power houses) of the cell. It is the only DNA found outside the nucleus. Both males and females inherit mitochondrial DNA from their mothers, but only females pass it on to their children.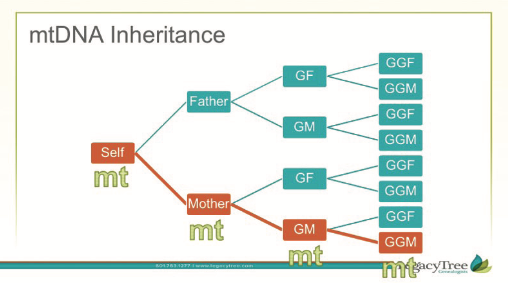 Since mitochondrial DNA represents an individual's direct-line maternal ancestry, it can be used to address questions of shared maternal ancestry. Occasionally, mutations are introduced into mitochondrial DNA before it is passed on to a subsequent generation, which can help delineate unique and distinguishable mitochondrial lineages. These lineages are grouped according to their common hierarchical mutations into haplogroups, some geographically or ethnically specific.
When two individuals share the same mitochondrial DNA signature, they share a common direct-line maternal ancestress.
The legacy of an ancestress with no name
In 1718, an enslaved woman from western Madagascar embarked on the slave ship Prince Eugene along with 490 other enslaved individuals.[1] The mitochondria of her cells carried a unique DNA signature found only among natives of Madagascar. Over the next four to six months, she and her fellow slave passengers endured the horrors of the middle passage, and 152 slaves perished.
Upon arrival in Virginia in 1719, she was sold to one of the plantations in the area of York River and renamed by her master with a Christian name. Though her original name was lost, her mitochondrial DNA was passed on to her descendants. Over the ensuing years, she bore several sons and daughters—some by enslaved men on the plantation, some by her master or his overseers. While each of her children inherited her mitochondrial DNA, only her daughters continued to pass on her mitochondrial DNA legacy.
Over the next 150 years, her daughters, granddaughters, and their descendants were bought, sold, and traded between slave-owning families. They were inherited by the children and wives of their masters. Some traveled with their masters' families to other areas of Virginia and the American South. The name of the enslaved woman was forgotten, but her mitochondrial DNA continued to pass on to her daughters' daughters' daughters' children and grandchildren.
Some of them fled and escaped to freedom in the north. Others labored under plantation slavery. Throughout the Civil War, emancipation, Jim Crow, and segregation, the mitochondrial DNA of the enslaved woman continued to pass down from daughter to children, as a silent witness of the discrimination and pain she and her posterity endured. Her many descendants spread all over the United States.
Several descendants of the enslaved woman have taken DNA tests. Their mitochondrial DNA shows that they share direct maternal roots with each other and with individuals in Madagascar as well as other individuals from the Malagasy diaspora across the globe. All of them carry mitochondrial DNA signatures traced to natives of Madagascar. These signatures are distantly related to seafaring Melanesian populations who began arriving in Madagascar as early as 200 BCE.
While the name of the enslaved woman may be forever lost, the DNA of her descendants hints at a compelling story of her life and the fate of her posterity.
Key concepts
The concepts for incorporating mitochondrial DNA evidence shown in this story include:
Mitochondrial DNA can reveal information about unique ethnic origins.
The inheritance pattern of mitochondrial DNA means that it can be used to address questions of very deep ancestry.
Although only females pass on mtDNA to their descendants, both males and females have mitochondrial DNA.
While mtDNA evidence may be able to demonstrate a direct-line maternal relationship, it may not always be possible to identify the common ancestors of two genetic cousins.
Mitochondrial DNA can be utilized to explore broad migration patterns and population history.
Y-DNA
Other DNA is found in each nucleus of the trillions of cells in a human body. This DNA is organized into twenty-three pairs of chromosomes: one set of twenty-three chromosomes inherited from the father and the other twenty-three chromosomes from the mother. One of these chromosome pairs constitutes a person's sex chromosomes. A biologically male individual inherits a Y-chromosome from his father and an X-chromosome from his mother. His father inherited a copy of the same Y-chromosome from his father, who inherited it from his father, in an unbroken line of direct paternal inheritance.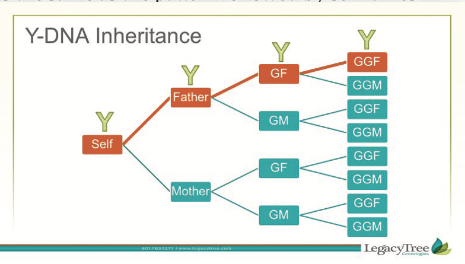 Since Y-DNA represents a male's direct-line paternal ancestry, it can be used to address questions of shared paternal ancestry. This inheritance pattern many cultures and can be used to confirm proposed direct paternal lineages or uncover cases of misattributed parentage. As with mitochondrial DNA, occasional mutations in Y-DNA signatures result in different haplogroups, some geographically or ethnically specific.
When two individuals share Y-DNA, they share a common direct-line paternal ancestor.
Y-DNA inheritance patterns tell the story documents can miss
In the 1730s, two brothers migrated from the Palatinate (in modern-day Germany) to the British colonies in North America. They eventually settled in Berks County, Pennsylvania, on adjacent farms.[2] They both carried the same surname, attended the same church, spoke the same language, and maintained the same customs and traditions. They also carried the same Y-DNA they had inherited from their father and paternal grandfather.
Though they passed some of their traditions down to their children and grandchildren, within a few generations many of their descendants had begun to learn English and join a wide range of other churches, and they gradually lost touch with their cultural heritage. Nevertheless, a biological record of their heritage continued to pass down through multiple generations of descendants. Each brother passed on Y-DNA to each of his sons, who in turn passed on the same Y-DNA to his sons.
After the Revolution, Loyalist descendants fled to Canada, while descendants of neutral and pacifist relatives remained in Pennsylvania. Patriot descendants spread throughout the United States. Some traveled to Ohio and Indiana. Others struck south into Virginia and Kentucky. Yet others migrated to the American West.
All the while, the sons of the sons of the sons of these two brothers continued to pass on their Y-chromosomes and carry that DNA with them to new localities. Although many of the direct paternal descendants of these brothers carried the same German surname, others did not. One descendant was a pioneer settler of Bosque County, Texas. He never married and had no documented children. One of his neighbors was Mrs. Buckley.
Many descendants of these two brothers have taken Y-DNA tests, and most share DNA with each other. Some who carry the same surname do not match the Y-DNA of other descendants due to unexpected cases of misattributed parentage: undocumented adoptions, extra-marital relationships, children born to single mothers, and other situations.
An individual with the Buckley surname shares DNA with all of the test-takers who are biological descendants of the two brothers. He is a descendant of Mrs. Buckley of Bosque County, Texas. His DNA compared to other descendants of the brothers hints at a story not apparent in the documentary evidence alone.
Key concepts
The concepts for incorporating Y-DNA evidence shown in this story include:
Y-DNA can be used to explore relationships between direct-line paternal relatives.
The inheritance patterns of Y-DNA make it ideal for exploring and answering questions for more distant generations.
Y-DNA often follows the same inheritance patterns as surnames.
To guard against the possibility of misattributed parentage, test multiple descendants of a single individual from unique descent lines (through different sons) to confirm that they indeed share a direct-line paternal ancestor.
Y-DNA evidence (in fact all DNA evidence) must be considered within the context of available documentary evidence.
Understanding DNA Inheritance Patterns
Consideration of the historic journey that Y-DNA or mitochondrial DNA follows from ancestors through multiple generations to the present day can offer insights into the meaning of DNA shared with other testers and aid in solving genealogical mysteries. The universal, uniform, independent, and mutual nature of genetic inheritance makes these genetic journeys useful for tracing corresponding genealogical journeys. X-DNA and autosomal DNA can also be useful for these purposes, and will be covered in a future article.
Do you have a genetic genealogy mystery you would like help resolving? Contact Legacy Tree Genealogists today. Our team is experienced at utilizing DNA evidence from all major testing companies in combination with thorough records research to break down the brick walls in your family tree. 
---
1. While this scenario is hypothetical, it is based on real experiences as described in the following sources: David Eltis, Slave Voyages, "Trans-Atlantic Slave Trade – Database," Prince Eugene, 1719, voyage ID 16224 (https://www.slavevoyages.org/voyage/database); Henry Louis Gates Jr., "How Did My Enslaved Kin Get to Va. From Madagascar?" The Root (https://www.theroot.com/how-did-my-enslaved-kin-get-to-va-from-madagascar-1790861807); The DNA Detectives, "Malagasy ancestral origins Ben Jealous segment," Vimeo, (https://vimeo.com/109620391); Teresa Vega, "The DNA Trail from Madagascar to Virginia Parts I-III," Radiant Roots, Boricua Branches, 2015-2017 (http://radiantrootsboricuabranches.com/category/malagasy-slaves-in- virginia). Special thanks to Teresa Vega for her input on the development of this scenario.
2. While this scenario is based on real experiences, the names, locations, and details have been changed to protect the identities of participants.