Whether you are writing up a genealogy report for a client, for your family, or just to document your research for future researchers to understand what has already been done, writing a genealogy report can be tricky. We share five tips to writing a cohesive genealogy report.
Why write a genealogy report?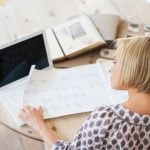 Most professionals will write a genealogy report, for very specific reasons. Besides helping others understand what you have learned about your ancestors, it can help you to organize your research and determine if there are any holes in what has already been done. Writing up a report can also reveal inconsistencies in the records or areas that need deeper research. In so doing, it keeps you on your toes and makes you a better researcher, forcing you to analyze evidence and defend your conclusions in writing—a process which also includes engaging with contradictory evidence and making sure you can prove the accuracy of your hypotheses (this is crucial when you're dealing with family mysteries or complications such as multiple men in a community with the same name, for instance). Finally, it helps to take a step back and look at all of the documents as a whole, to determine what story they are telling and how they fit into broader historical context. Doing so can bring your ancestors' stories to life in a way that simply creating a family tree does not. 
Tips for writing a genealogy report
How do you distill all of the research and information you have found into a coherent genealogy report that even a non-genealogist can follow? We share five tips to help you in your quest:
Limit the scope of the report

. Do you want to discuss one family group (parents and children), one family line, a topic (like a biography of one person) or a list of goals? It is usually not realistic (or possible!) to write one

single

report that encompasses your entire genealogy. So find

some

way to narrow it down. 

 
Determine how to organize the information

. It might make sense to group results by generation, to move forward or backward in time

(pick one!)

, or to organize it by topic.

How you organize a report

depends on how you want to present the information

—for a biograph

ical narrative

, it often make

s

sense to start with someone's birth, and then move through their life chronologically. However, if you are tracing one family line backwards in time, sometimes it makes more sense to start with the more recent generation and move back, mimicking the flow of research.

 

 
Use

guideposts like headings, maps, charts, or tables

. With all those names, dates, and places, it can be easy to get confused about which family is being discussed and how they are related, so these tools can help the reader keep the information straight

visually

. Headings help the reader get their bearings and understand which family or topic is being discussed. Maps can help the reader picture where the family was living and make sense of

geography

, while tables can present facts

and compare data

in a way that's easier to understand. Including charts to show relationships can also help clarify

how people are related to each other.

 
Use transition sentences and pay attention to the flow of the report

. Transition sentences help to link together different ideas and help the reader follow your logic.

Try reading your report out loud

to

see if the

paragraphs

fit together in a way that makes sense

and is enjoyable to read or listen to

.

T

ry

ing

to jump between multiple ideas too quickly

or jumping back and forth in time without explaining why can lead to confusion

for

a reader.

 

 
Always, always, always cite your sources

!

Footnotes are an easy way to do this without disrupting the flow of the report. A genealogy report without sources is not helpful to a future researcher because there is no way to know where

the information

came from

and whether it is trustworthy

; as a result,

research will inevitably have to be redone to confirm or refute claims. A sourced

genealogy report

,

however, points the reader to

the exact source

, and is much quicker to verify or build on. Learn how to write proper citations in our article, The Humble Citation: Vital and Invaluable. 
If writing a genealogy report is outside of your skillset, time, or interest, Legacy Tree Genealogists is always available to assist. We have tens of thousands of hours of experience crafting proof summaries and biographical narratives for our clients.  Contact us today to request a free quote!