If you have German ancestors in your family tree, or if you have worked on German family history research for anyone else, you may have noticed that Germany is a country that doesn't include national indexes to their records. In order to conduct research for your German ancestors you need to know the specific town or city where your family lived, and also usually the parish they attended. Since parish churches could cover several nearby towns, the parish where your ancestors' records are located might be different from where they actually lived.
You're also probably aware that shifting boundaries over the course of history affect your research as well. Your ancestors might have said they were from Germany, but the town they were from might now be in modern-day Poland (for example). Or the place they lived might have changed names over time (sometimes more than once). And then there are the spellings of town names. If your ancestors emigrated from Germany to another location, you might have found the name of the town they were from, but it is spelled the way the new country officials heard it coming out of their mouths. But then you go to look for the town and there might be five places that all are spelled similar enough to the spelling you have that any of them could be the right one. So how do you narrow all this down and find out where to search for records in Germany?
We've done a lot of German family history research over the years, and have found the following three websites to be extremely helpful. And the best part is that they can be accessed from right within your own home!
For years, novice genealogists who found themselves embarking on the road of genealogy for German ancestors were discouraged when needing to decipher an entry for their town in Meyers Orts- und Verkehrs-lexikon des deutschen Reichs (commonly known simply as Meyers or Meyer's Gazetteer of the German Empire) due to the old German font in which the book was printed and the plethora of abbreviations that were used. To address this obstacle, the website www.MeyersGaz.org was created.
This online database not only explains the text and various abbreviations in the town entry that are found in the original printed version of Meyers, but also pinpoints the location of the town on both historic and modern maps, indicates the Catholic and Protestant parishes to which residents of the town would have belonged, and notes the distance from the town to all parishes within a 20-miles radius.
The database also allows users to search for a town using wildcards. This is especially useful when the exact spelling of a town is not known. For example, if the record on which you found the new town name indicated that the person came from Gross Gard…. where the second part of the word was smudged or illegible, you could simply put "Gross Gard*" into the database. In this case, the only two options would be Gross Garde in Pommern and Gross Gardienen in East Prussia. If you have a common town name such as Mülheim, you can filter the search results by province.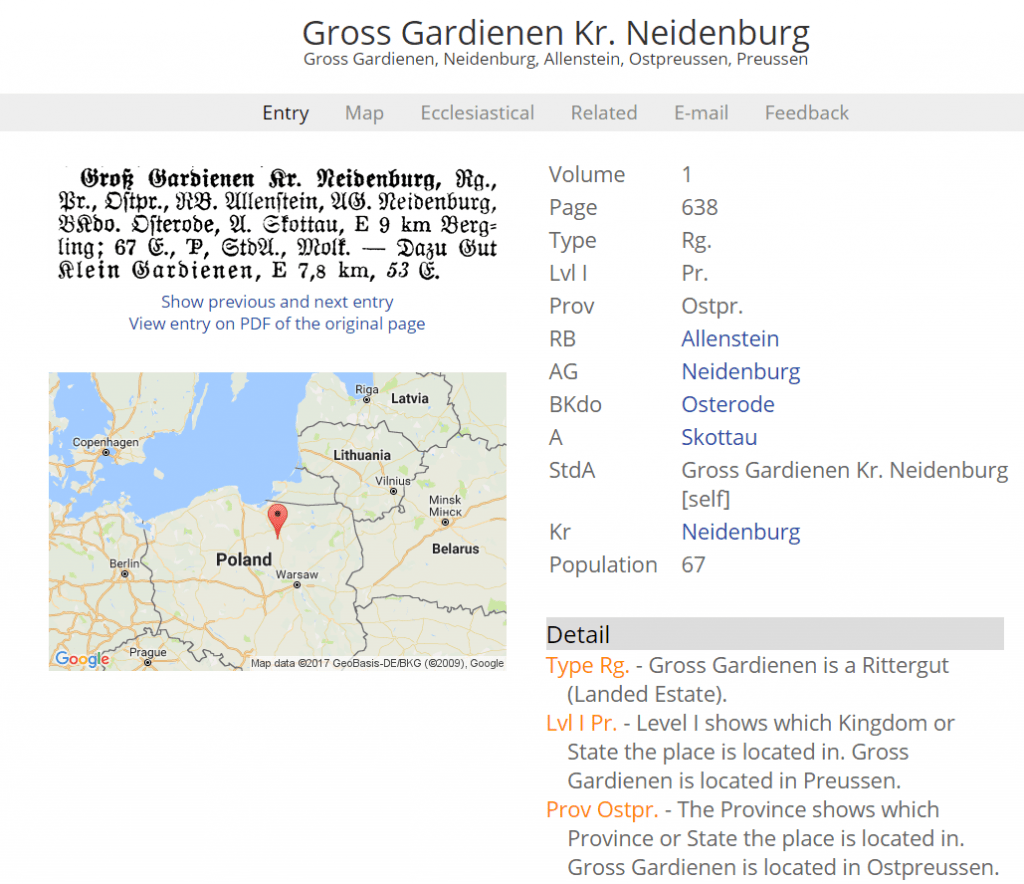 2. Kartenmeister: Towns east of the Oder and Neisse rivers in the former German Empire provinces
Kartenmeister is a database for towns that are found east of the Oder and Neisse rivers in the former German Empire provinces of East Prussia, West Prussia, Brandenburg, Posen, Pomerania, and Silesia. This area is now part of modern Poland. The database allows users to search for towns using either their German or Polish names.
Again, using Gross Gardienen as our example town, we learn that the Polish name for the town is now Gardyny and it is located in the Warminsko-Mazurskie province. Also, collaboration between users is encouraged. Individuals can enter their email address into a mailing list according to the town they are interested in and specify surnames they are researching in that town, and someone else who is researching the same surname may provide help.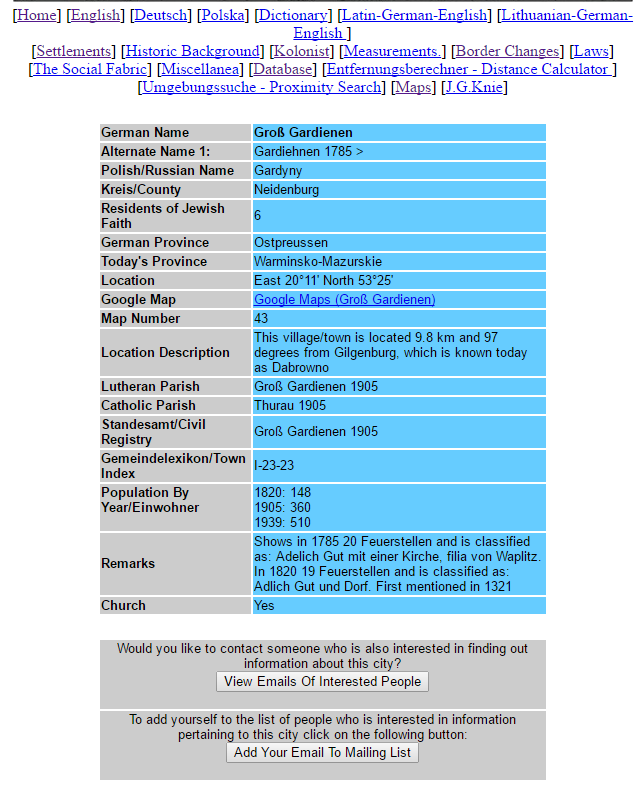 Run by a computer genealogy organization in Germany, there's a mega-site that goes by the name of Compgen.de or Genealogy.net. It is similar to the way RootsWeb was once a hub for American genealogy. One of the wonderful features of this site is the Historic Gazetteer, Geschichtliche Ortsverzeichnis (abbreviated GOV), in the German language.
This gazetteer covers much of Europe – including virtually all current or former German-speaking areas – and has a simple interface to enter a town name. The database will then fetch any references to that place name along with information about whether the place name represents a village, church parish, larger municipal division, etc.
Clicking on a specific location then takes you to a lot of information, including a detailed map, GPS data, additional articles on the Compgen.de site, and a chart showing larger political and church units to which it belonged, in most cases dating back to 1815. This is helpful information to figure out which churches, civil registry offices, and archives about the location may be found.
If you have ancestors from Germany or the surrounding area, the experts at Legacy Tree Genealogists not only have experience in determining where exactly your family lived and where the historical records are held but we are also located near the Family History Library in Salt Lake City, which houses original German records on microfilm, many of which are not available online yet. We would love to help you learn more! Contact us today for a free consultation for help with your German family history research.