If you have German ancestry, this resource is for you! Archion.de is an online resource for German evangelical church records. 
Church records, which can include baptisms, marriages, burials, confirmations, and in some areas family books, are some of the most commonly used resources for German genealogical research.
For those with German ancestors of the Protestant Evangelical faith, accessing church records from many areas of Germany has gotten easier over the last several years. In earlier times one had to travel to Germany to see the church records in person. Later, some were microfilmed and were made available through various organizations and repositories, including the Family History Library in Salt Lake City.
Today we have yet another way to access these important resources. The website Archion.de, which recently celebrated its third year in operation, is a joint effort between multiple archives across Germany to digitize German Evangelical church records and make them available online through a subscription website.
Although not all the regional evangelical churches in Germany have opted to join the database, eleven have. Church records from the following archives are included:
Evangelisches Zentralarchiv Berlin
Landeskirchliches Archiv der Evangelisch-Lutherischen Kirche in Bayern
Landeskirchliches Archiv der Evangelisch-Lutherischen Kirche in Norddeutschland
Landeskirchliches Archiv der Evangelischen Kirche von Westfalen
Landeskirchliches Archiv Hannover
Landeskirchliches Archiv in Berlin
Landeskirchliches Archiv Karlsruhe
Landeskirchliches Archiv Kassel
Landeskirchliches Archiv Stuttgart
Zentralarchiv der evangelischen Kirche der Pfalz
Zentralarchiv der evangelischen Kirche in Hessen und Nassau.
In the case of the Evangelisches Zentralarchiv Berlin, it should be noted that selections from this archive include records for various areas in the former provinces of East Prussia, West Prussia, Silesia, Pomerania, and Posen in addition to Brandenburg. Thus, while named for the larger city in which the archive is found, the collection encompasses other smaller nearby jurisdictions as well.
The database is a work-in-progress, and new digitized records are being added regularly; in fact, under the "news" tab you can view the collections added each day for the previous month and arranged by archive. The two archives with the highest number of new posted records in July, for example, were the Landeskirchliches Archiv Stuttgart and the Landeskirchliches Archiv Kassel.
When browsing the collections within each archive, you'll note that many of the options are color-coded. Those in green indicate that images are available to be viewed online. The items within the area selected may contain highlighted parishes as well as non-highlighted parishes, as not all items within a parish may be available online. Those that are not highlighted are available at the archive, but not online currently.
A year's subscription, or "pass," to Archion costs €178.80 (the equivalent of about US $200), though you can also purchase smaller increments of access time. These fees help support the cause and expenses of digitizing, paying employees, maintaining server space, and other necessary tasks. Unlike other subscription websites, Archion allows users to see what locations and records are available without first having to log in, so it is possible to see if the records for the area you would like to search are available before buying a pass. Even if the records you need are not available today, check back every few months as the database is growing and the records you need may become available soon.
As you explore and strategize, however, keep in mind that the church books are digitized, not indexed. There is no way to input an ancestor's name and query the databases for them, so page-by-page searches will need to be conducted for the individual you're researching. This means that it would be most helpful and time-effective to already know the place and general or exact date of the event for which you're seeking evidence.
Another seemingly obvious but important caveat: the records are in German, and many are written in the old German Gothic script. This can make deciphering them difficult if you're not already familiar with the language or handwriting.
Still, this is a wonderful opportunity to access records, as not all of those available on Archion have been microfilmed and made available through other avenues such as the Family History Library. We applaud the efforts of the German Evangelical Lutheran community as well as those of other organizations throughout the world who recognize the need for access to these valuable records and are making great strides to bring them out for public use.
Do you have ancestry from Germany or another German-speaking country? As of the 2010 U.S. Census, over 49 million Americans said that they did. And America wasn't the only recipient of the large German diaspora since the 17th century. In addition to neighboring European nations, many countries like Brazil, Argentina, Chile, South Africa, Australia, and the United Kingdom have experienced high numbers of German immigrants over the last 400 years. There's a good chance you're one of them!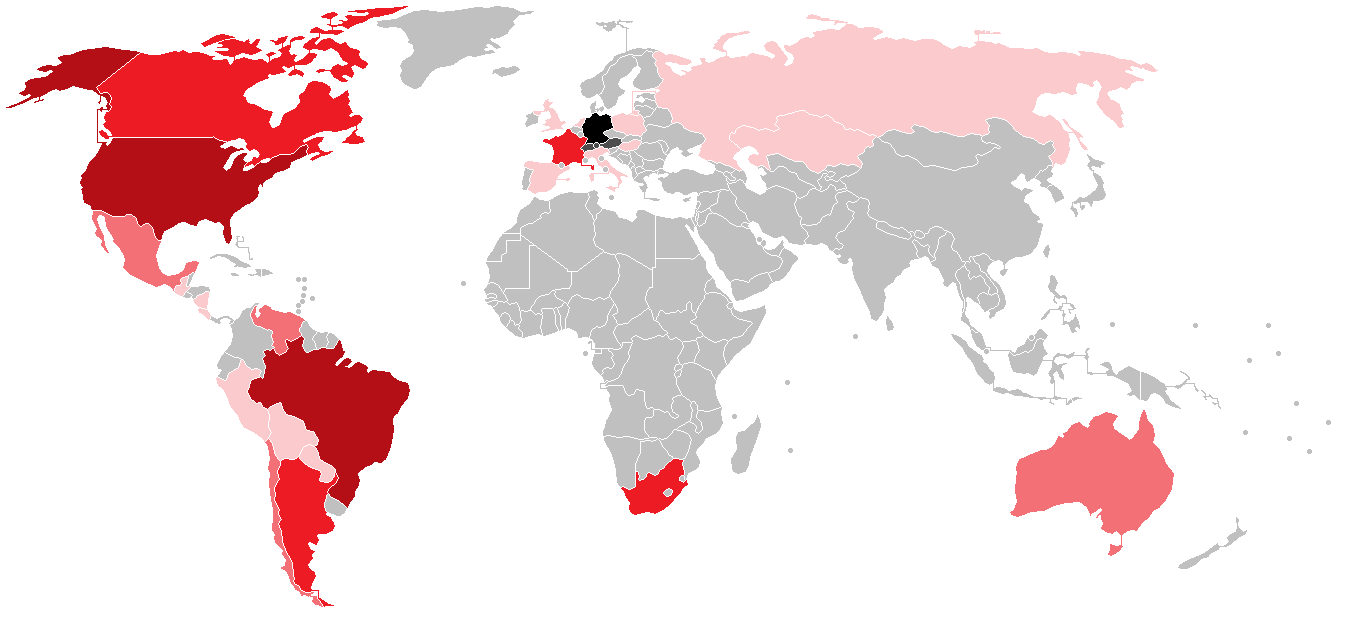 Need help finding and reading records? Don't know where to start? Legacy Tree Genealogists can help. Our team includes experts who are fluent in the language, awesome at reading the scripts, and professionals at tracing ancestors through multiple countries where German is or was spoken, including Switzerland, Austria, Poland, France, and more. Plus, we already have subscriptions to this and many other sites for finding records! Contact us today for a free consultation.