English ancestor research can be simplified when you understand the importance of historical dates and which records will hold the information you seek.  In this conversation with Legacy Tree Genealogists Kimberly Gilboy, she shares tips and tricks she has learned over her years in English ancestor research.
How did you get your start in genealogy research, and why is England of particular interest to you?  
Kim:  
I have English ancestors on both my father's and my mother's sides. I grew up in a town with my mother's family nearby, and three of my four great-grandparents lived well into their nineties. I remember particularly my great-grandmother, Grandma Forwood, who was from Kent. She grew up there and eventually emigrated to Canada. The grandparents from Kent were Mariners and Gardeners and emigrated to Canada in the early 1900s. My other grandparents were from Cornwall, and they were tin miners. They emigrated from Cornwall to Michigan and Montana, where mining was also going on in those areas. It was enjoyable to talk to my grandparents about their experiences.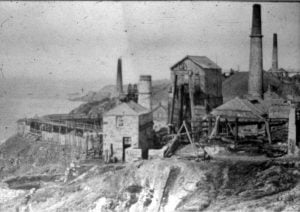 What led to their emigration? Why did your family leave England? 
Kim:  
There was quite a bit of expansion in the United States in the early 1900s, and the Cornish tin miners had the expertise. In the United States, South America, and Australia, others were trying to import them [the miners] because they had the technical expertise that was needed in the mines.   
Heather:  
Genealogy became natural for you because you're chatting with your grandparents, and you've got them around. Not all of us are blessed to have those connections. But it was probably a regular thing to talk about the old days.   
Kim:  
Well, I always loved history and felt connected to where they had been before. And now I've been able to travel to some of those places. There was a real connection there, something not everybody finds as fascinating as I do. [laughs]  
When researching in England, you had a head start because you had family from there who could share information. But when a person starts researching, what's challenging about England? What makes it difficult to research family lines in England?  
Kim:  
Some other European countries have civil registration that goes back earlier than England. So that's one of the challenges. Civil registration started in 1837, and that was about the same time that they had usable censuses. So before then, it becomes more challenging.  
But on the positive side, particularly for families who are members of the Church of England, the parish records are pretty good. You don't always have the mother's maiden name in the parish records. You sometimes have different amounts of information, but it's still feasible to do research before 1837. It's simply a little more challenging.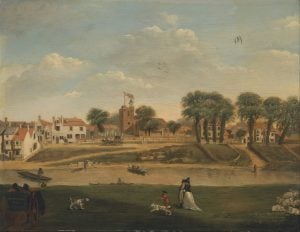 How far back did a lot of those parish records go?  
Kim:  
The earliest parish record, I believe, was in 1538 when the Church of England became the state church and the Crown announced that the parishes needed to keep records. A lot of those earlier records weren't kept on parchment. And so many of them have been lost. There are records available for about 50% of parishes, but many are tattered, or there are big significant gaps. But by the 1700s you see lots more parish records.   
That simplifies things because you can look at civil records until you get back further than 1837, and then search into parish records. Were most people in the 1600's members of the Church of England?  
Kim:  
A large majority were members, but England also required that marriages be recorded in the Church of England during that period. Sometimes people belonged to another church, but their marriage records will show up in the Church of England. Sometimes burial records are also available because the Church of England had burial grounds. In contrast, the little Methodist congregations didn't necessarily have that.   
Are many of these records digitized now? Can you access them online, or do you need to be onsite? 
Kim:   
When I started this journey a long time ago in a different millennium, we had to order every record.   
First, we would have to order the index. The FamilySearch for the Church of Jesus Christ of Latter-day Saints has digitized many of these records, but they weren't as accessible as they are now. We would have to order an index and then find out, "Okay, here are all the names of all the Forwoods" or whoever I'm looking for.   
And then, once you knew which microfilm roll you needed for the actual record from the index, you'd have to reorder all the different little sections of parish records that you needed. It was a pretty long process.  
My favorite vacation when I was in graduate school was coming to Utah, skiing for a couple of days, then spending the rest of the week at the Family History Library in SLC from dawn to dusk. You could get so much more done sitting there with the microfilm instead of having to order it all. We've come a long way.   
When people want to know why a project takes many months to complete, they need to comprehend how much faster research is now.  
Kim:  
So true. I've seen genealogical reports from the 1960s that took years. We are much faster now and able to find the records we need much more quickly today than in the past. 
It sounds like FamilySearch is an excellent resource for English records. Are there other places that people should look when trying to find family in England? 
Kim:   
FamilySearch is great, and they have a lot of records, but they have yet to index all of them. FamilySearch is a non-profit, so they don't have the kind of financial resources Ancestry and Findmypast have. Those three sites are most useful for English research.   
Since FamilySearch is a non-profit, they have collaborated with the other two quite a bit. A lot of times, you'll see an index on Ancestry, and it'll be in reference to a FamilySearch library film. Then you can go over to FamilySearch and find the records. I always want to see the original documents because the index may be missing some of the information that's on the record. And there's also a chance that the records aren't indexed correctly. That's why it's essential to look at the original record.   
Those are great resources that you can use without even leaving your home. Some are free, and some are subscription based. Is there ever a time that you've had to use an onsite researcher?  
Kim:  
Yes, quite often. Not all the time because many things are digitized, but often there's some critical record you can't access online. We had a client a few months ago whose sister had been adopted and had gone to school in an orphanage. She was interested in what orphanage she went to and what had happened to it. In that case, we had to research the local archives in person to see if any records still existed.  
And we found the records! It was a small local archive in Yorkshire. We had one of our onsite researchers go into that archive and sit and read those books to gather information about the children and to which orphanage they were assigned. There were about ten different books that might have mentioned that family, so it took some time. Sometimes there are projects we research in particular counties that don't allow their records to be published, and you've to go in person to view them. This orphanage project was a specialized case where we needed an onsite researcher to visit the archives in person.  
What is a favorite story of a client you worked with on England research?
Kim:  
We don't often get an opportunity to research early pre-parish records. It isn't easy, and it's expensive in terms of time to do that kind of research in that early period. But recently, we had one client that was interested in tracing back his paternal line. We went through all the parish records from the mid 1500s and exhausted what was there, but the client still wanted to continue researching his family.  
In our research, we found manor records. With the collaboration of a brilliant onsite researcher who could read Latin and the old English script, we successfully found his ancestor in these manor records. We were able to identify another couple of generations doing that.  
By then, we were in the early 1500s and the late 1400s. This ancestor was not a gentleman with a lot of land or titles. He was just a regular man whose name appeared in the roll from meetings in the manor's court. When one of the ancestors passed away, this man inherited land, and this was listed in probate records of the manor. The land belonged to the Lord of the Manor, but this ancestor was a freeholder. In that transitional period, the land was starting to be owned by the common man and not just by the landlords. That was a great project and made this ancestor's life come alive for his family.  For me, that's part of why genealogy research is addictive because there develops a real connection with these people, and it makes one want to go to the places where these ancestors lived.  
Why do you think Legacy Tree Genealogists is a unique organization?  
Kim:  
The culture of Legacy Tree is unique. There's a strong sense of community, caring for one another, and supporting colleagues. And that translates into the way that we interact with our clients as well. Most of my work is primarily at my desk, and I communicate through emails with our clients. But there's a real connection between the people we serve and the amazingly high-quality people at Legacy Tree. 
I spent a few months in the editing department when I started with Legacy Tree as an intern. I was blown away by what researchers could produce, the quality, and the quantity of research they could produce in a relatively short period. The quality of the work is incomparable. It just boggles my mind, and it still does.  
Heather:  
When I see the finished English ancestor research projects, I love to read them and see how this information is life-changing to the people who receive it. It's good information and put together so that you can see the researcher's thought process and how they found the different pieces of the story.  
Why would you choose to hire a professional genealogist for an English ancestor research project? 
Kim:  
The beauty of doing deep genealogy research every day is the depth of experience and expertise gained. We can see different ways of looking at problems. You can see a situation and say, "Okay, I've seen these conditions before. Here's a way we can get around this. Or here's a way we can look for siblings and others who can tell us more about where this person came from, where their parents came from, and see if we can establish a connection with them." There are many tricks of the trade, not only due to the tools we have access to but also by having done it repeatedly.   
If a person is brand new to English ancestor research, what would be the best first steps?
Kim:  
There are a few keys to starting out.
First, it depends on the period, pre- or post-civil registration in 1837.

Learning how to search for and understand what's in civil registration records is a great place to begin. 

 

Get familiar with civil registration and some of the little tricks to find all the siblings in a family, even the babies who never appear on census records.  

 

I recommend you familiarize yourself with the Findmypast, Ancestry, and FamilySearch indexes. 

 
What do you love the most about being a Legacy Tree genealogist? 
Kim:   
For the first few years, I kept saying, "I'm living the dream." I get to do all day, every day, what I chose to do on my vacations in the past. It really is fun. It's something I love, and I love being able to do it every day.   
 If you have an English ancestor research project that you need assistance with, reach out to the experts at Legacy Tree Genealogists to help extend your family tree. 
Photos from Kim's visit to England