Have you ever stopped to think about the language that your Scottish ancestors spoke? Gaelic? English? Something else? The answer is not as straightforward as you may think.
English has been the "official" language of Scotland since the 18th century. Prior to this, Scots Gaelic had already been systematically suppressed by several acts of parliament, starting at the beginning of the 1600s.[1] One of the last Scottish kings to speak Gaelic was James IV who reigned from 1473 to 1513. It's hard to estimate how many people spoke Gaelic between the beginning of the 1600s and the end of the 1800s. Donald McAulay, a native Gaelic speaker who wrote extensively about Celtic languages, estimated that by 1775 only about a quarter of Scots knew Gaelic.[2]
How do I determine what language my Scottish ancestors spoke?
The 1891 Scottish census included a question on language. Specifically, residents were asked if they spoke Gaelic only, or both Gaelic and English. An Edinburgh-based map company, John Bartholomew and Son, later produced a colored map showing the distribution of Gaelic speakers in Scotland using the data from the census returns.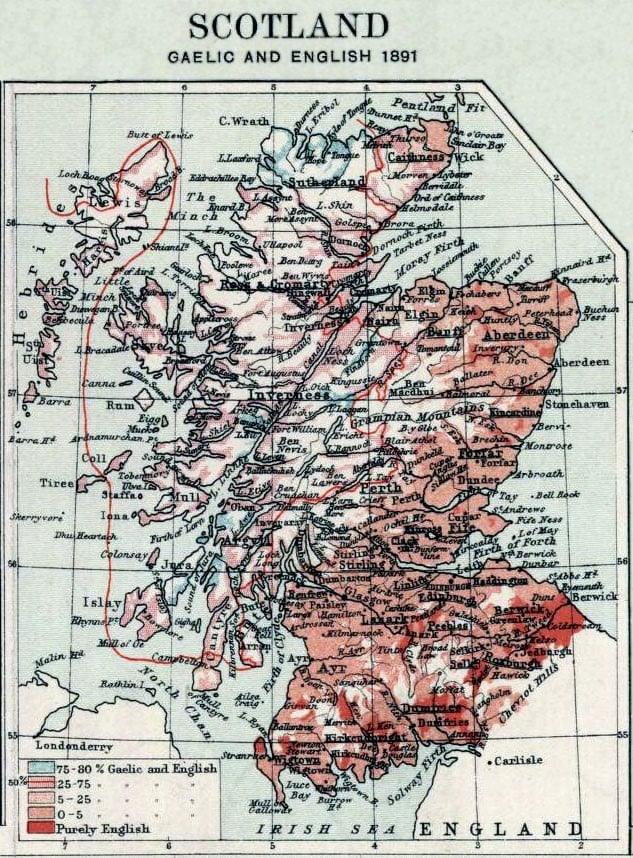 The deeper red colors show communities where fewer households spoke any Gaelic. In the darkest red areas, most households knew no Gaelic at all. If your ancestors at this time were living in the far north of Scotland near Cape Wrath in Sutherland, or perhaps on one of the islands to the west such as Jura or Oban, chances were higher that they used Gaelic. For some of my ancestors who were enumerated in the 1891 census, the Gaelic/English column was simply left blank. My great-grandfather, living in the industrial city of Dundee on the east coast, was not a Gaelic speaker. Similarly my great-grandmother's family from rural Jedburgh in the Borders region, were English speakers. Or were they?
What is the Scots language?
Whilst they were not amongst the 6% of Gaelic-speakers recorded in the 1891 census, these ancestors, like many Scots, spoke in the Scots language.  It's easy to think that Scots was and is just English with an accent, but this is not the case. Scots is more than an accent or a vernacular. Much of it is unrecognisable to English speakers due to unique words influenced by, but not identical to Gaelic, French, and Norse. Thousands of these words are still used by Scots speakers today, and I grew up hearing many of them daily.
What are some common Scots language words?
Bairn – a baby or the youngest child in the family
Ken– to know a person or a piece of information
Kirk – a church
Dreich – grey, misty unpleasant weather
Breeks – trousers
Shin – shoes
Een – eyes
Flit – to move house
Lum – chimney
Besom – a mischievous girl

There are many, many more. The Scots language even has its own dictionary and thesaurus. If you've ever sung Auld Lang Syne at New Year's (or Hogmanay as the wild night of 31st December is known), then you've been singing in Scots. 


Robert Burns, the famous Scottish poet, popularized Scots in written form. In the 21st century, the written form has been revived and it has become popular to translate famous books into Scots. You can find Harry Potter and the Philosopher's Stane in Scots – hopefully that title doesn't need too much translation! The opening pages include some fantastically descriptive words that your ancestors were probably familiar with, such as "crabbit" (bad-tempered), "screivit" (written) and "haver" (to talk nonsense).

If you'd like to learn more about your Scottish ancestors, (including what language they spoke!), the team at Legacy Tree Genealogists can help! Contact us today to request a free quote.
---
[1] Ewan J. Innes, "The Social, Economic and Political Reasons for the Decline of Gaelic in Scotland," Scottish History, www.scottishhistory.com, accessed 19 July 2019.
[2] Donald McAuley, The Celtic Languages, Cambridge University Press, 1993, p. 141.
The Concise Scots Dictionary, published by Edinburgh University Press.