Family history brings connection, healing, and joy. This was the overarching theme of the RootsTech 2019 Conference in Salt Lake City, Utah. We were thrilled to once again be a part of celebrating all the good things family history brings to the world and the technology and innovation driving it forward.
Legacy Tree Genealogists was once again invited to participate as a RootsTech Ambassador for 2019. As such, Legacy Tree president Jessica Taylor and marketing director Amber Brown were invited to attend the Media dinner Tuesday evening, where they had the opportunity to mingle with other ambassadors and get a sneak-peek into the exciting events planned for the coming week.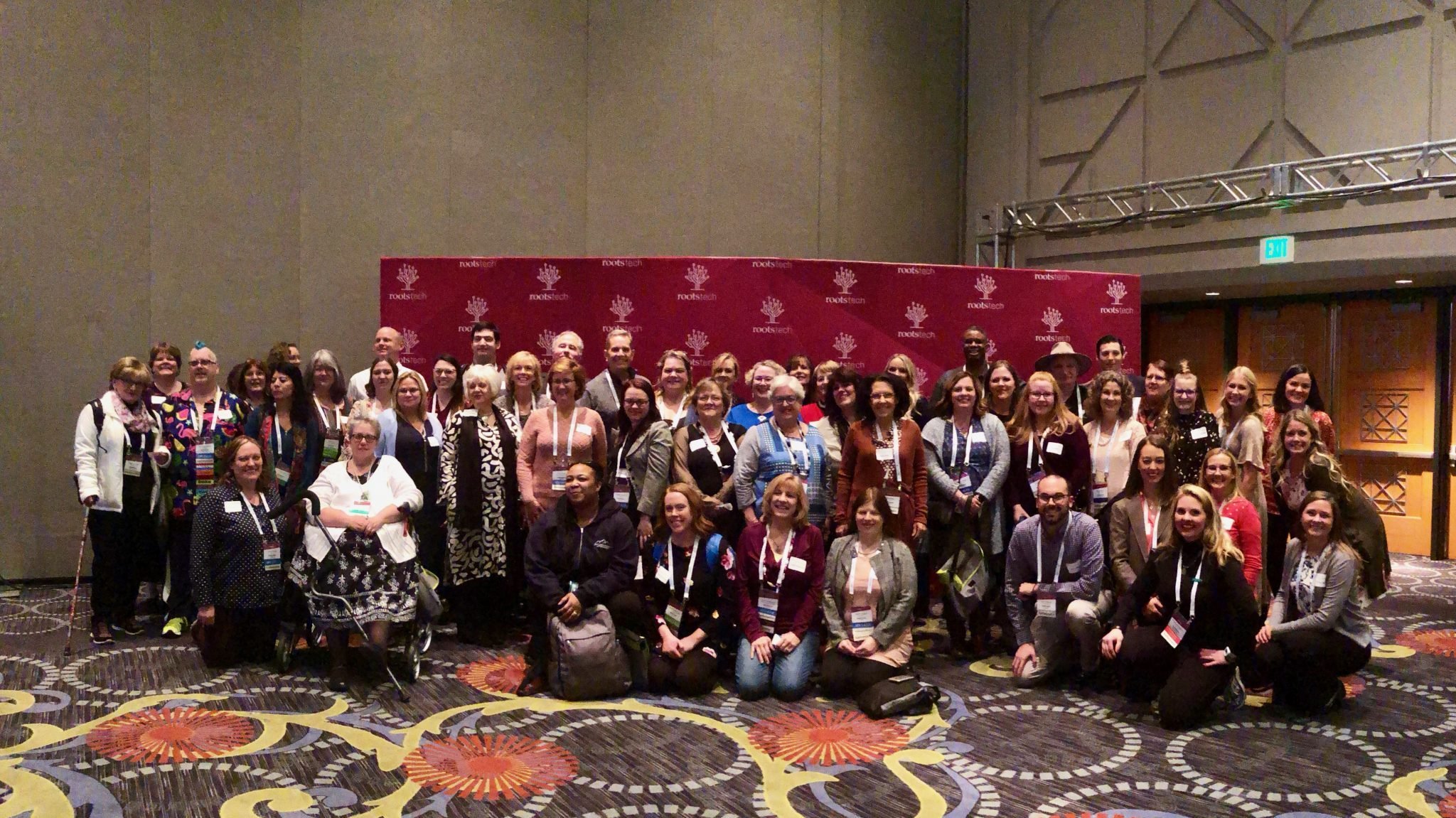 RootsTech attendees enjoyed numerous classes throughout the conference on a wide range of topics, from DNA to digital photo restoration and Chinese genealogy to Colonial New England research. Recordings of select sessions are available to watch here. Legacy Tree team experts shared their knowledge as they held question and answer sessions and taught various classes during the course of the week on topics such as "Freedmen's Bureau 2.0: A Better Way to Do Slave Research" and genetic genealogy collaboration titled, "Looks Like We're Cousins".
We also enjoyed interacting with many conference-goers at the Legacy Tree booth in the Expo Hall.
The conference began Wednesday with an exploration of the healing effects of family history research. In the general session, the International African American Museum (IAAM) in Charleston, South Carolina, and the Church of Jesus Christ of Latter-day Saints announced a joint effort to help those of African American descent discover their families through the Center for Family History, to be located at the museum. The CEO of the IAAM, Michael B. Moore, spoke of the healing that can come when the blank places in our heritage are explored. Special guest Martin Luther King III then expressed appreciation for the way the efforts of the genealogical community help the world progress toward making his father's famous dream a reality.
On Thursday, the keynote address was given by Emmy Award winning actress Patricia Heaton. Patricia appeared in television shows Everybody Loves Raymond and The Middle, which both centered on the ups and downs of real family life. She related experiences from her own life that helped her understand that family really is everything. Growing up in a large Catholic family, Patricia has over 100 first cousins, and consequently, often runs into previously-unknown relatives. She was thrilled to add even more "cousins" to her family tree as FamilySearch revealed new information about her immigrant ancestors from Ireland and Germany live on stage.
The inspiring story of Saroo Brierley, subject of the film "Lion," was the theme of Friday's general session. In his address, Saroo told how, at five years old, he became accidentally separated from his family in India and was eventually adopted by a couple in Australia. Despite his new loving family, he always felt something was missing. When he was in his 20s he decided to seek that missing connection by trying to find his biological family. The search was painstaking and took years, but Saroo eventually found his way home and was reunited with his mother. His message to the RootsTech audience was to never lose hope and to "solider on" in our most challenging endeavors.
On Thursday evening, the Genealogy Business Alliance, co-founded by Family ChartMasters owner, Janet Hovorka, and Legacy Tree Genealogists president, Jessica Taylor, held their annual RootsTech Get-Together. The event was well-attended by industry professionals interested in networking and growing the genealogy sphere.
Friday evening's entertainment was titled "Connecting through Music and Dance," and featured six-time Dancing with the Stars champion Derek Hough and the award-winning Brigham Young University Ballroom Dance Company. Derek was introduced to the RootsTech attendees by his own father, Bruce Hough, who revealed that Derek's great-grandparents met at a 1926 marathon dance contest, that his grandparents were dance instructors, and that his parents (Bruce himself and his wife, Marianne) met in a college ballroom dance company. Derek gave an energetic address about how moving our bodies affects how we feel and how dancing with his family members has brought him a feeling of connection and joy. This was demonstrated in several fun home videos of him dancing with his siblings and even his grandparents at various times throughout his life. Derek left the stage to dance with a surprised and excited audience member, field questions, and hug enthusiastic fans.
Legacy Tree DNA Team Lead Paul Woodbury and Project Manager Carolyn Tolman participated in a Legacy Tree Live DNA Q&A session, broadcast on the Legacy Tree Genealogists Facebook page. They answered questions users submitted about genetic genealogy and using their DNA test results to resolve research questions. To be notified of future live Q&A sessions, sign up for our newsletter.
The conference was infused with youthful excitement on Saturday when thousands of children, teenagers, and families joined RootsTech for Family Discovery Day. We were happy to celebrate these budding family historians at our Legacy Tree booth with "Future Genealogist" stickers and treats.
The incredible musician Jake Shimabukuro and his ukulele took to the stage Saturday for the final RootsTech general session. Jake delighted the audience with several amazing numbers and spoke about his ancestors who immigrated to Hawaii from Japan generations ago. He said there is a Japanese phrase that means "lose to win," which reminds him how his ancestors sacrificed and "lost" much so that he could "win" in life. He encouraged us to make the necessary sacrifices to make the world a better place for the upcoming generations.
We enjoyed connecting at RootsTech with so many others who share our love of family discovery and are excited to be part of the experience again later this year at the first-ever RootsTech London. The event will be held at the EcCel London Convention Centre, October 24-26, 2019. Whether it's in London this year or at one of our other scheduled conferences for 2019 we hope you will join us next time in celebrating the connection, healing, and joy of family history!
The experts at Legacy Tree Genealogists are here to help you connect with your ancestors and preserve your legacy for generations to come. Get started today by requesting your free consultation.