Discovering colonial American ancestors is a frequent request we receive at Legacy Tree Genealogists. Colonial ancestors pose a unique challenge to the genealogist in that they often appear in many online family trees, but those trees frequently lack sufficient documentation. Eliminating the purely speculative and identifying verified relationships and accurate data is the goal. Here we share three of our favorite online resources for finding colonial ancestors.
1. AmericanAncestors.org
This fantastic subscription-based website is the creation of the New England Historic Genealogical Society. NEHGS was founded in 1845 and is the oldest genealogical society in the United States. As such, they have had nearly two centuries to gather and preserve materials pertinent to family history. According to their "about" page AmericanAncestors.org presents "more than 1.4 billion records spanning twenty-two countries" and is "one of the most extensive online collections of early American genealogical records."
Of the 435 databases hosted on AmericanAncestors.org, 286 are focused on pre-1800 records. These databases include vital records, censuses, migration, bible, cemetery, tax, voter, property, probate, court, and military records as well as family histories, local histories, biographies, reference material, and periodicals. Searching these records is easy with the "Search All Databases" page which allows the user to add a variety of search terms—names, years, record types, locations, keywords, and additional family members. With so many record types available to the genealogist, the databases at AmericanAncestors.org are a must for colonial family history research.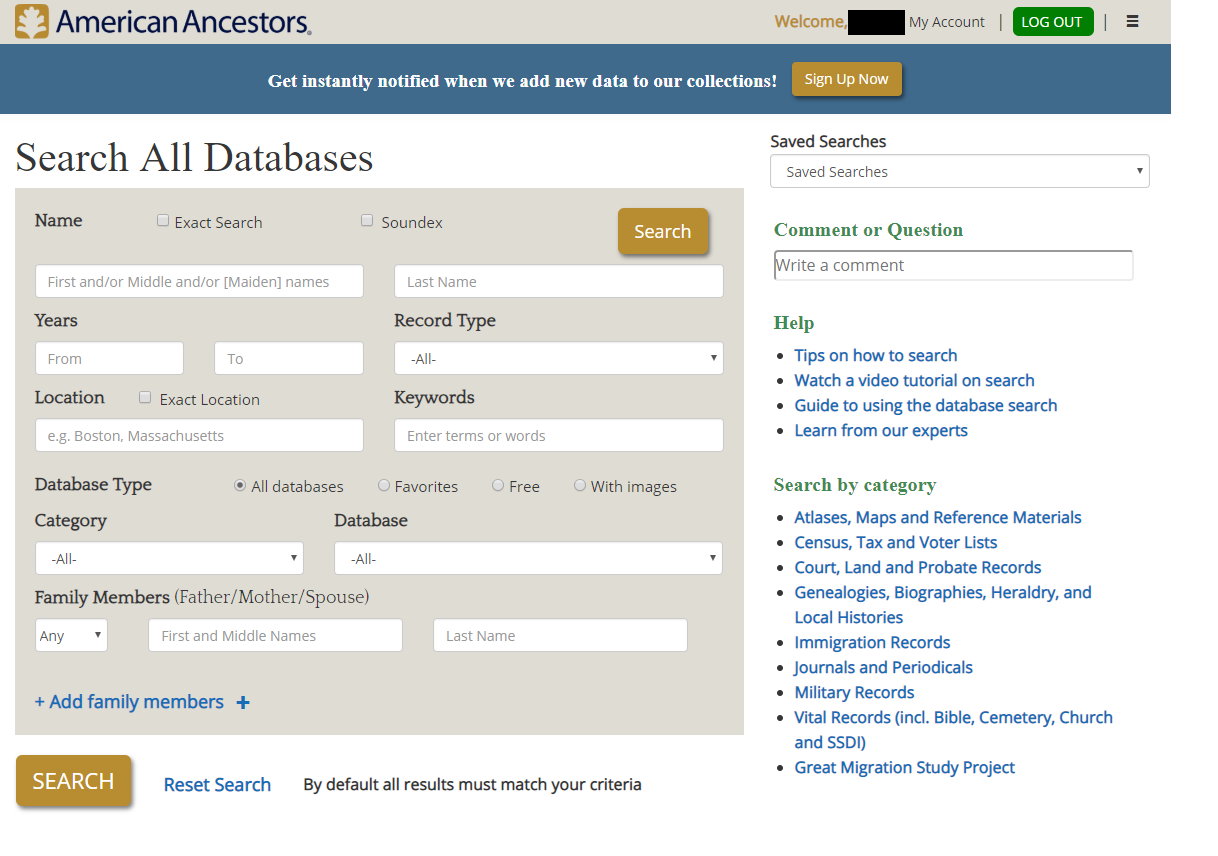 Besides research databases, AmericanAncestors.org offers access to a number of other helpful services. Two of these services are the "Digital Collections" and the "Library Catalog" both of which are portals to the extensive collections housed at the NEHGS library in Boston, Massachusetts. When searching the "Digital Collections" webpage the family historian will find personal family papers such as photographs, diaries, and letters as well as records created by non-family entities like organization and business records and newspapers. The "Digital Collections" section of the website also has a focus on the history of the Jewish community in the Boston area and offers material helpful to both the historian and genealogist.
The "Library Catalog" gives the family historian the ability to begin their research of NEHGS's extensive collections at home. Of course, a catalog is different than a database in that a catalog lists the titles of the library's holdings and not every name mentioned within each item. However, if planning a trip to NEHGS to conduct research, it would be wise to have a starting point for your research—that way you can hit the ground running and make the most of your time at the library itself. Use the catalog by searching family surnames and ancestral residences to find books, manuscripts, or photographs that may be beneficial to your research.
2. Finding Colonial Ancestors in Digitized Books
Our experience reveals that many online trees presenting colonial American ancestries are based upon genealogies published in the nineteenth and twentieth centuries (although the online trees themselves frequently do not cite the published genealogies). Genealogies published in the nineteenth century and early twentieth century are not always accurate and rarely included extensive citations supporting each statement of fact as contemporary genealogies should, but they can still be helpful. These genealogies occasionally referenced original sources (such as wills or deeds) or made blanket statements about what type of records were used (like family correspondence or county records). Additionally, the printed genealogies provide a clearer picture of what previous generations believed about their genealogy before the advent of the internet which escalated confused and inaccurate pedigrees because of the ease of data sharing and a general lack of quality control. Thus, published genealogies can provide important clues about colonial American families. Accessing these published genealogies was much more difficult just a few years ago, but thanks to websites like Archive.org and Google Books many can be viewed right at home. These organizations have taken the time to digitize genealogies which are now in the public domain due to copyright laws. Interested in learning more about using Google Books for genealogy research? Check out our previous article, Google Books: An Untapped Genealogy Resource.
3. The FamilySearch Catalog
One underutilized resource on FamilySearch.org is the FamilySearch Catalog (formerly known as the Family History Library Catalog). This tool inventories all of the holdings at the massive Family History Library in Salt Lake City, Utah. A majority of the holdings at the Family History Library are on microfilm, which FamilySearch plans to digitize by 2020. While some of these digitized microfilms have been organized into databases available through FamilySearch's "Historical Records" portion of the website, many are only found listed as microfilm in the FamilySearch Catalog. In other words, there may be a collection of digitized microfilms that can only be viewed online by clicking on the link in the FamilySearch Catalog and will not be found in a "Historical Records" database.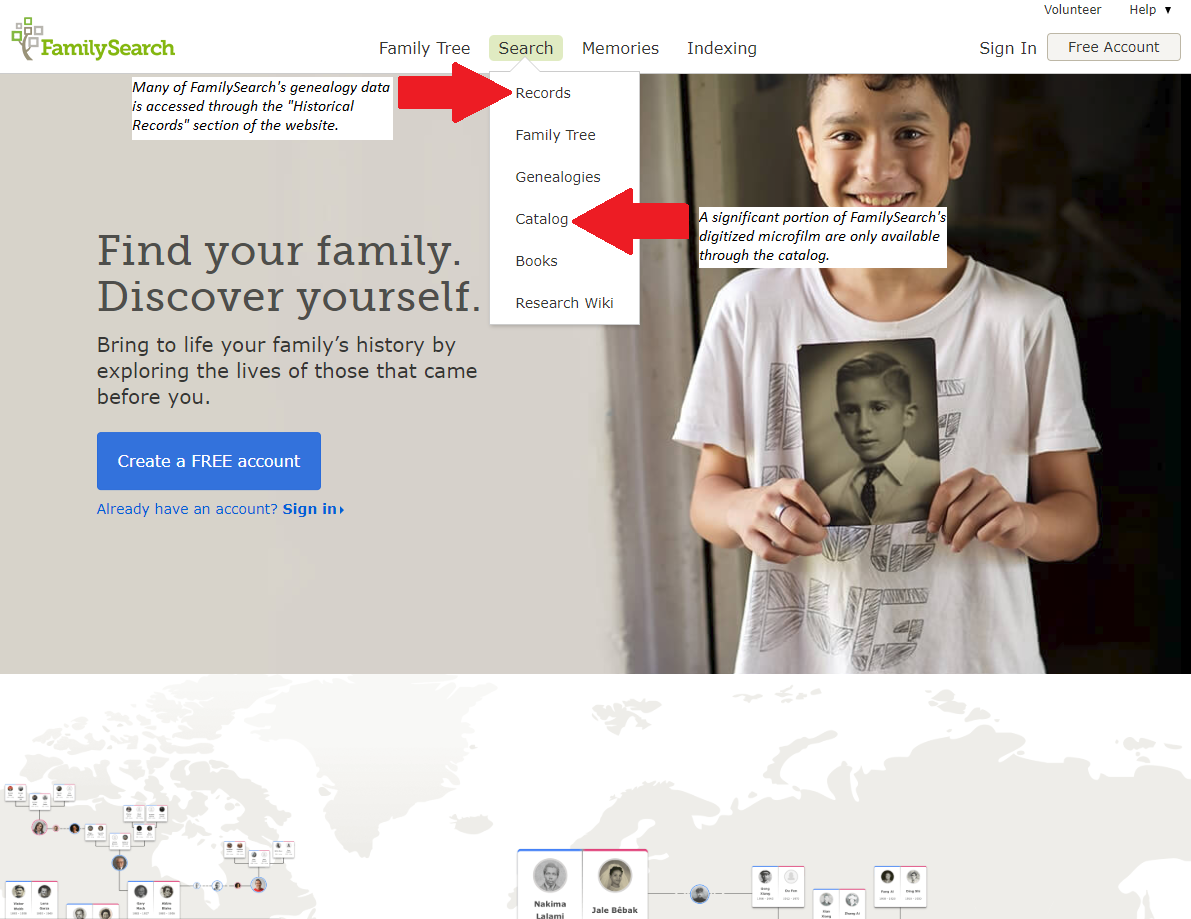 So what does this mean for researching colonial American ancestors? There are two record types in particular where the FamilySearch Catalog becomes exceptionally beneficial to colonial research—property and probate records. These record types are useful because they can prove, through both direct and indirect evidence, family relationships in times or places where other documents (like vital records and census) are lacking. However, because property and probate records are difficult to index there are fewer databases in FamilySearch's "Historical Records" which focus on them. This is where the FamilySearch Catalog comes in; many microfilms of probate and property records have been digitized and are accessed in the catalog. These high-quality digital images—often of better quality than the microfilm itself—can be clicked through in search of an ancestor's property or probate records.
Here's an extra tip: Some of the probate records which have been digitized in the FamilySearch Catalog can only be viewed at the Family History Library or a Family History Center—due to agreements the Family History Library has with the original agencies, the images are locked and cannot be accessed at home. If you can't make it to your local Family History Center, one work around is checking Ancestry.com to see if that database has the probate records in question. Ancestry's probate databases include a searchable index, but these indexes are very incomplete and it is best to browse through the images.
Using these resources and many others, our team at Legacy Tree Genealogists has assisted many with their Colonial American research problems and would be glad to assist in discovering your Colonial ancestors as well.
Our professionals believe in leaving no stone unturned, and they have been trained in analyzing records and migration patterns to help you learn more about your Colonial American ancestry. Contact us today to get started on your family history research goals!