Legacy Tree Genealogists works with researchers from across the globe to access records for our clients. We asked one of our onsite researchers in France to share insights into the resources available for those researching French genealogy and family history.
France has a wonderful, rich heritage, not only regarding the nation's political and cultural history, but also in family history records. Thanks to careful archival preservation, the documents available are well documented and organized.
As genealogical research moves into the technological world, many repositories have been placing the documents online, especially the civil and parish registers which are the foundation for researching our ancestors. Although this provides a wonderful opportunity to research our French ancestors' records in the comfort of our own homes, there are still many other documents available offline in archives that may be necessary for us to know which direction to go online.
Town/City Halls (Mairie, Hotel de Ville or Maison Communal)
Town/city halls are located in every single town in France and each one has the communal copy of the parish records before 1792 and the civil state registration records since 1792 of their town and towns that have been integrated into it. At the time an act (record) is made, there are always two copies. The departmental copy (or diocese copy before 1792) is sent to the Departmental archives, but the communal copy (considered the original) is always kept in the Mairie. Therefore, it is important to understand that the Mairie may have acts that the Departmental archives may not have no matter the time period. Therefore, if there are missing documents in the copy of the departmental archives, check with the Mairies.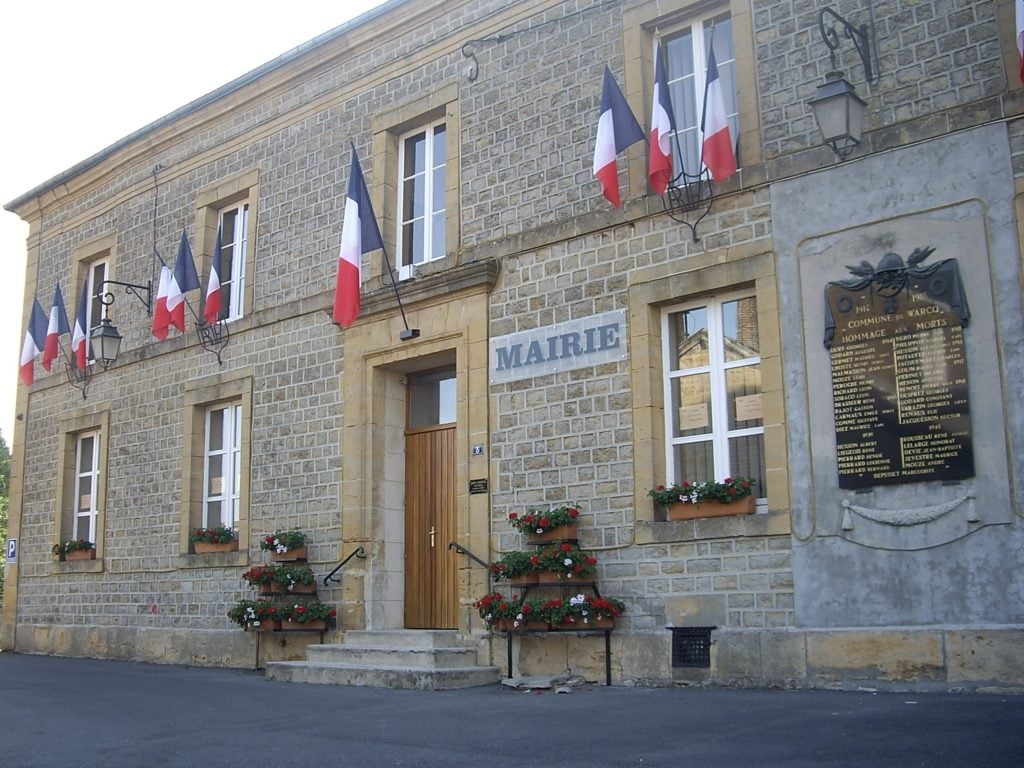 If you are doing research for an ancestor born less than 110 years ago, you will have to go to the Mairie to retrieve any vital act. It is wise to first write to the Town Hall requesting the act, but be aware that the personnel are usually not willing to do the research unless it is for administrative purposes; therefore, it is important to be as accurate as possible on names, dates and places to help guide them to the specific act that you are requesting, or they may refuse to search for it. If the Mairie states that they may not have found the act, and you are certain that the act is in the commune, you will need to arrange an onsite search to check the registers more thoroughly.
Also, because of confidentiality reasons, any birth and marriage act under a 75-year period cannot be accessed unless you are a direct descendant with proof of lineage and an identification card (passport, driver's license). However, the Decennial Tables and Death acts can be consulted without any difficulty.
You may also inquire of the Mairie if a person was buried in its cemetery, although cemeteries do remove the older tombs if they are not taken care of.
Addresses and phone numbers for the Mairies can be found in the pages jaunes or on their personal Internet site.
Departmental Archives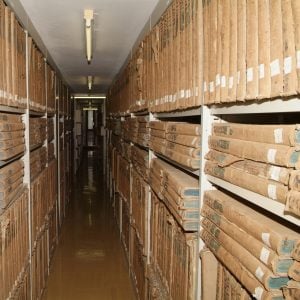 The departmental archives are the most popular place to search as they gather all the best documents for the entire department into one place. Not only the parish and civil register of every town in the department are found here, but also the census records beginning 1836, notary records (as long as the notaries have placed them there), post cards, military registration beginning 1865, passports, house and cadastral plans, or even tribunal and judicial decrees to start with.
Each department works differently, which explains why although most French archival departments have placed many of the basic sources online, others may have only partially placed their sources or only their catalogue online; and therefore, the research must be done at the Archives. Most of the basic sources that have been placed online are postcards, Parish/civil state registers, censuses after 1836, and military registrations. Many who have all these types of registers already online are beginning to place notary repertories online.
The notary records and judicial records are an incredible source to compliment the civil state register and parish records because they will contain more information about the individual or family.
Notary acts (Series 4E)
When working with Notary records, it is well to keep in mind that the family may not have gone to the nearest town notary, but they generally chose one notary for all their needs. Fortunately, repertories can be searched through quickly to know if the desired person/family had a notary act with the particular notary study. Keep an eye out if a marriage contract is indicated in a marriage act or if the parents who were unable to attend the marriage presented themselves before the notary giving their permission; the date, place and name of the notary will be indicated letting you know exactly where to go. Also, death Inventories and successions can generally be found within a year following a person's death.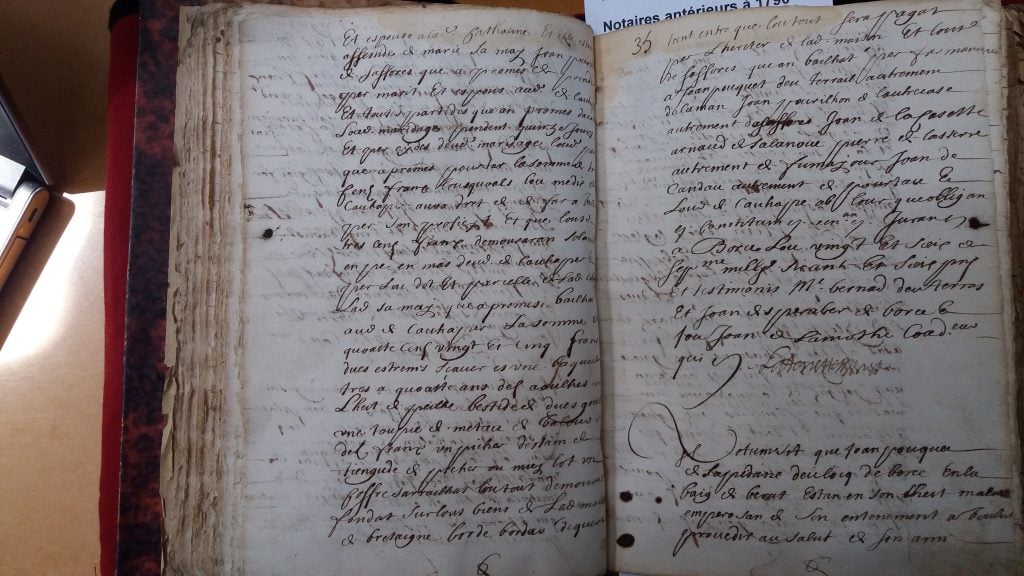 Other documents that are more difficult to find but worth searching for can be house deeds, annuity contracts, sales of particular goods between two parties, company contracts etc… Depending on the type of work that your family did (merchants, landlords, annuitants, ect…) they may or may not have a notary act. Unfortunately, notary records may or may not be available because the notaries own the records and there are still many notary records that have not been given to the departmental archives; it may be necessary to contact the notary who holds the particular study needed.
Judicial acts (Serie B pre- 1792, Serie L from 1792-1806, Serie U post 1806)
Judicial acts can also be found at the departmental archives. It may not have been necessary that every person needed to go to the courts for any reason, but some of the following situations would be an indication that your ancestor would have a judicial record.
Orphans whose guardianship has been named. The guardian will be mentioned in a marriage act.
Individuals who marry as a minor. The decree may be indicated in the marriage act.
Individuals who worked for prisons or for the judicial services.
Individuals who have been sent to jail or condemned for a particular crime/reason
Libraries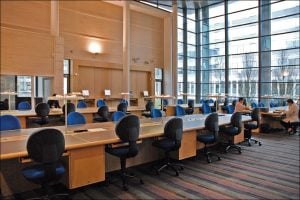 Some libraries can also be found in the departmental archives that may have information on particular families, the history of the department, or different regions within the department. In some cases, unique published studies from students or local genealogists may also be found at the archives that would not be found elsewhere. The books are open in the rooms and there is no need to order them from the front desk. They cannot be checked out, but can only be consulted in the archives.
Each Departmental Archive has their own Internet site with their online catalogues, possible online acts, and contact information.
Plan Ahead
No matter which place or places you plan to go, it is always wise to plan your trip ahead of time before going to the archives. Here is a check list:
 Plan your trip well. Be certain that all possible online search has been done. Write a list of things desired to search for while onsite.
 Check the online catalogue, if any, to know what is available and to acquire the reference numbers (côte); if you have questions, contact the archives who will direct you.
 Check hours and holidays.
 Contact the onsite archive to make sure that the reference you need is available and reserve your place. Also, some archives have a limit of how many documents per day you can consult.
 You are allowed loose paper (no notebooks), a pencil (no pens), your camera and computer for documentation. For security reasons, you will need to take off all protections on cameras (smartphones) and computers.
Also, while you search through the documents, keep in mind that you will be handling old documents; be respectful and handle them with care.
Do not be scared to ask questions of the personnel; although some might be more difficult to work with, most are willing and wanting to help. They know what is available in the archives and they are able to guide you to documents or sources you wouldn't have known existed or were possible to search in. Prepare your questions and vocabulary ahead of time, especially if your French is rough, and be as clear as possible in your requests so that they will know how to guide you to the documents that will be of most use to your search.
Legacy Tree Genealogists works with onsite researchers all over the world, including in France, who are very familiar with the French archives and their contents, and can visit any of the branches to obtain the records you need in person. If you're not sure how to pursue your French ancestry, we are ready to help! Contact us today to discuss what options are available.