Learning about old houses is one of the best ways to connect with our past and bring people together when they learn of their shared heritage. With more than 30 years of experience researching family and house histories, Legacy Tree Genealogists' Meghan Jordan provides tips and resources to research the unique history of your house.
I've had a fascination with houses since I was a kid. There was nothing better than driving around with my mother going to open houses on a Sunday afternoon. Sometimes our house obsession would take a darker turn, though; one summer in the 1970s, my sister and I made my mother drive by the infamous "Amityville Horror" house in New York when we were on a family vacation.
Every House has a Story to Tell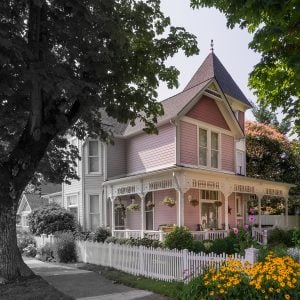 Genealogy is more than dates and places. It's all the spaces in between those dates and places that make up a life. The history of your house is the same. You may know your house was built in 1913, but knowing it was sold on the courthouse steps in foreclosure, that it hosted a huge society wedding in your living room, or that it was lost in a card game are the things that make up the life of your house.
A trip to Ireland was complete several years ago when I visited the old family homestead—a pile of rocks in Doocastle, County Mayo—all that was left of a four-room house my ancestors lived in during the 19th century. My great-great-grandfather John Fitzgerald lived in a similar four-room house with his wife and nine children on a small island in County Kerry. By looking at the 1901 Ireland census, I saw that the house had a thatched roof, stone walls, and four windows in the front. Quite a cozy home for a farmer and his family.
The stories homeowners tell often have a grain of truth in them. One co-worker had heard for years that her grandfather's childhood home had once been a hospital for tuberculosis patients. Each year, her grandfather tested positive for TB; however, he had no symptoms. The house turned out to have been a boarding house for those recuperating from the disease. TB had found its way into the floorboards and walls of the home but wasn't potent enough to cause the grandfather to get a full-blown case. A mild exposure just from living in the home was enough to cause a positive test in him.
The physical structure of your home is just a starting point. Tracking down former owners can help fill in the timeline of the life of your home. Historical photographs are also a key piece of learning more about your home and neighborhood.
While there are many ways to search the history of your house, the following strategies are key in getting started.
Register of Deeds
The first step in researching the history of your house is contacting your county or city register of deeds to trace the ownership of the house and create a chain of titles, a "daisy chain" for the home. Each deed usually gives the name of the previous owner as well as the original deed number for the property. That original deed can contain information about the house and the property it stands on, as well as the neighborhood.
Frequently, there will be information about restrictions on the property, such as not erecting a factory or other commercial business. Sadly, some older deeds may have had specific restrictions on who could buy the property or who it could have been sold to, often discriminating against people of color.
When tracing deeds, it is important to recognize that addresses often changed as neighborhoods expanded. Looking at the physical description of the property on each deed and comparing it to previous deeds is critical in making sure you're researching the correct property.
Creating a spreadsheet with several columns including buyer, seller, dates of sale, and cost can help keep track of the various owners of your house, particularly if it's old and has a long history.
Census Records
Armed with the information about the location of your home and a "daisy chain" of owners, census records are often the next step in learning about the people who lived in your house. There are a few strategies that may be helpful when building your home's history.
Search census records for owners by their surname. Census records are currently open to the public through 1940; however, the 1950 U.S. census is scheduled to be released in 2022, giving you one more resource to check for ownership.
Search the address in the "Keywords" box on the census search page using various search parameters (for example, full address, or just the street name, etc.).
If you can't find the street name, check other street names around the house. Addresses often changed, and you may find your house had a different address at some point.
FamilySearch is an excellent (and free) place to begin your census research.
City Directories and Historical Maps
Because the census is only taken every ten years, city directories are critical in filling in the gaps of who was living in your home in the intervening years between censuses. While not every town or city published a city directory containing names of residents, businesses, and other facts about the area, it is worth checking to see if your town has directories. Many city directories can be found online in digitized format, making searches easy. However, they can often be found at your local library or your local historical or genealogical society.
Historical maps can be found on many websites including the Library of Congress, which has a large collection from all over the country.
Some tips for researching city directories and maps:
When searching for the former residents of your house, check for their surname first in the directory.
Directories can also include all of the streets in a town, organized by street name followed by a list of who lived on that street.
Historical maps can show the growth of a neighborhood over time and seeing your property in the context of its neighbors can be helpful.
Historical Newspapers
This is where you can often find the nitty-gritty of the lives of the previous owners of your house. For example, my neighbor asked me to research her house, and after digging in old local newspapers, I came across several articles about alcohol-related arrests and raids that took place at her home during the years of prohibition.
Many historical newspapers are available online. Search newspapers with surnames and street names. Use quotation marks around your search terms to get better results. While not every owner of your home may appear in the newspaper, you might learn the following:
Your house might be on a list of permits printed in the newspaper. These permits can often reveal when and if construction was done on your house.
Notices of foreclosure or a court-mandated sale often are published.
Real estate agents, as they do today, often included pictures and information about a home for sale. Yours might be in one of these advertisements.
The Library of Congress's Chronicling America project has many digitized newspapers for public viewing. Visit this website to see if your local paper is there.
Tracing Previous Owners or Their Descendants
Once you have a list of previous owners, see if any of them are still living and are willing to talk about their old home. You may have to do some traditional genealogical research and trace their descendants, some of whom may remember growing up in your house.
One of the most interesting conversations I had recently was with a woman who had grown up in our house during World War II. She described how much she loved the house and how the family decided one year to plant a victory garden, right where our hammock is placed at the moment.
Getting Recognition for Your House
For homes of a certain age, knowing the history of your house may be the first step in getting it recognized by a state, county, or local organization as a historic home. Getting that historic home or neighborhood designation can sometimes help qualify homeowners for rebates from the state if they make home improvements. Homeowners may also qualify for special historic tax credits.
Check with your state's preservation or historic home division, as many homeowners start the process but never finish it, and the state may already have documentation on your home or neighborhood. If nothing else, you may be able to get a nice plaque designating your house as a historic home.
For more information on historic home preservation or designation, visit the National Register of Historic Places. The website includes a national database of places and homes that currently have a historic designation. For more local information, you may want to visit your own state's historic preservation office.
For example, my home state of North Carolina has an excellent website for homeowners interested in pursuing recognition for their homes.
Additional Resources to Learn More About Your Home
Probate records and wills
Local history rooms at your local library
Private preservation societies
Architectural drawings at local and state archives and libraries
Local tax departments
Insurance companies (particularly for houses built after 1900)
With a little work, you may uncover fascinating details of the life of your house.
Every house has a story to tell. Researching the history of a house is similar to doing traditional genealogy, and Legacy Tree Genealogists would love to help you get started! Contact us today to request a free quote.