We outline the 5 steps in the genealogy research process that will help you maximize your research efforts.
When researching your family history, have you ever asked yourself: "Where do I even start?!" Or, in the thick of researching have you ever thought: "What do I do next?" or "How do I know what I've found is correct?"
These are questions we've all asked ourselves in one form or another at some point. Genealogy can be overwhelming and sometimes that feeling of being overwhelmed turns into discouragement. In some cases, there is so much information out there, it is like trying to drink from a fire hose. In other instances, you may become discouraged because there is so little information about your family. 
As with most things, planning and organization can help. The genealogy research process brings the desperately needed structure that will carry us through all of our research problems. If we stick to these five simple steps, we can have peace of mind that we are doing the best we can in our research—even if the answers we want aren't always forthcoming. The steps in the research process are:
Identify Known Information
Plan the Research
Search the Records
Analyze the Records
Make Conclusions
When organized into a circle, as the chart below illustrates, we see how the five steps are really just a cycle that sets us up for efficient and successful research.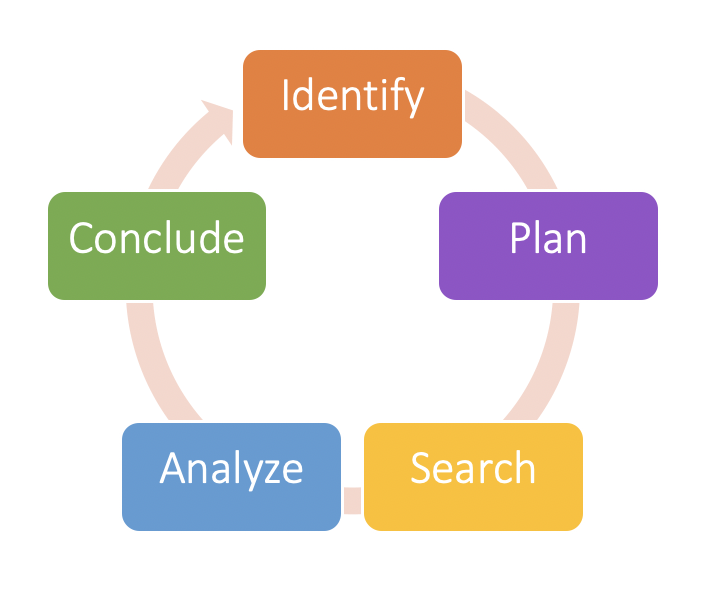 So why do we need the process? Can't we just jump right in and start? It helps us in at least three ways:
Organization: The process gives our research structure and keeps it focused.
Gauge of Progress: The process is a tool to measure what has been achieved and what is left to do.
Efficiency: The process ensures every step is accomplished in the correct order and based on the best sources available.
We'll get into the nitty-gritty of each step—and work through an example together—but first, let's introduce you to each of the five steps so you get an idea of what to expect. 
Identify Known Information – Establish a baseline on which to build future research. Do so by determining what is known about a family or individual. Understanding what others (or yourself) have concluded previously—whether correct or incorrect—provides a point at which to begin research.
Plan the Research – Ask a question about the individual or family you will research. Formulate a goal based on the question and create a plan to meet that goal. The goal should be specific and achievable and the plan should be precise yet flexible.
Search the Records – Historical records provide the answers to research questions. Records created during or near the lives of the research subject(s) are the primary media that convey information from the past to the present; thus, research cannot be conducted without historical records. 
Analyze the Records – The information conveyed by historical records must be evaluated for credibility and pertinence to the research goal. Determining the value of the source, the information, and the evidence facilitates arriving at a sound answer to the research question.
Make Conclusions – Reaching a defensible conclusion is the purpose of family history research. This is done through goals, records, and analysis. Research conclusions should be written for preservation and collaboration. Doing so contributes to the body of knowledge concerning the research subject(s).
Step 1: Identify Known Information
Let's dig into the first step of the genealogical research process: Identify Known Information.
When we tackle a new genealogy problem—whatever that problem may be—we need to first identify what we already know about the people or circumstances involved. Doing so forms a foundation for our research and provides the first clues that will help us as we are searching for answers. 
In this step, we're not going to get too caught up right now on whether a piece of information is correct, but it is important to note where that information came from. You have the names of your grandma's grandparents, but where did you get that information? Did she tell you those names? Is it in the family bible? Or were they just names you think you heard your uncle mention once? Whatever the case, record the information and make note of where it came from. 
When we are identifying known information, there are several different places we can look.
Yourself. What stories or information do you already know?
Your attic, basement, or wherever you keep boxes of old stuff. Maybe you have family histories, birth, marriage, and death certificates, obituaries, funeral cards, baptismal and other church documents, or old pedigree charts stuffed away somewhere.
Your relatives. Maybe you have a cousin, grandparent, parent, aunt, or uncle who you know has researched the family history. Reach out to them and ask them what they know and if they are willing to share their research.
Online family trees. These are notorious in the genealogy world as they often contain errors—major and minor—but they are a place to start. Maybe someone has researched some of your family and posted that information on the "Family Tree" at FamilySearch.org or in a "Public Member Tree" at Ancestry.com or MyHeritage. Poking around on these sites or others may give you some good clues—though of course, they are only clues and not facts without proper sources.
Let's look at an example.
When researching the Loveday family, we found a biography of Isaac Loveday and his wife Mary Danks published in 1908. The following is an excerpt from that history naming their children: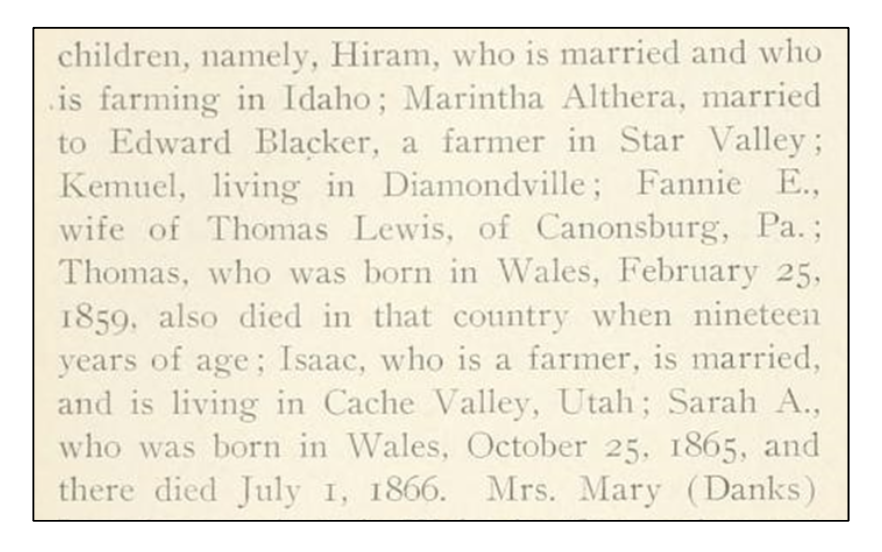 Particularly interesting to us was daughter Fannie E. Loveday who married Thomas Lewis. We didn't know much about Fannie, but from the history we knew that she and her husband Thomas Lewis lived in Canonsburg, Pennsylvania, probably shortly before the history was published in 1908. We could also hypothesize that Fannie was born in about 1857 since her younger brother was born in 1859. 
Using this information, we found the family of Thomas and Fannie (Loveday) Lewis in the "Family Tree" at FamilySearch.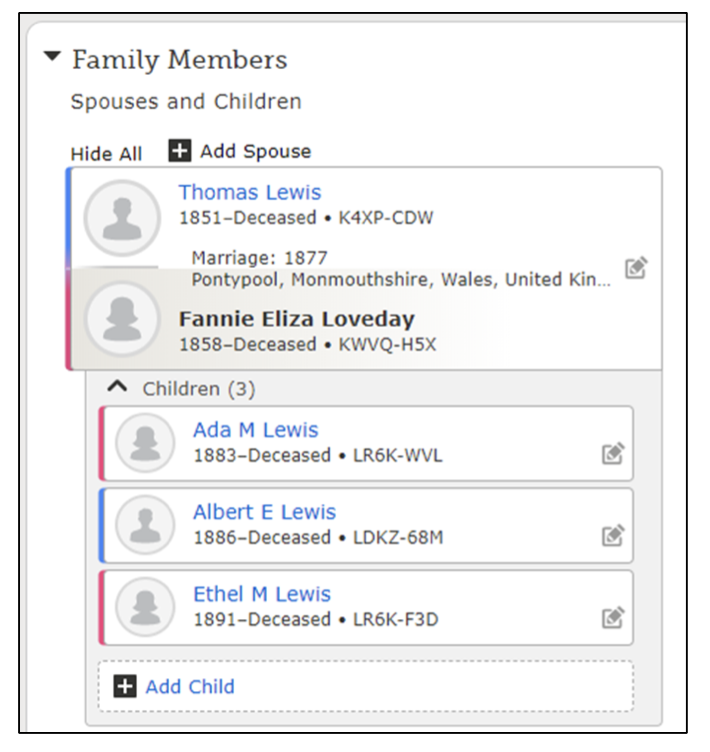 This online family tree suggested Fannie Loveday was born in 1858 and that she married Thomas Lewis in 1877 in Wales. We don't know if the information here is correct, but the tree states Thomas and Fannie had three kids: Ada (1883), Albert (1886), and Ethel (1891). The gaps in the birth years between these children leave room for additional children. In other words, it was possible Fannie had another child born between 1883 and 1886 and another child between 1886 and 1891. In fact, if Fannie and Thomas were really married in 1877, they could have easily had one, two, or even three kids between their wedding and the birth of Ada in 1883. 
Having identified what is known about the family of Fannie Loveday and Thomas Lewis, we are ready to begin planning our research. This simple initial review has left us already with questions and possibilities.
Step 2: Plan the Research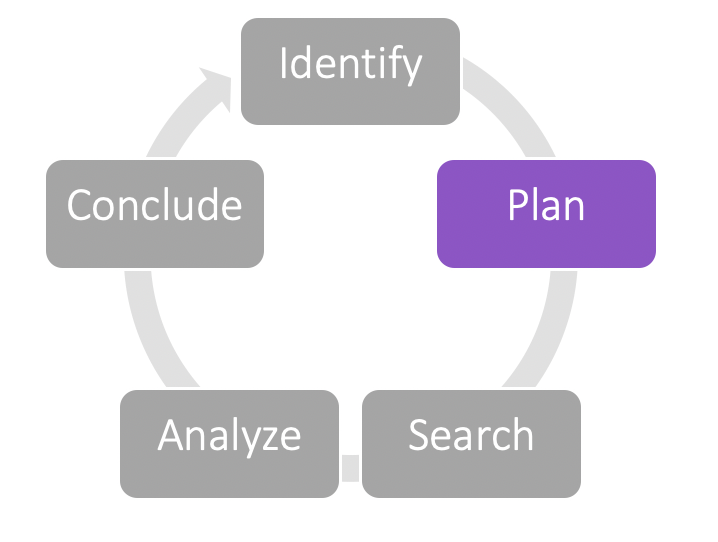 After identifying what is known about an ancestor, we need to plan how we are going to research that ancestor. Part of planning is setting goals for our research. These help us stay focused, give our research purpose, and allow for clear achievement. 
Goals are a narrowly defined objective for our research. One good way to set a goal is to identify a specific individual or family and decide on a specific event or relationship which you wish to learn more about (such as the parents of an individual, when someone died, or if someone served in the military). Each goal should include a name, year, place, and relationship. These pieces of information set the stage for our research.
Using the family of Thomas and Fannie (Loveday) Lewis we can set the following goal: 
Determine if Thomas Lewis and Fanny Loveday, who lived in Canonsburg, Pennsylvania, in 1908, had additional children.
After setting a research goal, we need to make a plan for how we are going to meet that goal. Research plans provide a checklist of steps that keep our research moving, help us stay focused, and make sure we use the best records for answering a goal. Plans should include the first few record types to be searched, though they should remain flexible and not be overly detailed. Why? As our research progresses, the discovery of new or unexpected information may mean that our plans have to change.
Here is our plan for researching the Lewis family:
Locate the Thomas and Fannie (Loveday) Lewis family in the 1900 to 1930 United States censuses. The censuses may reveal additional children in the family.
Determine when and where Fannie (Loveday) Lewis died. This information could lead to records created at Fannie's death that name her children.
Obtain Fannie (Loveday) Lewis's obituary because her children may have been named in that document.

   
3: Search the Records
At this point in the five-step genealogy research process we have identified some known information and plans regarding our research. These important steps lead to what many find to be the most exciting part of genealogy: searching the records! The information that we need to answer our research questions can be found in historical records. These documents (or artifacts) convey information from the times when our ancestors lived to our day. They are therefore the best place to get the answers we need about our ancestors. 
Our research plan for the Lewis family started with identifying Thomas and Fannie (Loveday) Lewis in the 1900 to 1930 censuses. The reason for this was two-fold: 1) Our background information indicated that the Lewis family lived in Canonsburg, Pennsylvania, in about 1908. This meant they could have been living there when the 1900 and 1910 censuses were enumerated. 2) There was the possibility that the censuses would show additional children in the family. 
Here are excerpts for the Lewis family in the 1900, 1910, and 1930 censuses (neither Fannie nor Thomas could be found in the 1920 census).

At this point, let's sneak in a little analysis because it helps with our research plan. Fannie (Loveday) Lewis last appeared in the 1910 census and her husband Thomas Lewis was listed as a widower in the 1930 census. This suggests Fannie died—probably in Washington County, Pennsylvania—between 1910 and 1930. This little bit of analysis allowed us to find Fannie's death certificate.
Importantly, the obituary named one of Fannie (Loveday) Lewis's surviving children as I.T. Lewis. This new information allowed us to find the following death certificate for Isaac T. Lewis of Canonsburg, Pennsylvania, confirming his relationship to Thomas and Frances (Loveday) Lewis: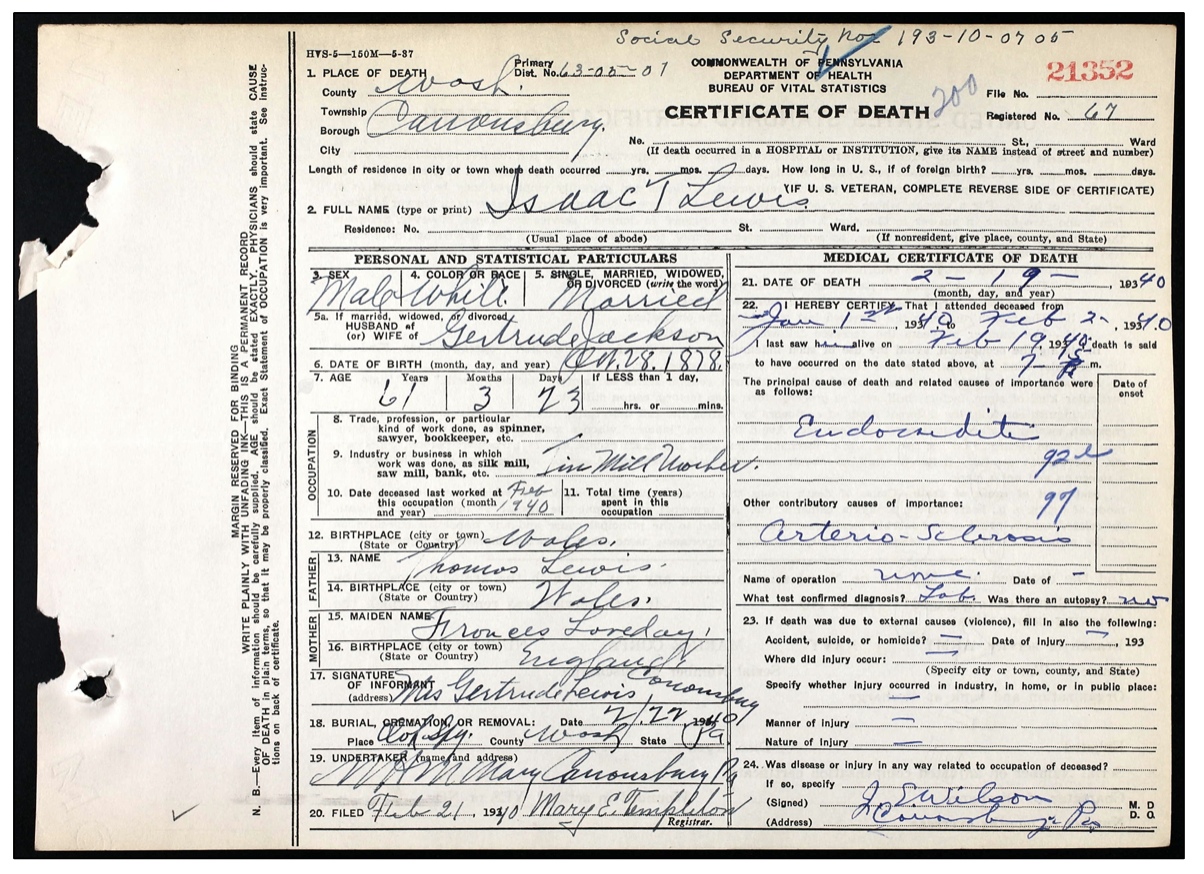 The research presented so far is not thorough, nor is it complete, but it is a solid start in researching the Lewis family. 
Step 4: Analyze the Records
Discovering the historical records is exciting but we can't stop there! We need to determine if the information conveyed in the records is credible and if it answers our research question. Evidence analysis is a big topic in and of itself and we've covered it depth before in this three-part series, so we'll just reiterate the main points here.
When we talk about evidence analysis in genealogy, what we mean is that we need to think critically about the sources we use, the information presented in the sources, and the evidence we have uncovered. Is the information reliable? Are there major discrepancies in the records? Do we have enough evidence for our claims? Does the information we found provide answers to our research questions? Who wrote the information? When were the records created? Do we have reason to suspect the information could have been falsified? These are just some of the questions we need to ask ourselves when examining the records found during Step 3. 
Our goal for the Thomas and Fannie (Loveday) Lewis family was to determine if there were more children in the family than the three listed on FamilySearch.org. While the 1900, 1910, and 1930 censuses offered evidence that those three children did exist, none of the censuses named any other children. However, a close examination of the 1900 and 1910 censuses provides very important clues about the Lewis family. Take a look at those numbers outlined by the red boxes:
Those two columns requested the number of children Fannie (Loveday) Lewis had birthed and how many were living. According to both documents, Fannie had given birth to ten children, but only four were living in 1900 and 1910! Because these two documents were consistent in their reports concerning Fannie's children, we can presume that they were accurate. While we don't know the names of all ten children yet, we now have an answer to question about whether Thomas and Fannie (Loveday) Lewis had more than the three children listed on FamilySearch.
It is probable the six children who had died before 1900 died in childhood or during their teenage years, but we know that a fourth unknown child—one distinct from Ada, Albert, and Ethel—lived until at least 1910. As noted in the previous post, Fannie (Loveday) Lewis's obituary named that fourth child as I.T. Lewis. This new information allowed us to search a database of Pennsylvania death certificates for a matching individual. The certificate for Isaac T. Lewis—born in Wales in 1878 to Thomas Lewis and Frances Loveday—who died in Canonsburg, Pennsylvania in 1940 was strong match. Isaac's name, place of death, birth year, birthplace, and parents all corroborated the theory that he was the missing fourth child. 
Now that we've analyzed the records and information uncovered pertaining to the Lewis family, we are prepared to make conclusions.
Step 5: Make Conclusions
The last step in the research process is forming conclusions. Finding documents and analyzing the information is not enough—we must make and write down a conclusion, describing our reasoning and the outcome of the first four steps! Completing this last step means that our research will be preserved for our future reference for future family members or genealogists to read. If we do not take the time to write down our conclusions, they will become lost over time and our research will be for nothing. 
Conclusions should address the research goal we made at the beginning of our research. Did we meet the goal? Has thorough and complete research been conducted? Do we have a partial answer? Is more research needed before we can close the books on the problem? 
Our written conclusions can come in many different formats. Some conclusions may be recorded using genealogy software, others in a brief research summary, or a detailed report outlining each step taken to meet the goal. Our conclusions can be posted to a family blog, expanded into a book, printed in a genealogy journal, or presented as a report for private distribution among family members. 
Using the research we've done for the Thomas and Fannie (Loveday) Lewis family, we were able to write the following brief conclusion:
Our goal was to determine if Thomas Lewis and Fanny Loveday had children in addition to the three (Ada, Albert, and Ethel) listed on FamilySearch. This goal was accomplished through research in the censuses, newspapers, and death certificates. 
The Lewis family consisted of at least ten children. Six of those children died before 1900.  Besides the three known children, Fanny's 1914 obituary listed the fourth surviving child: I.T. \
Lewis. This child was identified as the Isaac T. Lewis who was born 28 October 1878 and died 19 February 1940 in Canonsburg, Pennsylvania. 
This conclusion sets us up to continue the research process to discover more children in the Lewis family, which places us back at the beginning of the research cycle. Step one is to identify known information and it is now known that Thomas and Fannie (Loveday) Lewis had six more children who all died before 1900. With that knowledge, we can make plans to find and document those other children by searching the records, analyzing our findings, and making new conclusions. 
What if parts of this process had yielded fewer answers? What if we had not found an obituary for Fannie or a death certificate for Isaac? One important consideration in all of this is that NIL results can often be as important as positive ones. A key task within the analysis and conclusions steps is to make note of sources which were searched which did not bear fruit. Sometimes the fact that a person was not found in an expected dataset is a clue in and of itself. Sometimes it means you have to dig deeper into the local laws, customs, and record creation practices of the time. Finding little information in one place is a clue to move on to another. Sometimes this might be a hint that your ancestor moved. Maybe they were born before the county began keeping birth certificates but there might be a baptismal record or headstone which you could look for next. Perhaps you are struggling to find a woman in later life records because she married again unexpectedly and is catalogued under a different name than expected. In each of these cases, the absence of information is a guidepost to a different path. High-level research requires us to be very thorough in considering and documenting all possibilities. 
As you incorporate the research process into your own genealogy your efforts will become more focused, effective, and efficient. The process is simple and designed to set researchers up for success.  
If you need help evaluating evidence in your family history research, the team at Legacy Tree Genealogists is here to help! We're experts at scouring every possible record source for clues to ensure our client's genealogy is accurate and verifiable. Get started today by requesting your free quote.