Irish research can be difficult. Although the island is small–about the same size as the state of Indiana–its violent history and many divisions makes research complicated. In addition, many United States records simply report that our ancestors were from Ireland with no indication of the county of their birth. However, knowing a little bit about the history and geography can provide the necessary clues. Here are four tips that can help you trace your Irish ancestors from the United States back to Ireland.
1. Understanding the Island of Ireland Today
There are two distinct political entities on the island of Ireland: Northern Ireland and the Republic of Ireland. The dividing line was drawn by England in 1922. This is an important date to keep in mind when searching for more recent Irish ancestors.
The Republic of Ireland, or Eire, is an independent nation made up of the southern 26 counties of Ireland. The Republic of Ireland is predominantly Catholic, with about 3% of the population identifying itself as Protestant. Indices and links to copies of the civil birth records for the years 1864 to 1915, marriages between 1882 and 1940, and death records between 1891 and 1965 are available for free from IrishGenealogy.ie/en. (These records include those of the Northern Irish counties up to 1922.) Official copies can be ordered from the General Records Office in Dublin.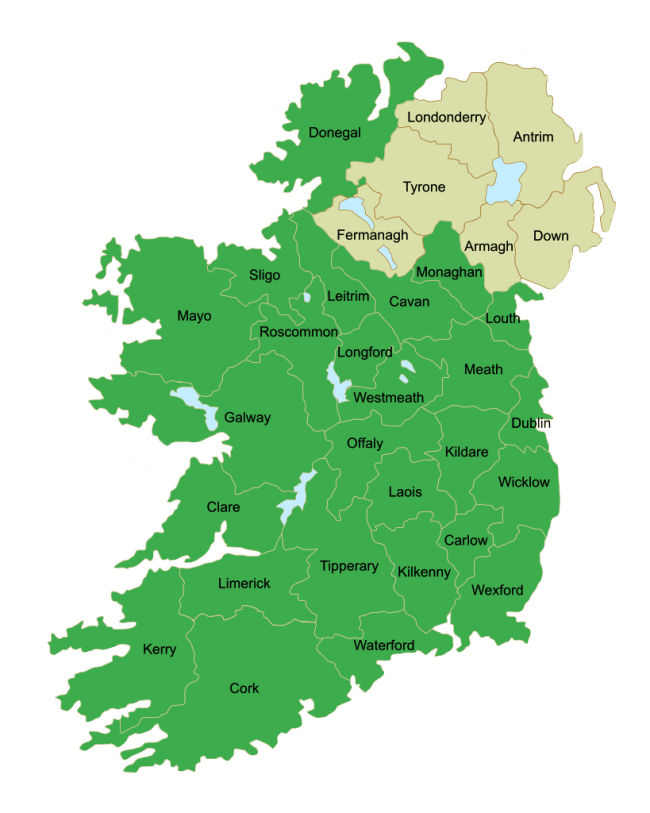 Northern Ireland, also known as Ulster, is a part of the United Kingdom–although it is self-governing like Canada or Australia. Although the counties of Northern Ireland are not officially used today, it is comprised of the traditional counties of Antrim, Armagh, Down, Fermanagh, Tyrone, and Londonderry (also known by the more traditional name of Derry). Although most Americans believe that Northern Ireland is a Protestant nation, the reality is that today there are almost an equal number of Catholics as there are Protestants in Northern Ireland. Civil birth, marriage, and death records can be ordered from GRONI (General Records Office Northern Ireland).
2. Searching U.S. Census Records
From the 1880 U.S. Census through the 1920 U.S. Census, Irish ancestors who immigrated to the United States, or whose parents were natives of Ireland, simply reported that they were natives of Ireland. However, since the 1930 U.S. Census was taken after the creation of the Republic of Ireland in 1922, it often noted the specific country from which ancestors originated.
In this sample (below) from the 1930 U.S. Census we can see that John O'Reilly was born in "North. Ireland", as were his mother and her parents. His father, however, was from the Irish Free State, or the Republic of Ireland. This information tells us where to search for John's birth: in one of the six counties of Northern Ireland. His mother's birth record will also be from Northern Ireland, and probably his parents' marriage record also, since it is more traditional to marry in the bride's hometown than the groom's.
There is the potential that a much larger search will be necessary for John's father's birth record unless the marriage record can be found and it specifies in which of the 26 Republic of Ireland counties he was born.

If your Irish ancestor, or the child of that ancestor, is listed in the 1930 U.S. Census, pay close attention to where they reported they and their parents were born. You might find a very helpful clue in that census report.
3. Using Religious Records
While many people associate Roman Catholicism with Ireland, there are many Protestants living in Northern Ireland and fewer in the Republic of Ireland. Knowing your family's historical religious preference can provide a small hint. If your family has always been Catholic it is likely that they were Catholics in Ireland. However, as we have already noted, with almost all of the Republic of Ireland expressing a preference for Catholicism and about 45% of the citizens of Northern Ireland claiming allegiance to the Catholic faith, you can see that a Catholic religious heritage is not particularly unique.
However, if your family history includes the Episcopal faith, or there is something that references "the Church of Ireland" in your family's records, then your family was most likely Protestant when they lived in Ireland, and you are more likely to find your Protestant ancestors in Northern Ireland (with the understanding that there are Protestants throughout the Republic of Ireland).
If your family is or has been Presbyterian, then there is a very strong likelihood that your family is actually Scots-Irish with your ancestors immigrating to Ireland from Scotland, bringing their Scottish religion with them. You will find most of these ancestors in Northern Ireland.
4. Don't Forget Military Records!
World War I (1914-1918) was particularly brutal to the Irish. More than 30,000 of the 200,000 men who enlisted were killed in this war. Songs such as "Gallipoli" and "The Foggy Dew" mourned the loss of so many young Irish men in foreign wars, especially since the 1922 Irish War of Independence followed closely on the heels of World War I.
You fought for the wrong country, you fought for the wrong cause
And your ma often said it was Ireland's great loss
All those fine young men who marched to foreign shores to fight the wars
When the greatest war of all was at home.
-"Gallipoli"
'Twas England bade our wild geese go
That small nations might be free.
But their lonely graves are by Suvla's waves
On the fringe of the gray North Sea.
But had they died by Pearse's side
Or fought with Cathal Brugha,
Their names we'd keep where the Fenians sleep
'Neath the shroud of the foggy dew
-"The Foggy Dew"
If one of your Irish ancestors fought and died in World War I you can find his name and more at the site Ireland's Memorial Records. Many (but not all) of the memorials include the county in which the soldier was born, as seen below:
Another website, Ireland's World War I Veterans 1914-1918, has created a PDF list, updated every three months, which contains over 35,000 names of Irishmen who fought in World War I. If you know or suspect that your Irish ancestor may have served in World War I and survived the experience, this is an excellent place to find a clue to help trace your Irish ancestors.
Although it can be difficult to find the correct place in Ireland for your family's origins, there are some important clues, both historical and geographical, that can help you pinpoint a place to begin to trace your Irish ancestors. The 1930 U.S. Census can provide an important clue, as can your family's religious heritage. If an Irish ancestor served in World War I you may be able to determine the county in which he was born. A knowledge of the differences between Northern Ireland and the Republic of Ireland as well as their location and the counties within those two countries can help you contact the proper vital records office for those all-important vital records.
Go n-éirí leat! Good luck!
If you're hitting a brick wall while tracing your Irish ancestors, our team of professional genealogists can help!
We have the knowledge and experience necessary to help you trace your Irish ancestry. Contact us today for a free estimate.