A case study that demonstrates how to use DNA evidence in conjunction with document evidence to confirm genealogy research.
My husband's second great-grandfather, Frank M. Stanley, was a prominent Seattle real estate man who played a significant role in rebuilding the city after the Great Fire of 1889. He built, owned and operated several large apartment buildings including the Lenawee Apartments, the Barbara Frietchie Apartments, the Summit Vista Apartments, and the Stanley Apartments, staying active in the business community until his death in 1940.
The Obstacle: Conflicting Information in Genealogy Records
Several biographical sketches of Frank M. Stanley said he was born in New York and arrived in Seattle in 1887. The census reports from 1900 to 1940 agree he was born between 1853 and 1855, but provided conflicting information, reporting birthplaces as New York, Michigan, and Maine. Though he was married three times, to Jennie Alice Myers in about 1888, Bessie Mable Blake in 1905, and Mable M. Foor in 1912, none of his marriage records or any other Seattle records offer the names of his parents or his specific birthplace. His death certificate shows "unknown" for his birthplace and parents, but it does give a specific birth date of 29 March 1855.
Systematically Narrowing Down the Candidates
For years, I tried repeatedly to search for Frank M. Stanley in New York in the 1860, 1870, and 1880 censuses, but his common name and dubious birth place meant there were too many candidates and not enough information to easily distinguish the right one. Using the concepts of "time and place" discussed in a previous article, I focused on New York as his likely birth state, and took the time to do a systematic study of each of the many possible Frank/Franklin/Francis Stanleys in New York, starting with the 1860 census, since he should have been a small boy living with his parents. It took some time, but one by one, I eliminated most by tracing them to their marriages and deaths, until I zeroed in on one good candidate: Francis/Frank M. Stanley, son of Adams E. Stanley and Ellen Beebe of McDonough, Chenango County, New York.
Context and Circumstantial Evidence
By 1880, both of this Frank's parents and two of his three brothers were deceased, and he was living in a boarding house working as a restaurant clerk in Winchendon, Massachusetts. Surely the lure of a new life in the West appealed to this young man who had lost most of his family. No other records were found for him after 1880 in New York or Massachusetts, supporting my theory that he was our Frank who showed up in Seattle in 1887.
Digging in and Building Out: Family Tree Research
I proceeded to build out the ancestry of this Frank's parents, Adams E. Stanley and Ellen Beebe, and saw that three generations of Stanleys and one generation of Yeardleys lived in Dublin, Cheshire, New Hampshire; four generations of Beebes lived in Waterford, New London County, Connecticut; and four generations of Twitchells lived in Sherborn, Middlesex County, Massachusetts. But how do I confirm this genealogy research is accurate?
Confirming Genealogy Research with DNA
Armed with these unique surnames and specific places, I then performed targeted searches of my husband's autosomal DNA matches. Using the DNA & Relationship chart below, I calculated that descendants of Frank's siblings would be fourth cousins, while the descendants of Frank's parents' siblings would be fifth cousins. Does figuring out cousin relationships leave your head spinning? Check our our helpful guide to consanguinity!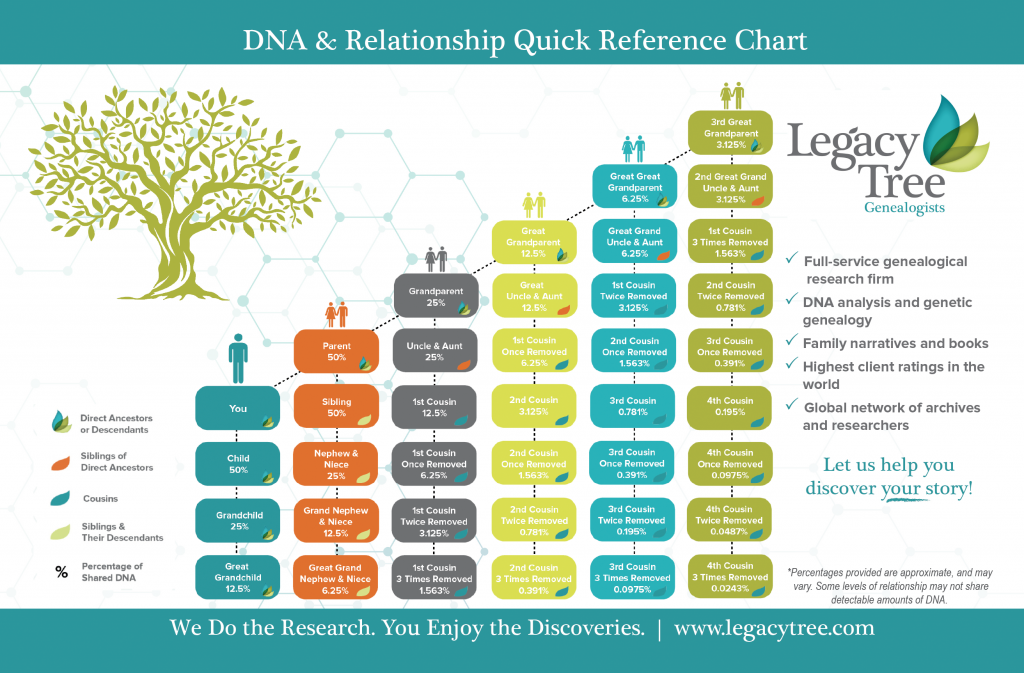 Eventually, I found an estimated fourth to sixth cousin match descended from the Beebes of Waterford, New London, Connecticut; an estimated fifth to eighth cousin match descended from the Yeardleys of Dublin, Cheshire, New Hampshire; and a fifth to eighth cousin match descended from the Twitchells of Sherborn, Middlesex, Massachusetts. I carefully built out each of their trees until I found the connection to our Frank Stanley's ancestry. Over time, more matches like these have appeared, and I will continue to watch for more as time goes on. Since they are so distantly related, most of these matches have no other shared matches to my husband, but the few who do are related to closer cousins who also descend from Frank Stanley. All by themselves, each match is not strong enough to provide conclusive proof that we have the correct Frank Stanley, but multiple matches connecting to these unique New England families, taken together, do provide a preponderance of evidence that I have made the right connection.
Better Together: Combining Document Research and DNA
This case study is a classic example of how traditional documentary evidence can be combined with DNA evidence to establish sufficient proof of ancestral relationships and help you overcome genealogy "brick walls". On their own, neither documents nor DNA would have been enough, but together, they form a convincing argument that will likely grow stronger as more relevant DNA matches appear.
DNA is now considered an essential tool in any genealogist's tool box, but it does not trump all other tools. At Legacy Tree Genealogists, we understand that, as powerful as DNA can be in identifying ancestors, it is only effective when combined with traditional document research. We look forward to using all of our tools to help you build your family tree! Contact us today to get started.