Legacy Tree Genealogists works with researchers all over the world to access records for our clients. We asked Sylvia, onsite in Germany, to share her experiences using the Kirchenbuchamt Hannover (Church Registry Office of Hanover) to find ancestors in the 19th century.
Many descendants of German immigrants will be all too familiar with the problem: you're trying to find that hometown in Europe, but passenger lists or documents give only "Hanover" or "Hannover" as the birthplace. (The spelling has been interchangeable throughout history. To avoid confusion, this article will use "Hanover".) At first glance this would seem straightforward, as Hanover is the capitol of Lower Saxony, one of the largest states in Northern Germany. Yet, often enough it turns out that "Hanover" doesn't refer to the city — but instead refers to the territory, duchy, or even kingdom.
Understanding Historical Context
The long-lasting union of Hanover with Great Britain opened up paths for emigration. From 1714 to 1837, three successive Dukes of Braunschweig-Lüneburg (who, beginning in 1814, also held the title King of Hanover) were also Kings of Great Britain (George I, II, and III). Soldiers were drawn into Great Britain's involvement in their colonies in North America and elsewhere, with many of these soldiers remaining in the New World. Miners emigrated from the Harz Mountains to Australia, and many young people and families made their way to England or the USA, all with "Hanover" as their stated place of origin.
For genealogists, an understanding of the historical context then leads to the question of what records exist to document individuals in this period, and where they can be found.
Germany did not exist as a unified country and government until 1871. Therefore, the only accessible source for births, marriages, and deaths prior to that time for Hanover are church records, kept individually by each parish and documenting the religious sacraments given at christening, marriage, and burial. This means that in almost all cases it will be necessary to know which town or parish your ancestors lived in order to search the records.
As a consequence of the Napoleonic Wars in the early 19th century, many of the German kingdoms and territories were occupied by the French under Napoleon Bonaparte for several years. For genealogists, this would have an important consequence. The French, beginning in 1792, were the first to see value in civil registration, or the government recording of births, marriages, and deaths. This had previously been done almost exclusively by churches. The practice was soon mandated in territories occupied by France, including German areas like Hanover. Because the invasion and occupation were brief, however, so was the first attempt at civil registration, covering only the years 1808-1813. These records are still kept together with the church records from that period, because during those years the pastors and priests doubled as civil registrars.
Once out from under French influence in 1814, the Kingdom of Hanover ceased to continue keeping these records for some time. Hanover was subsequently incorporated into the German Confederation in 1815, Prussia in 1864, and then into the united country of Germany less than a decade later. It was not until this final event that civil registration was re-instituted. Thus, aside from the brief window in the early 1800s, civil records in Hanover only go back to 1874. This is in contrast to other regions of Germany, primarily the territories in the west, which maintained civil registers consistently from 1792, when it was first introduced during the French occupation.
Accessing Records to Trace Your Ancestors
Because Hanover was mainly made up of a Protestant (Lutheran) population after the Reformation, the majority of researchers with ancestors from there prior to 1874 will need to consult the Lutheran church records. These are kept on microfiche in the Church Registry Office (Kirchenbuchamt) Hanover. This is a branch of the Evangelical Lutheran Church Archive (Landeskirchliches Archiv), accommodated by the Municipal Church Administration of Hanover (Ev.-luth. Stadtkirchenverband Hannover).
Hanover church records are hardly ever accessible elsewhere, with only very few available on films at LDS Church reading rooms or on microfilm from the Family History Library in Salt Lake City, Utah. Records are in the process of being captured digitally, but progress is slow due to the enormous number. A visit to the Church Registry Office (Kirchenbuchamt) is, therefore, your best option if your ancestors came from one of the 1,020 historical Lutheran parishes in the villages or towns within the Evangelical Lutheran Church of Hanover.
Visiting the Church Registry Office in Hanover
The bright reading room at the registry office contains six microfiche readers. If this is your first visit to the archive, you will need to fill in a form with your name and address. After that, helpful and friendly staff will explain how to use the the microfiche and reader. You can then work with the microfiche records of as many parishes as you like (this is different from many archives and libraries throughout Europe, which often restrict the number of records you can request in a day).
The microfiche are available throughout the day, whenever you need them. You can print out whatever you wish on a "reader-printer" for a fee. If you have found the birthplace of your ancestor on one of your sources, it can be easily traced to the right parish with the help of a 19th century gazetteer of the Kingdom of Hanover, which is located in the reading room.
Of course, here in the Hanover Church Registry Office you will not only find the records of the Lutheran parishes of the largest part of Lower Saxony, but also access to the city of Hanover parish records. Today, there are 48 Lutheran parishes in the city of Hanover alone; prior to 1875, there were 16. Therefore, if "Hanover" is all that is given on your documents, checking the old card file registry in the impressive white cabinets (these cover an entire wall of the reading room) will reveal whether "Hanover" really means that your ancestor came from the city of Hanover itself.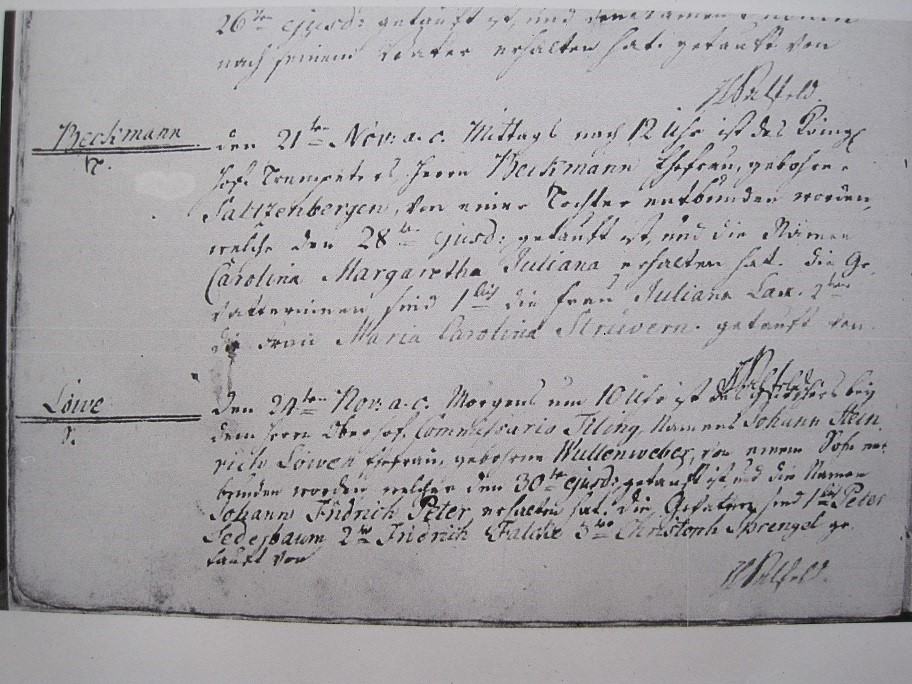 If you can't find any trace of your ancestor in the cabinets, this means they came from one of the other parishes belonging to the Duchy or Kingdom. This is where things can get more difficult, as there isn't a general index that can help you locate a name in one of these parishes.
Before visiting the Church Registry Office, it is therefore very important to check all available sources back home for a more precise place of origin. For immigrants to the United States, this might include American censuses, ecclesiastical records, newspapers, or naturalization paperwork. If you have no success, the State Archives in Lower Saxony might be able to help with a search in their emigration files.
The white cabinets in the reading room of the Church Registry Office also house several helpful sources that have been edited, including marriage registers from the Hanover region and the south of Lower Saxony, some compilations of the various families from villages in the region (so-called "Ortsfamilienbücher") and printed church records from some of the Hanover city parishes.
If you can find your ancestor's family in one of the parishes, the chances are also high that you can trace him or her back to the 17th century, when most church records began.
Visitors should be sure to make an appointment beforehand, although there is usually little waiting time. The archive is open from Monday to Thursday, from 8:30 am to 3:30 pm (local time), and charges a daily fee of €9.
Kirchenbuchamt Hannover
Hildesheimer Straße 165/167
30173 Hannover
+49 (0)511 9878 555
http://www.stadtkirchenkanzlei.de/kirchenbuchamt
Do you have ancestors from Hanover? Or perhaps immigrant family whose German hometown is completely unknown? Legacy Tree Genealogists has talented researchers like Sylvia that would be happy to track them down! Contact us today for a free consultation!