Legacy Tree Genealogists' Dennis Baranov has conducted research in Russia, Belarus, and Ukraine for more than 15 years. His wife Mariya is his research helper and translator. In this article, they provide detailed information about Belarus archives and records to research family histories, especially in an area where many documents have been destroyed.
Belarus is a landlocked country in Eastern Europe, surrounded by Russia, Ukraine, Poland, Lithuania, and Latvia. Minsk is the capital and its largest city.
While Belarusians share a rich background, identity, and their own language (the official languages are equally Belarusian and Russian), political control of the country has changed throughout its history. It had been part of Lithuania, Poland, and Russia until 1918 when the country declared its independence.
A few years later, Belarus was retaken by Russia and then occupied by Nazi Germany during World War II. The European Jewish Congress estimates that 90% of Belarus's Jewish population was killed during the Holocaust. After having been under political control for decades, Belarus declared independence from the Soviet Union in 1991.
Today, many people are interested in finding their Belarusian roots. However, the success of genealogy research in the country will depend on record availability as World War II influenced it in a significant way. Records are often an unfortunate casualty of war since Belarus was a battlefield for much of the war. In some locations, only a limited number of records survived (this is especially true for Jewish records).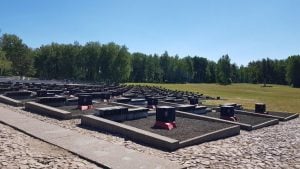 During World War II, at least 5,295 settlements were destroyed by Nazis, many of them burnt multiple times, and often all of the inhabitants were killed, too. In Khatyn village there is an enormous memorial with 185 tombs. Each tomb represents a specific Belarus village that was burnt together with its people, churches, and village records.
Nevertheless, there is still much to be searched in the collections that have survived.
Belarus research periods can be divided into "before" and "after" the October Revolution of 1917. These are respectively called Prerevolutional and Soviet records.
Prerevolutional Records
Almost all Prerevolutional record groups are stored in the National Historical Archive of the Republic of Belarus in Minsk, which is very convenient for the researcher to have almost all records from the country in one place!
Many records are digitized, thanks to FamilySearch, and can be viewed on computers in the reading room of the archive. (They can also partially be found on FamilySearch.org.) The reading room of the archive is small, so people have to come early and stand in a queue to access it.
Minsk archive has 3,152 record groups, 23 collections of microfilms, 1,022,403 volumes for the period of the 14th century to the 20th century, and church books that go up to the beginning of the 1950s.
The second place of interest is the National Historical Archive of Belarus in Grodno. The archive has records of Grodno province as well as several uezds (districts) of Vilna province. Grodno Archive is a repository for 1,324 record groups, 8 collections of microfilms, 418,897 volumes from the 16th century to the beginning of the 20th century, and church books to the beginning of the 1950s.
In most cases, the most prominent record types only go back to the 1700s.
Church Books
Church books are well-known vital records that contain birth, marriage, and death records of a particular church parish. Most records in the archives of Minsk and Grodno are Orthodox, Catholic, and Jewish, but sometimes there are documents from smaller denominations.
Records can be written in Russian, Polish, or Lithuanian. Because of the changing borders, some territories belonged to one or another of those countries during particular time periods.
Confession Lists
These are Orthodox or Catholic family lists that state the head of the family, other members of the family, and their age in a particular year. These documents are very helpful for identifying whole family clusters since the relationships between family members are stated.
Confession lists can be a real treasure in circumstances where only a few church books have been preserved. The valuable information from Confession lists allows us to prove family connections and to extend the pedigree on one to three generations at once.
Revision Lists
Revision lists are censuses for particular years within the 1795-1858 time period. They were established by Peter the Great to collect taxes and recruit the population.
Revision lists have the same structure as Confession lists, but people of all beliefs and social classes were listed there. Revision lists of all provinces are located in the National Historical Archive of the Republic of Belarus in Minsk.
Nobility Research
Personal volumes of noblemen are preserved in the National Historical Archive of the Republic of Belarus in Minsk as well. There are several books of Belarus nobility that are published and can be acquired in Belarus book stores or accessed in the reading room of the archive in Minsk.
Soviet Records
The second type of records that can be found in Belarus are the Soviet records from the time period after the October Revolution in 1917. If you would like to access records after 1917, you must provide documentation that you are related to the person you are searching for.
This is true for the later church books that are stored in the National Historical Archives of Belarus in Minsk and Grodno. This process also applies to other types of Soviet records you might want to access.
Soviet records of interest include Household books (lists of families during the Soviet period), party lists (documents about Soviet party membership), personal volumes, and employment records.
If you are interested in learning about your Belarusian roots but have hit a genealogical brick wall, let Legacy Tree Genealogists' staff of experienced researchers help you. Our team conducts detailed, personalized research in millions of family history records, spanning hundreds of years to tell you who your ancestors were, where they lived, and much more. Contact us to request a free quote, and a member of our Client Solutions Team will reach out to you.
NOTE: Belarus is generally a safe place for travelers. However, at this time (09/2021), research is difficult due to the political situation in the country. Some European Union countries have instructed airlines to avoid Belarus airspace, and in June of 2021, the US Department of State issued a "Do Not Travel" advisory to the country. Legacy Tree Genealogists will continue to monitor the ability to travel and do research in the area.