While Afro-Caribbean genealogy research can be difficult, knowing where to look for records can make progress possible. We share 3 resources that can help as you research your Afro-Caribbean family history.
Many persons of Caribbean descent have African roots and the majority of those were enslaved. Genealogical research into Afro-Caribbean enslaved ancestors is possible, although the methodology is different than for their U.S. counterparts. While research can appear to be confusing due to the many countries that have been historically involved in Caribbean island land ownership, it does not have to be so.
Understanding Historical Context of the Caribbean
Today, there are more than 7,000 individual islands in the Caribbean covering an approximate 1 million square mile region. Of those 7,000, there are 13 sovereign nations and 12 dependent territories. Historically, the majority of those islands were divided amongst territories owned by the British, Spanish, French, Dutch, and Danish, all utilizing slave labor to harvest products such as sugar. Depending on which island or group of islands an ancestor derived from, it becomes essential to create a timeline of that island's history and determine in what language those records were created and where they are housed today. Moreover, depending on that island's history, records that were once created might no longer exist, or exist in an archival facility on the island, or exist in a collection within the former or current dependency such as the Archives Nationales d'Outre Mer (National Overseas Archives), located in Aix-en-Provence, France for records associated with former and current French colonies and dependencies.
Afro-Caribbean Genealogy: Enslaved Persons
As in the United States, enslaved persons in the Caribbean had no rights. They were considered property and were subject to the country's individual laws regarding ownership. Different regions practiced different types of law, therefore created different types of records. In the early 19th century, British owned dependencies, such as Jamaica and Barbados, began creating an every name slave register once every three years. In the late 17th century, the Danish, who were diligent record keepers, began keeping Emancipation records, registers of free persons of color, slave auction records, and plantation records.
Moreover, each region emancipated those who were enslaved at different points in history. Haiti was the first in 1793. The British West Indies officially ended slavery on 1 August 1834, although most enslaved over the age of 6 were required to serve a forced apprenticeship for four years, thus, making the official date of emancipation in British-owned islands, 1 August 1838. In French-owned territories, slavery was abolished in 1848. The Dutch abolished slavery on 1 July 1863. Puerto Rico, under Spanish control, did not end slavery until 22 March 1873, while Cuba was the last Caribbean nation to end slavery on 7 October 1886.
It was also typical for islands in the Caribbean to have been contested and under different ownerships throughout their history. The island of Dominica, part of the Leeward Islands, was first established as a failed Spanish colony, then was a French colony, then British. Other islands are divided geographically. For example, St. Martin, a French collectivity, and St. Maarten, part of the Kingdom of the Netherlands, is Dutch, but share the same geographic area. Some islands are independent, such as Barbados, while some are under a dependency, such as Aruba, which can make locating records confusing. The basics of Caribbean and Afro-Caribbean research begin with understanding the laws of the time, place, and history of the island before commencing. Many records documenting those formerly enslaved in the Caribbean are held in respective archival facilities, but some records can be located online. Below are three online databases which are useful to get started in Afro-Caribbean genealogy research:
Slave Registers: British Colonial Dependencies
Online and at the National Archives UK, Kew, microfilm publication T71
In 1807, England passed the Abolition of Slave Trade Act, making the trade in slaves from Africa to British colonies illegal. Thus, many of the British Colonies in the Caribbean began keeping registers of those enslaved. The online record collection, entitled Former British Colonial Dependencies, Slave Registers, 1813-1834 can be found on Ancestry.com and houses slave registers for various years in multiple countries. Additional records that have never been microfilmed are only available at the National Archives United Kingdom, located in Kew, Surrey, England. Examples of represented countries in the registers include Jamaica, Barbados, Bahamas, and Antigua. Slave registers will typically record the owner, their male and female enslaved, the enslaved diminutive name, then in parentheses with their baptismal name, the person's color (negro or mulatto, or dark or light skinned), their age, if the person derived from Africa or were Creole (born on the island), and remarks, which are most often the name of their mother.
The image below shows a return of male slaves for the Parish of Manchester, Jamaica, 28 June 1829, in the possession of a John Daly acting as a trustee for John White. Note that mothers were named for persons of Creole descent, but not for persons of African descent. Also, many of the baptismal names had a different surname than their owner, disputing the myth that enslaved persons did not have surnames. Many of the formerly enslaved went by their baptismal name after Emancipation, therefore the names in parentheses are important to note when tracing a family forward or backwards in time.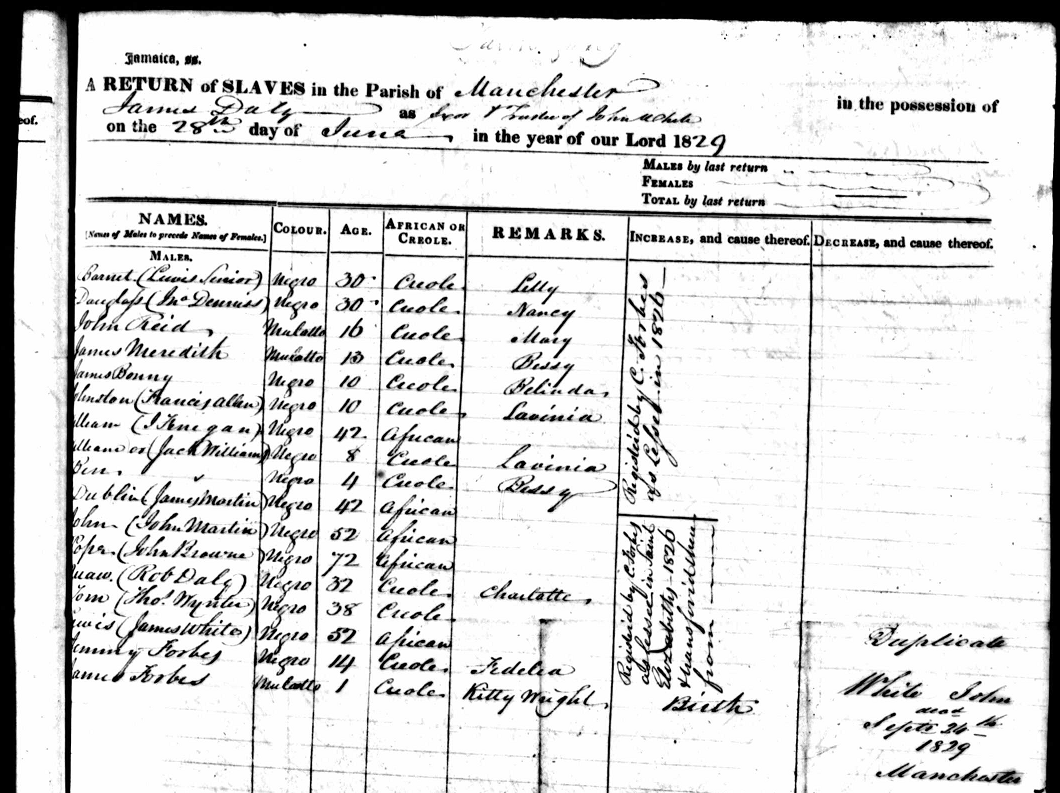 Increases, or persons born on the plantation that year, were also recorded. The last entry on the page above was for James Forbes, a mulatto Creole child, age 1, with the remark, Kitty Wright, most likely his mother. Cross referencing the next page of the return, a slave register of the females, identified Litty, baptismal name Kitty Wright, as a 17-year-old Creole. Thus, James Forbes' mother was most likely located along with her age.
Danish West Indies Slave Records
Online and at the National Archives, Washington D.C., microfilm publication M1883, Record Group 55.2
Danish West Indies, otherwise known as the Danish Antilles, consist of the islands of Saint Thomas, Saint John, and Saint Croix. They were occupied by the British from 1801-1802, again from 1807-1815, then sold to the United States in 1917. In most of their history, the islands were under Danish control, with records created in Danish. Because the United States acquired the Virgin Islands from Denmark, it also acquired many of its archival records and are housed at the National Archives in Washington D.C.
Original records regarding slavery in the Danish Antilles are held in the National Archives in Washington D.C. under microfilm publication M1883, Record Group 55.2, Records of the Government of the Danish West Indies 1672-1917. The record set can also be located on Ancestry.com in a database entitled U.S. Virgin Islands, Danish West Index Slave Records, 1672-1917 or for free on FamilySearch.org at Selected Records of the Danish West Indies, 1672-1917: essential records concerning slavery and emancipation by searching for Virgin Islands (U.S.)  > Slavery and Bondage. These records are not indexed but contain information such as registers of free persons of color, slave censuses, and slave auctions. Researching these records require a solid grasp of the Danish language and dependent on the record, Gothic script.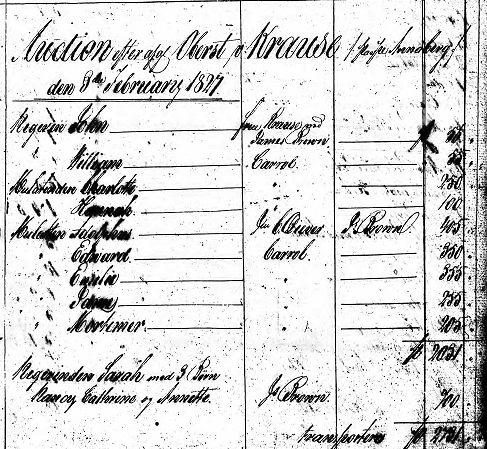 Puerto Rico, Slave Census 1872
Online and at the National Archives, Washington D.C microfilm publication T-1121 , Record Group 186.2
Estimates of the total volume of enslaved Africans who landed in the Spanish Americas were between 200,000 and 300,000, some of whom arrived on islands such as Cuba and Puerto Rico. Puerto Rico emancipated their enslaved on 22 March 1873, while Cuba did not free their enslaved until 1886. In 1872, the Spanish Government ordered that a special slave census be administered in Puerto Rico so that owners could be compensated for each freed slave. The schedule contains a wealth of information, such as name, slave owner, names of parents, names of children, and a physical description. The census is available at the National Archives in Washington D.C, microfilm publication T-1121, Record Group 186.2 under Records of the Spanish Governments of Puerto Rico, 1767-1880 or online for free at FamilySearch.org under the collection Registro central de esclavos, 1872 (slave schedule of Puerto Rico, 1872) by searching under Puerto Rico > Slavery and Bondage.

While the above examples can be located online, the majority of records for Afro-Caribbean genealogy are not. When beginning research into the enslaved era of the Caribbean, it is important to determine where each island's documents are housed (whether locally or abroad), what is extant, and if those records are available to the public. Many times, that means contacting the representant archival facility though a phone call or email or sending a local researcher to examine record collections.
Legacy Tree Genealogists has a worldwide network of onsite researchers who can assist in gathering documentation and analyzing its contents to help extend your family history. Contact us today to request a free quote.