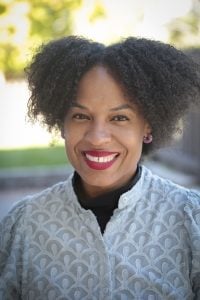 Adrienne Abiodun's interest in genealogy research began as a hobby to learn more about her immediate and distant relatives in her family tree. As the daughter of parents who were members the United States Armed Forces (Army and Air Force), Adrienne did not always reside near close relatives including her grandparents. She was also surprised to learn at the age of ten that the father raising her was not her biological father.  Although the father who raised Adrienne was a fantastic Dad, the mystery of her biological other half lingered setting Adrienne on her journey to learn about all her family, present and past.
Beginning in her early twenties and now, two decades later, Adrienne has made many wonderful discoveries about her biological father, his family, and several lines of her maternal ancestors. These discoveries were made possible using family tradition (oral history), record research and genetic genealogy (DNA). With the hands-on knowledge gleaned from researching her own family, Adrienne developed an intense desire to help others with family narratives like her own using traditional and genetic genealogy.    
Education and Training
In 2019, she obtained a Certificate in Genealogical Research from Boston University. and began her career with Legacy Tree Genealogists in 2020 after her DNA internship with the DNA research team.
Specialties
Her areas of specialty include: Genetic Genealogy, DNA, Unknown Parentage, African American Genealogy Research, Southern United States Genealogy Research, Lineage Society Applications.
Experience
As a full-time professional advanced researcher on the genetic genealogy team, Adrienne has been fortunate to use her skillset to extend family pedigrees, identify biological parents, break through challenging research roadblocks or to help others understand what hurdles exist between them meeting their research goals.
Prior to professional work, Adrienne had also become involved with the peer-review genealogy process of joining lineage societies and became a member of the National Society Daughters of the American Revolution (NSDAR) in 2016, followed by membership into Daughters of Union Veterans of the Civil War (DUVCW), and Sons and Daughters of the United States Middle Passage (SDUSMP). She has served as the National Vice Chair for the NSDAR DNA Network Committee, in addition to being a board member for SDUSMP. Throughout all her endeavors Adrienne has learned to make genealogy easy to understand, factual, meaningful, and attainable by anyone interested in their family history.
When she isn't researching for business or pleasure, she enjoys spending time with her children, travel, exercise, reading, eating, and learning about different cultures.
Blog Posts authored by Adrienne
Honoring and Proving Formerly Enslaved Ancestors Through Lineage Society Membership
Ready to learn more about your family history?
Reach out for a free quote and get started on your research project today.