Jewish Genealogy and Family Tree Research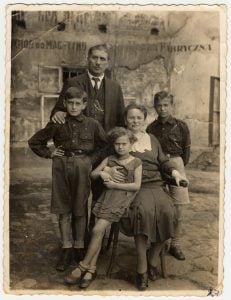 Understanding the basics of Jewish genealogy is essential for writing your family history and bringing your ancestors to life. Here are some of our tips on finding your ancestor's hometown and helping to navigate your research. 
In the last several hundred years, there were three major influxes of Jews into the United States (and countries like England and Canada).[1] The Sephardic Jews from Spain and Portugal were the first to arrive, coming during the Colonial years of American history. The second wave was of Jewish families from Germany (Ashkenazic Jews), who began arriving in serious numbers in the 1840s. The last major wave of Jewish immigration into the United States was the Eastern European Jews (also Ashkenazic Jews). This wave of immigration began around 1880 and continued until about 1924, when the United States began setting immigration quotas to restrict the number of immigrants arriving. During this third wave of Jewish immigration, over 2,000,000 Jewish immigrants arrived in America from Eastern Europe.
Jewish Genealogy: Historical Context
A majority of Jewish immigrants during the 19th and 20th centuries came primarily from two areas: Germany and a portion of Eastern Europe known as "the Pale."
The German Empire was established in 1871, uniting Prussia and the independent southern German duchies, kingdoms, etc., under one government. Jews from these areas immigrated to the United States and other "safe havens" during the early to mid-1800s as persecution drove them from their homes. There were very few of them left in Germany by the late 1800s.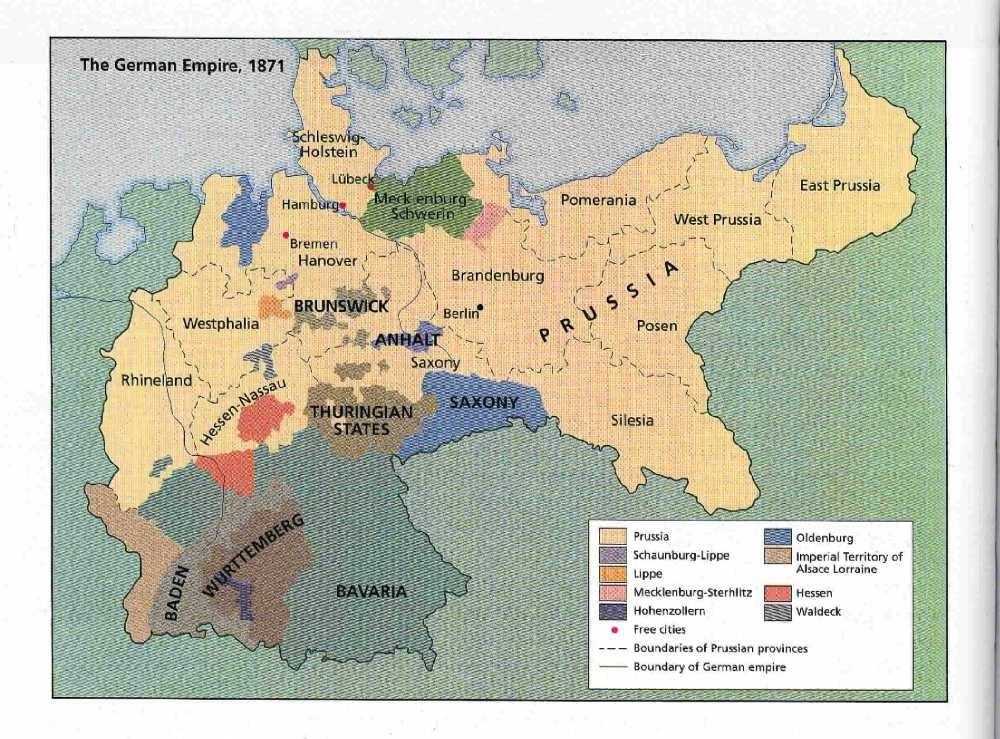 In 1792, Poland was completely wiped off the map due to the ever expanding borders of the Kingdom of Prussia, the Austro-Hungarian Empire, and the Russian Empire. Just inside the Russian border, in the middle of non-existent Poland, was an area called the Jewish "Pale of Settlement." It was established in 1791 under the rule of Catherine the Great, and continued until the fall of the Russian Empire in 1917.[2] At that time, Poland was reestablished and much of this land was returned to that country.
The Pale was approximately one-fifth of the land in European Russia (west of the Ural Mountains). The present-day countries of Poland, Lithuania, Belarus, Moldova, Ukraine, and parts of western Russia were included in the Pale's borders.[3]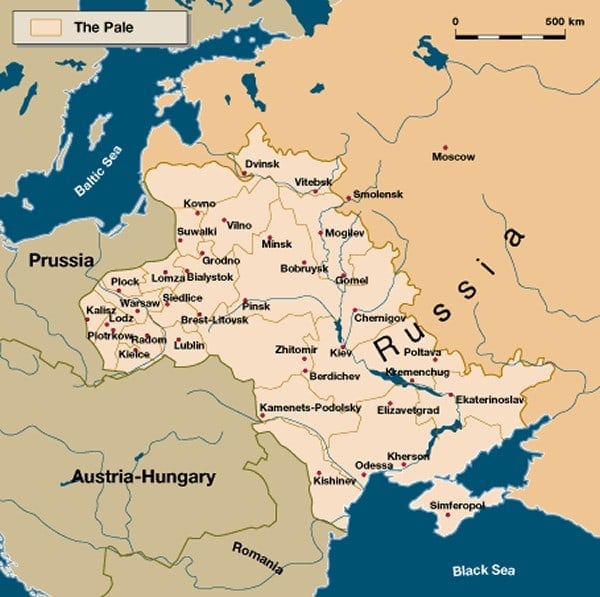 The Pale was supposedly where the Russian Empire magnanimously allowed their Jewish population to make their homes. In actuality it was the area to which the "less desirable" Jewish population was exiled as a buffer from the other two competing European empires. Jews were not the exclusive residents of this area, but they were not allowed to live outside its borders without a special permit, nor were they allowed to live inside most of the major cities in the region.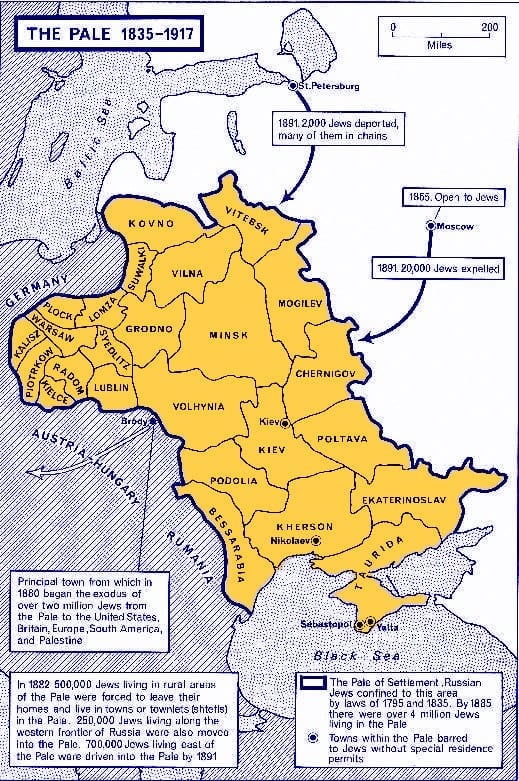 As an example, you may recall having watched the musical/movie Fiddler on the Roof. Anatevka was a small, relatively self-sufficient Jewish community or shtetl established just outside of a Russian city in the Pale. This was fairly typical of the political situations and boundaries for the Jewish population. This story of the poverty-stricken Tevye and his family was set in the early 1890s during a wave of anti-Jewish pogroms that led to the expulsion of over 20,000 Jews from Russia.[4]
Finding the Jewish Hometown
The predominant Jewish community in the United States today is from the Ashkenazic Jews of Eastern Europe. Due to their relatively late immigration, it is usually not very difficult to find a record that names their hometown. It is important to keep in mind, though, that when the birth place is found in a record, it may refer to the nearest large city or the region from which they came, just as we tend to do when generalizing our past residences. The maps earlier in this article can help to determine if this was the case since they show the large cities and the regions within the Pale.
A brief review of some records that are most likely to include the name of an immigrant hometown are as follows:
Military records

Service records from both World Wars – some are online through major repositories like Fold3, and some are available through the National Archives (NARA).
Draft registrations for World War I and World War II. These can be found at most major genealogy websites.

Naturalization papers

If you find a naturalization online at MyHeritage.com, FamilySearch.org or Ancestry.com, browse a couple of pages forward and backward. You may find more than you thought!
Post-1906 naturalizations usually included the name of the immigrant hometown and the date and ship on which they arrived in the United States.
Post-1922 naturalizations also included female immigrants who were now required to establish citizenship independent of their husband's. Prior to this date, a woman's citizenship status changed when her husband's did.

Passenger lists

A lot of passenger lists from the 1890s forward include the name of the hometown or the nearest relative back home and their hometown/residence.
Remember that passenger lists aren't always just one page. Browse forward to see if there is a second page with un-indexed information!

Social Security Applications (SS-5 forms)

It may take several weeks to get one of these records, but they usually give an exact birth date, birth place and the parents' names. If your immigrant had a Social Security number, it's worth it to send for this record! Click here for more information on how to obtain it through the Freedom of Information Act.

Vital records and Synagogue/Church records

Marriage license applications are generally the most informative vital records available, but in some cases birth, marriage and death certificates have been known to include the exact hometown.
Synagogue records of naming/circumcision (at 8 days old), marriages and burials are often available throughout the United States. Don't be afraid to call or email the local historical society or a possible synagogue location. They are usually very happy to help you trace your Jewish ancestry!
If the family converted or a local church served both the Christian and the Jewish communities, the hometown may be recorded in a local parish church's records of baptisms, marriages and burials.

Peripheral family members and friends

If you have a hard time finding a record for your immigrant, remember that they usually didn't come alone. Find another family member who came over and try to locate a record with their hometown named.

JewishGen databases – See http://www.jewishgen.org/InfoFiles/.
Newspapers and obituaries, family records, town and county histories, cemetery records, etc.
You just have to find the right record. The name of the hometown is out there! Read Jewish Research Part 2: Tips and Resources.  
If you need help with your Jewish genealogy research, the team at Legacy Tree Genealogists can help! We understand the obstacles involved in tracing Jewish ancestry, and have the knowledge and experience to overcome these challenges. Contact us today to request a free quote!
 Citations:
[1] MyJewishLearning, "Jewish Immigration to America: Three Waves" (Online: MJL, 2015), http://www.myjewishlearning.com/article/jewish-immigration-to-america-three-waves/2/, accessed May 2015.
 [2] JEWDAYO: A Daily Blast of Pride, "December 23: Pale of Settlement" (Online: Jewish Currents, 2015), http://jewishcurrents.org/december-23-pale-of-settlement-472, accessed May 2015.
 [3] Wikipedia, "Pale of Settlement" (Online: Wikimedia.org, 2015), http://en.wikipedia.org/wiki/Pale_of_Settlement, accessed May 2015.
[4] The word Pogrom is defined as "an organized massacre of a particular ethnic group, in particular that of Jews in Russia or Eastern Europe."