Records of the Social Security Administration are extremely valuable when completing genealogy and family history research for individuals who lived into the twentieth century. They can provide full name, birth date and place, parents, and spouse information, and are almost always well worth the investigative time needed to find and obtain them. Three records sets are of particular interest and will be discussed in this article. The first is the Social Security Death Index, the second is the SS-5 form, and the third is the Social Security Applications and Claims Index.
A short timeline is useful to understand which records were created when, and why they were created:
1935—the original Social Security Act was created to provide retirement benefits and the first wave of citizens register. Many of these are indicated in the SSDI as receiving their number "before 1951."
1939—the act was expanded to include spouses and minor children of retired or deceased workers.
1954—implementation of the disability program for workers and their families.
1962—the beginning of the Social Security Death Index
1965—medicare was signed into law, issuing in a new wave of citizens over the age of 65 applying for a social security number who had not done so previously.
1972—any alien legally admitted to the U.S. is issued a social security number and required to provide their age and alien status.
Social Security Death Index (SSDI)
The Social Security Death Index is an index to all deceased individuals who have held social security numbers and whose deaths were reported to the Social Security Administration. It is not an index to all deceased individuals who have received survivor benefits. The SSDI begins with deaths reported in 1962 and after, although a few earlier deaths are found there.
An individual's entry in the SSDI may include their given name, surname, date of death, date of birth, last known residence, location of last benefit, date and place of issuance, and their social security number. Not every entry will contain every piece of information listed here. It depends entirely upon what was reported to the Social Security Administration when the individual died.
Several different sites provide access to the Social Security Death Index, and each provides slightly different information. The four listed below are not the only places online that the SSDI can be accessed, but they are some of the most user-friendly.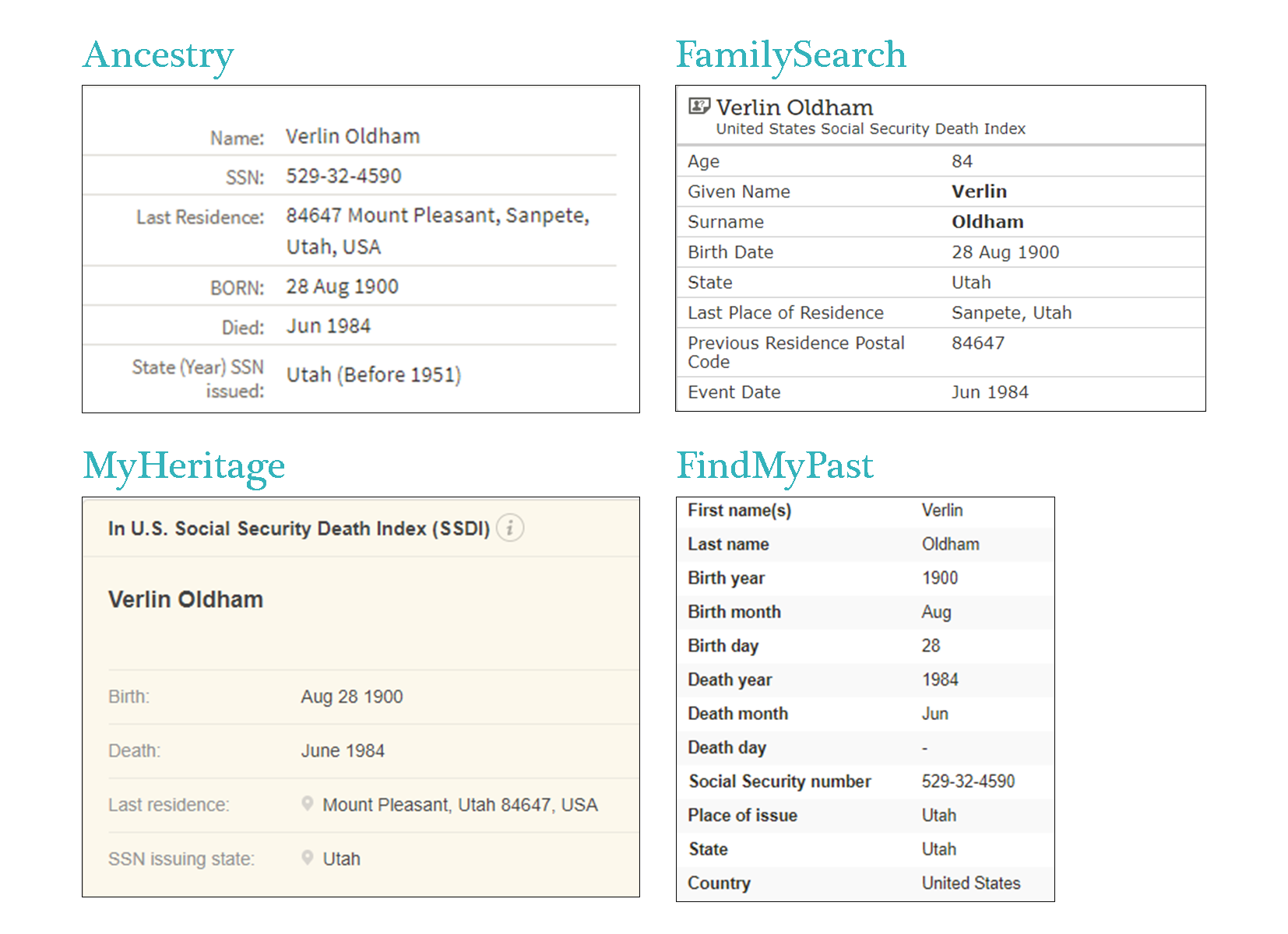 Keep in mind that these indexes were created by people, and are not perfect. In our searches we have frequently run into incorrect name spellings, which can sometimes make it harder to find the individual you are looking for. If your search isn't resulting in relevant matches, try wildcards, especially for vowels. Possible reasons you can't find the individual you're looking for include:
Names may have been transposed (the first name is listed as the surname and vice versa).
Middle names may have been used instead of first names, or may be included in the surname field.
The person may be listed only by a first initial.
Transposed dates. If someone died June 3, 1982 (06/03/1982) you may find them listed as deceased 6 March 1982 (03/06/1982) or June 3, 1928 (06/03/1928) and many other variations.
The name has characters that have been left off (e.g., O'Bannon may be listed as Obannon or simply Bannon).
The SS-5 or Original Social Security Application
The Social Security Administration holds microfilmed copies of every Social Security application and claim file. Photocopies of these original applications can be obtained by submitting a Freedom of Information Act request through their website (https://secure.ssa.gov/apps9/eFOIA-FEWeb/internet/main.jsp). Be sure to choose the photocopy option rather than the computer extract. Anytime a record is transcribed or abstracted, it introduces the opportunity for error.
When requesting the file, you will be asked to provide an individual's name, known aliases (including maiden names), social security number, date of birth, gender, and parent names. SS-5 records are often used to obtain exact birth dates or parent names, so you may not have all of the requested information, and that's okay. Just provide what you do have. If you do not know the social security number of the requested individual, fill out as much birth and parental information as you know.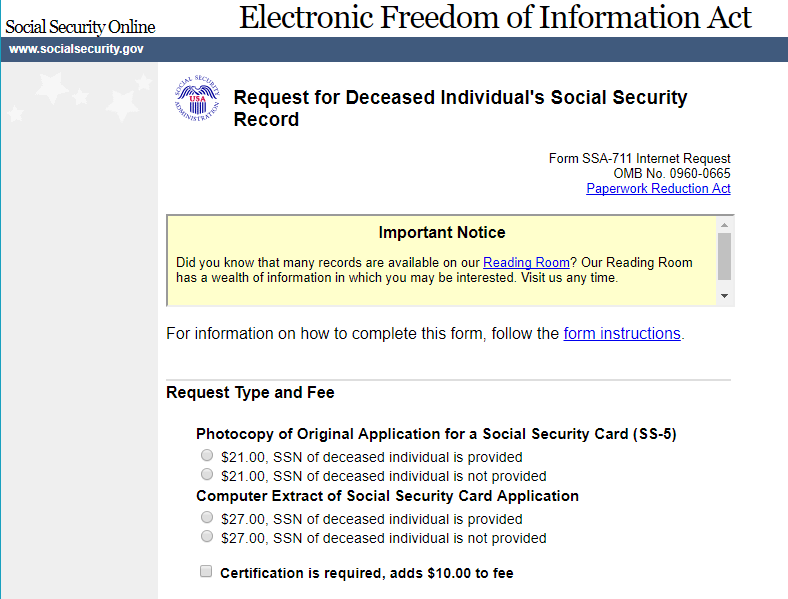 If your ancestor is recently deceased and is not in the SSDI, you must provide proof of death. The SSDA accepts proof of death in the forms of a death certificate, a statement from a funeral director, a statement by the attending physician, a coroner's report, or an obituary if it contains identifying information. If you cannot provide proof of death, the SSDA will only release SS-5 records for individuals who were born over 120 years ago. In addition, parent names will be redacted unless the parents provide written consent, death of the parents is provided, or the number holder was born more than 100 years ago and has been proven to be deceased. For tips on discovering redacted information, check out our blog article, Under the Black Boxes: The SS-5 and a Creative Approach to Uncover Redacted Info.
One of the great things about SS-5 records is that they contain information that was most likely communicated directly by the ancestor. The application form will likely include the following information as of the date of application:
Full name/Full name at birth including maiden name
Present mailing address
Age at last birthday
Date of birth
Place of birth
Father and Mother's full names, including maiden names
Sex and race
Current employers name and address
Date and signature
Social Security Applications and Claims Index, 1936-2007
One additional online database should be included in any discussion of records of the Social Security Administration. Ancestry's collections include the Social Security Applications and Claims Index, 1936-2007. These are extracts of claims filed with the Social Security Administration, and include life claims for disability or retirement benefits, death claims for survivor benefits, applications for a replacement SS card, or applications for changes to a SS card (e.g., a name change).
While the SSDI holds over 94 million records, the Social Security Applications and Claims Index holds only about 49 million. There is some overlap of individuals with the SSDI, but the Social Security Applications and Claims Index provides more information.
Case Study
An example from my own personal family research that shows how these records can be utilized is the case of Priscilla Fay Bolling. Priscilla's headstone names her as Priscilla (Pat) Reedy, wife of Edward Carroll Reedy. It provides her death date as 9 March 1995, and she was buried in Bosque, Texas. But when was she born, and who were her parents?
A search for Priscilla Reedy in the Social Security Death Index returns one woman—Priscilla Reedy who last resided in Valley Mills, Bosque, Texas, and was born 7 January 1928. Her death coincided with both the date and location of our Priscilla's birth. Her birth in 1928 also corresponded roughly to what was known. Her SSDI entry, however, provides no information on where she was born or who her parents were.
A search of the Social Security Applications and Claims Index reveals the same woman, but with significant additional information. This index entry provides a slightly different birth date—7 January 1928—in Stephensville, Texas. It also includes parental information claiming her father was Elvis N. Jones and her mother was Cora E. Moss.
Priscilla had several name changes. According to her index entry, Priscilla Fay Bolling registered for a social security card in November 1943, changed her name to Priscilla Fay Ripley in January 1952, and changed her name to Priscilla Fay Reedy on 24 January 1978. She was alternately known as Mrs. John Ripley and Mrs. Priscilla Bailey.
Using this information, we located two marriage records for Priscilla:
9 September 1977—Priscilla Fay Ripley married Edward Carroll Reedy.
15 May 1943—Priscilla Fay Jones married Benjamin Franklin Bolling.
We did not, however, locate a marriage record for Priscilla Fay Bolling to John Ripley. However, because of the Social Security Applications and Claims Index entry, we know the marriage occurred, and when we found the record for the marriage of Priscilla Fay Jones to Benjamin Franklin Bolling, we knew we had the right person, and were able to obtain her birth certificate, confirming her parentage.
In this case, since we were able to find the Social Security and Claims Index record, there was no need to order the SS-5 for Priscilla.
Using these three Social Security Administration record sources can be very beneficial to your genealogy research, as can be seen by the example discussed above. Because the information was often provided by the individual themself, or by a family member, and it is tied to government programs and benefits, it is generally fairly accurate and can help you learn the names, dates, and places you need in order to obtain other vital records about your ancestors.
If you need help obtaining an SS-5 or other Social Security Administration record, our professionals can help. Contact us today to discuss your research goals and determine which of our projects would best fit your needs.