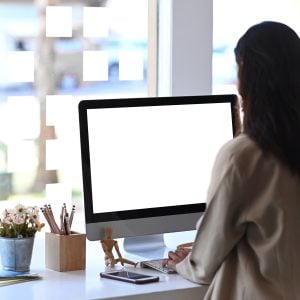 The use of artificial intelligence (AI) for genealogy research is still in its infancy but gaining momentum as each new tool is released, including ChatGPT and Google Translate. These tools do not replace the need for a professional genealogist to analyze the data but can speed up the research process by finding information more rapidly.
We asked our research team how genealogists can apply AI to their genealogy research projects. Here are some of their key learnings and cautions.
First, How AI Tools Work
The AI tools used most often by genealogists rely on NLP – Natural Language Processing. NLP enables machines to interpret, understand, apply, and generate human language. Researchers can use NLP effectively to extract data from historical documents for analysis. Documents most readily analyzed include birth and death certificates, census records, marriage licenses, and even newspapers. The NLP algorithms can extract names, dates, and locations from these records, saving a researcher valuable time.
AI tools also have machine learning algorithms that help to predict relationships. Large datasets of family history information can train the algorithm to make predictions about family relationships or to find missing information. The algorithm may then be able to fill in gaps in a family tree or predict how likely two people are related to one another based on their DNA test results.
Using ChatGPT for Genealogy Research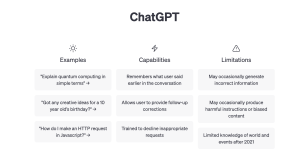 ChatGPT is an artificial intelligence chatbot developed by OpenAI. When answering a query, it can create a response that appears to be human-created text. It is also able to write and provide data on a variety of subjects.
One of the challenges of using ChatGPT for genealogy research is the need for more accuracy and the requirement to fact-check. A few tests run by Legacy Tree Genealogists found that while ChatGPT can produce information, it occasionally adds a bit of fiction.
"I found when I asked ChatGPT to write me an early history of Smith County, Tennessee, with sources, that the information was mostly accurate, but the sources were made up. That's part of the problem–it's an LLM (large language model), meaning it guesses at the next most likely word or character rather than being an actual research AI," said one genealogist.
Another Legacy Tree researcher said, "I used ChatGPT with a prompt 'Tell me about my second great-grandfather Blazuius Britanik.' It gave me a totally plausible response but was also completely incorrect. I'm curious if AI will be putting out more bad information that we'll have to be aware of as genealogists."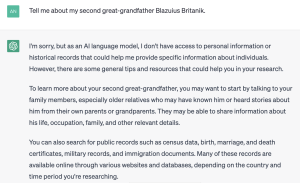 ChatGPT can be very helpful when asked carefully-worded and specific questions, but it can also provide inaccurate answers that a researcher must check.
When we asked ChatGPT how we could use the platform for genealogy research, it responded with:
1. Ask specific questions: You can ask ChatGPT specific questions about your family history, such as "Who were my great-grandparents?" or "Where did my ancestors come from?" ChatGPT can use its vast knowledge base to provide you with answers or suggestions for further research.
2. Ask for research tips: ChatGPT can also provide you with research tips and suggestions for further research. For example, you can ask "What are some online resources for genealogy research?" or "What are some tips for tracing your family tree?"
3. Use ChatGPT to transcribe handwritten documents: If you have old handwritten documents, such as letters or journals, you can use ChatGPT to transcribe them. Simply take a photo or scan the document and upload it to ChatGPT. ChatGPT can use its optical character recognition (OCR) capabilities to transcribe the document. *This is an example of the inaccuracy of ChatGPT. At this time, ChatGPT is not able to 'read' handwritten documents or have photos or images uploaded, yet it gave us this information.
4. Use ChatGPT to translate documents: If you have documents in a language you cannot read, ChatGPT can help you translate them. Simply upload the document to ChatGPT and ask for a translation. *Another example of the inaccuracy of ChatGPT. At this time, ChatGPT does not allow document uploads in the traditional sense, but you can copy and paste text into ChapGPT for translation.
5. Use ChatGPT for record searches: ChatGPT can also help you search for records, such as census records or immigration records. Simply ask ChatGPT to help you find a specific record and provide any details you have about the person you are researching.
ChapGPT Takeaway:
ChatGPT is a great tool to help formulate research strategies and research historical context. However, all information must be sourced and checked for accuracy, and it is not a replacement for an experienced genealogist.
Using Google Translate for AI Genealogy Research
This AI tool is an excellent help to genealogists, especially when translating records from one language to another.
An experienced researcher at Legacy Tree has found Google Translate to speed up the work. "In my research work, I used Google Translate to take a photo of text written in another language, and I'm shocked at how good it is sometimes. Of course, we still verify, but it saves us so much time from translating documents that might not be for the right person."
Google Translate Takeaway:
Google Translate is a good tool for starting a translation or determining if a document has information about the person or family you are researching. Verifying the translation with a professional is always necessary for accurate interpretation.
How Major Genealogy Companies Use AI
MyHeritage has also developed a suite of AI-powered genealogy research tools, such as identifying ancestors in historical photographs and automatically colorizing black and white photos. This has led to the creation of photo animation and engaged many new genealogy users through the interactive AI Time Machine.
Ancestry successfully used AI handwriting recognition software to transcribe documents like the 1950 Census records. They also use suggested records in their search, identifying whether a record looks similar to another person in a different record to help merge duplicates or find other relatives. 
FamilySearch is currently training the algorithm to index handwritten documents. Current research is focused on the 1400s at speeds unmatched by human researchers. In 2022, FamilySearch released the 1950 US Census by creating an initial index from digital census images that volunteers later checked for accuracy. 
If you'd like help with your genealogical research, you can get a free quote here!