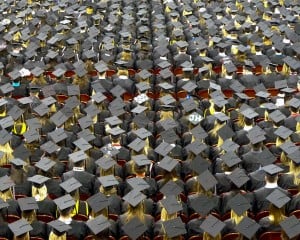 At Legacy Tree Genealogists, our core team members have at least one of the following: a genealogy degree or genetics-based degree, a professional accreditation, or a minimum of ten years' professional-level research experience. While our educational pursuits have prepared us for our current careers, there are many people who don't know that such genealogical education is open to just about everyone in some form or another!
When it comes to formal genealogy education, there are several options available to the consumer. These options vary in length, expense, and applicability, and which one(s) an individual chooses will likely reflect their ultimate goals in genealogy. For example, if seeking to become a professional and make a living in the field, a degree or certificate is most marketable. For serious hobbyists who would prefer simply to hone their skills as they work on their own trees or those of their close friends, it's possible that attending conferences and seminars might be sufficient.
As professionals, we love to see the overall standard of research being raised, and are always enthusiastic about the increasing opportunities out there for people to learn and improve their skills. For that reason, we're happy to share our knowledge regarding educational opportunities in this post.
We should note, however, that we are not affiliated with any of the programs discussed here, and do not specifically endorse any one over the other. Any questions regarding classes, tuition, financial aid, requirements, or availability should be directed to the institute in question.
Higher Education
When it comes to getting a degree in genealogy, there are three options.
B.A. in Family History/Genealogy – Brigham Young University is located in Provo, Utah, and many of our LTG staff earned their genealogy degrees from this institution. BYU is the only university in the world that offers a four-year bachelor's degree in this field, and students take classes in history, methodology, paleography (handwriting), writing, and technological applications, in addition to electives and general education classes. Some students even choose to pair their family history major with a genetics, computer science or business major or minor, which gives an extra edge in the professional world.
A BYU genealogy degree prepares you for a job in the professional genealogy world, though there are some caveats about attendance. The degree is not online, meaning that at least the majority of your classes must be completed onsite in Utah. Secondly, BYU as an institution does not accept students who have already earned a bachelor's degree – regardless of the major, or whether it was earned from a different school. Thus, this program is best for those who are just starting college for the first time, or who did not finish and would like to go back to complete a degree. For those who enroll, BYU offers not only classes, but paid research opportunities and internships as well.
MSc in Genealogical, Palaeographic, and Heraldic Studies – If you already have an educational background in genealogy, history, or a related field, or moving to Utah for four years isn't possible, consider the online master's program at the Scottish University of Strathclyde. This program, which can take between one and three years, can be done entirely remotely and includes not only classes, but a dissertation and research opportunities. There are also intermediate achievements within the program in case you're not interested in the full master's degree. These include a postgraduate certificate and a postgraduate diploma – both of which take less time.
A.A.S. in Family History Research – BYU's sister-school, BYU-Idaho, offers an applied associate's degree in family history research which can be completed 100% online. Though 60 credits of classes are required, the pacing is flexible and is friendly to those with jobs, children, or other responsibilities that might prevent them from being a full-time student. Classes include research methodology, evidence analysis, and even "Genealogy as a Business." Unlike certificate programs, however, this does require application and admission to the university first. Like the other options presented here, tuition is also a factor.
Certificates
For various reasons, the degree route may not be possible or desirable for everyone. Thankfully, there are many more flexible options! A number of organizations and universities offer shorter certificate programs in genealogy, most of which can be completed online. Such programs are offered at the following institutions: BYU-Idaho, Salt Lake City Community College, Boston University, the University of Washington, and the National Institute for Genealogical Studies.
The structure, requirements, and cost of each vary. Some are also based outside of the U.S. These include the aforementioned University of Strathclyde (Scotland), plus the University of Limerick (Ireland), the Society of Australian Genealogists, and Aberystwyth University (Wales).
Brigham Young University (the main campus in Provo, Utah) also offers online genealogy and history courses through their Independent Study distance-learning program; however, the completion of these classes does not culminate in any sort of certificate or degree, and are for your interest only.
Conferences and Seminars
Within the genealogical community, there are tons of conferences, seminars, and even genealogy cruises that are available to the general public, whether you're a seasoned researcher or just starting and wondering what it's all about. These are obviously shorter term – usually not more than a week – and most are only a few days. They range from free local family history fairs to major conferences such as RootsTech, as we've blogged about before, or the annual conventions put on by the National Genealogical Society (NGS) and the Federation of Genealogical Societies (FGS).
Such conferences usually consist of topical classes, lunches, hands-on workshops, opportunities to network, and a fun expo hall full of vendors. For a list of genealogy conferences that Legacy Tree Genealogists will be attending this year, check out our schedule of events for 2019.
Another option is SLIG – the Salt Lake Institute of Genealogy. Run by the Utah Genealogical Association, SLIG is a week-long seminar of intensive, advanced-level courses on topics ranging from genetics and law to region-specific methodology. Spots in this seminar fill up extremely quickly, often over a year in advance, so be proactive if you'd like to attend this one!
Genealogy is a booming field, and we anticipate that the number of opportunities such as these will only continue to expand with the coming years. Whether you're interested in pursuing family history as a profession or are just hoping to grow your skill set for your own purposes, consider making the investment in one of these fantastic learning opportunities!
If you love genealogy but lack the time, skills, or availability to pursue it in greater depth, consider hiring the professionals at Legacy Tree Genealogists to do it for you! Contact us today for a totally free consultation.