Have you used school records in your family history research? If not, you may want to start!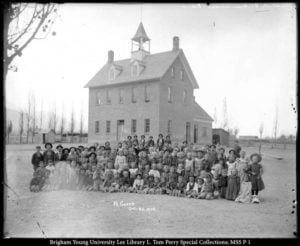 Fall is definitely on its way. There is a crispness in the air, the leaves are starting to change colors, college football is in full swing. And for many, the kids are back in school. Backpacks, pencil boxes, notebook paper, and crayons have become a regular part of life again along with paperwork—and there is a lot of it. The school has registration packets to be filled out for each student.  Every teacher has their own paperwork that needs to be filled out. There are lunch forms and school nurse forms and the list goes on. As the mother of nine children, I have done my fair share of complaining about the amount of paperwork I have to complete so that my children can go to school. And it's the same exact paperwork that I have filled out for the past ten years.
School Records Can Be a Valuable Genealogy Resource
As a professional genealogist, I have worked with different kinds of records and resources in the search for that elusive ancestor.  I hadn't really given much thought to school records as a resource until I began indexing them as a volunteer for FamilySearch. As I indexed each record, I began noticing just how much information is on those school information cards that I have been complaining about filling out. The records I indexed listed all the children in the family and their birth dates, the names of their parents, and where they were living.  That is a gold mine of information for a genealogist!
School records can be used to fill in the gaps when vital or census information is missing for an individual or family. Sometimes these records will list an occupation for the parents and if a student has transferred to the school from another school, that may be listed as well. The level of detail depends on the school district and their information form.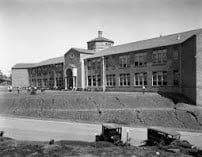 What Kinds of School Records Should I Be Looking For?
School newspapers, school district annual and statistical reports, and report cards are other great school records that can give family historians and genealogists insight into their ancestors. Newspapers often contain local ads which can tell us a lot about the community in which our ancestors lived. Student newspapers also cover the happenings in the school, from classes to clubs to sports. Noting the names of the ancestor's classmates and teammates may also provide clues about their lives. School district reports can contain information about extra-curricular activities. They might list the names of all those on the honor roll and other information where we might find our ancestor. Old report cards also give us a glimpse into the lives of our ancestors. Be sure to read the teacher's comments as well as looking at their grades. There just might be a reason for their C+ in Chemistry.
Yearbooks Can Provide Important Clues in Genealogy Research
Another school record worth looking into is a yearbook, through which much can be learned about one's ancestor. My father's father was killed in action during World War II when my father was a baby.  His father's younger brother was also killed in the same campaign. His mother remarried soon after his father's death and my father grew up not knowing anything about his father and uncle.  A few years ago, he asked me to look into the lives of these men because he wanted to get to know them. One of the things I did was research the area in which they lived. Fortunately, my great-grandmother wrote to my father once he was an adult and he had kept the letters. There were several clues in them and combined with census records, I was able to determine where they lived during the boys' high school years.
I called the high school in the area and the school's librarian was wonderful.  She searched through every yearbook for the years my grandfather and his brother would have attended that school. There was nothing, and I wondered how that could be. The school was less than a mile from where they had lived. And then the light turned on. I remembered being bussed from the foothills of Albuquerque across town for middle school due to desegregation.  Maybe my grandfather had been bussed to a different high school?  And that turned out to be the case. I made an appointment to visit the school and look at their yearbooks.  At first, we couldn't find them and I thought we had hit another dead end. There was no Jack Anderson or William (Bill) Anderson.  Then I remembered that their mother had remarried and so I looked for them under their stepfather's surname and found them. There were multiple pictures of both Jack and Bill. They were active in ROTC and Spanish Club.  Bill was on the Honor Roll and graduated at the top of his class. Bill's senior yearbook said that he was headed to UCLA. Great information. Looking in the yearbook a year after Bill graduated showed my grandmother, Jack's future wife.  We were able to scan that information and use it to find to find more details about their lives.
Where Can I Find School Records for Family History Research?
Finding these records might not be as difficult as you might think. Start with online genealogical databases such as MyHeritage, Ancestry, FamilySearch, and FindMyPast. Use their catalog to see what yearbooks and school records may be available. Check with your local historical or genealogical society.  They may have copies of those records and yearbooks. Contact the local school and school district as well as the corresponding alumni association for help. And, of course, ask family members for any school records, yearbooks, photos, newspapers, or other memorabilia they might still have.
School records are a great "out of the box" resource for family historians and genealogists because they help bridge the gap when other resources are unavailable or missing and give us a glimpse into the lives of the people we are researching at a detailed, personal level not always found in other sources.
School records are just a few of the vast resources used by the professional genealogists at Legacy Tree Genealogists to help our clients find their elusive ancestors. If you're interested in learning more about your ancestry, contact us today for a free consultation.