Legacy Tree Genealogists had the opportunity to participate this week in the largest genealogy conference in the world – RootsTech 2017. Held in Salt Lake City, Utah, RootsTech offered hundreds of classes taught by leading genealogists on topics including how to develop a research plan, utilizing various record collections, genetic genealogy and genealogy research methodology. Join us as we recap some of the highlights from Legacy Tree Genealogists' experience at RootsTech 2017!
New for RootsTech 2017, many of the keynote speakers and sessions were available for live streaming, allowing those who were unable to attend the conference to still participate and glean information from the comfort of their homes! Below is an image of keynote speakers Jonathan and Drew Scott, twin brothers, entrepreneurs and TV personalities on HGTV's "Property Brothers":
In addition to informative sessions and captivating keynote speakers, RootsTech 2017 also provides an Expo Hall packed with hundreds of booths promoting the companies that help build and impact genealogy. Industry giants such as MyHeritage, Ancestry, FamilySearch and FindMyPast had impressive displays and a large staff to answer questions and teach seminars about their products and services.
Legacy Tree also participated in the Expo Hall. Here's Legacy Tree Genealogists President, Jessica Taylor, and Marketing Manager, Amber Brown, who worked tirelessly to set up the booth just before the Hall opened:
Once the Hall opened, the place came alive with enthusiasm and energy. Legacy Tree spent three days consulting with participants about how to grapple with their brick walls and answer DNA questions. Here's Project Manager Camille Andrus discussing genealogy research with a RootsTech 2017 participant:
Here are Christy Fillerup, Amber and Jessica consulting with RootsTech 2017 participants:
One of the industry's leading genetic genealogists, Paul Woodbury, Sr. Genetic Genealogist for Legacy Tree, taught several labs about chromosome mapping:
Legacy Tree Project Manager, Carolyn Tolman, not only worked at the Legacy Tree booth in the Expo Hall, but was also honored during a special event entitled "Music—It Runs in the Family" held at the impressive Conference Center Thursday evening. Carolyn and her sister both sing in the Mormon Tabernacle Choir, as did their parents before them.
Paul Woodbury's DNA balloon crowns were a hit with budding genealogists of all ages.
Conference attendees were amused by the reader board which had new humorous insights every day:
Jessica had the opportunity to present a lecture titled "Hiring a Genealogist You Can Trust," in the demo theater, outlining different qualifications to look for when hiring a professional to assist with genealogy research. At the end of the presentation, there was a drawing for a FREE Discovery Project from Legacy Tree Genealogists. Julia Bay and her granddaughter were the lucky winners, and we were touched by their story. In their family, each grandchild takes a line in the family tree to research, and this particular granddaughter had hit a roadblock with an elusive relative, and was SO excited to be able to have professional genealogists outline a research plan to help her overcome her genealogy brick wall, while still allowing her to complete the research herself. We love that this grandmother is getting the younger generation excited and involved in tracing family trees!
For the conference Legacy Tree Genealogists prepared a DNA & Relationship Quick Reference Chart, an amazing tool for understanding how a person relates to others. If you want to know how you are related to your 3rd cousin once removed, this chart will show you. As a gift to our blog readers, we happily share this tool with you here: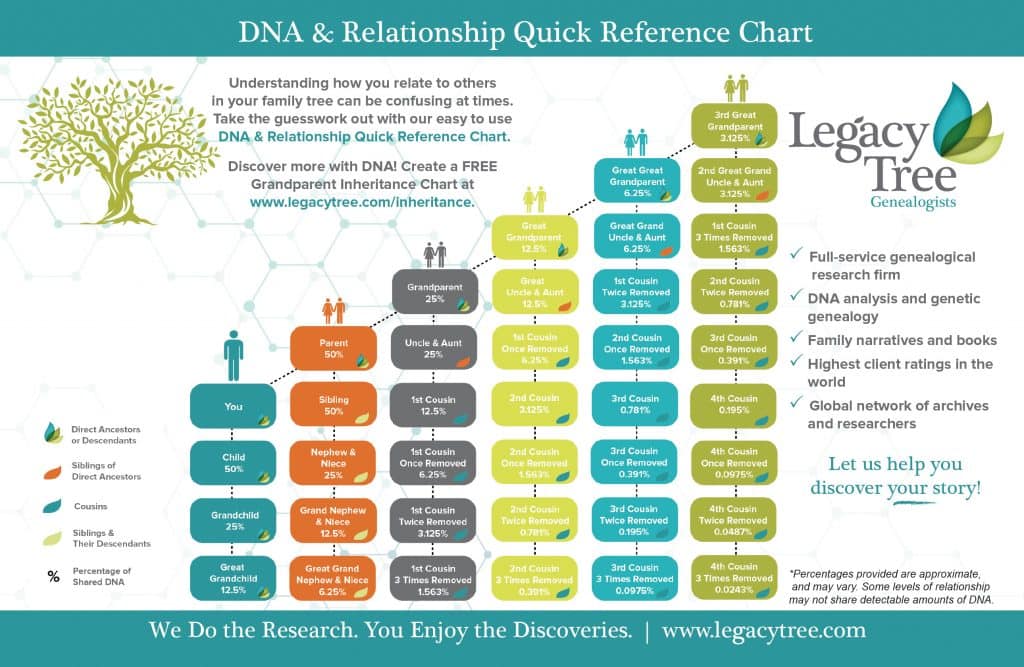 Amber and Paul also hosted a live DNA Q&A session on the Legacy Tree Genealogists Facebook page, answering questions users submitted on our website at https://www.legacytree.com/live about genetic genealogy and using DNA to extend your family history. Missed the session? We've got you covered–you can view the video in its entirety on our Facebook page.
To sum up–it was an informative, fun-filled week, and a conference well-worth attending. No matter if you are a family history beginner or a longtime researcher, join Legacy Tree next year at RootsTech 2018 at the Salt Palace Convention Center in Salt Lake City, February 28-March 3, 2018.