The month of May was Asian American and Pacific Islander Heritage Month. Ryan Rockwood, who specializes in Japanese genealogy research, discusses a relative newcomer to the Japanese research space that has already become a go-to resource for Japanese ancestry: Mykoseki.com.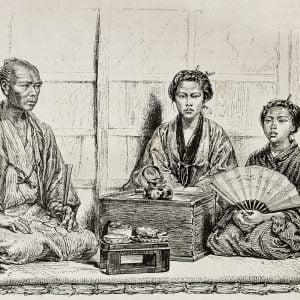 Mykoseki.com is a not-for-profit website geared towards helping people of Japanese descent request and access their ancestor's koseki, or family register. The koseki record is the primary place vital information has been recorded and stored in the modern era in Japan and is a gold mine for Japanese genealogical research.
Unfortunately, privacy laws in Japan preclude mass digitization and publishing of these records, making it more difficult for those of Japanese descent, especially those who cannot speak the language, to engage in genealogical research. Mykoseki.com is geared towards shepherding users through the process of acquiring their koseki by providing a number of helpful tools and resources for Japanese genealogy researchers of any experience level. Below is a tab-by-tab breakdown of all the site has to offer.
Home Page: General Research Strategies and Information
The homepage of the website mostly has general information on what the koseki is, how it differs from other record sets, and why it is essential in Japanese genealogical research. It helps users know where to start in their genealogical journey, and even provides a sample of a typical koseki document. I highly recommend the video at the very bottom, where Marty Wolf, one of the creators of the website, dives into what the koseki record is.
Koseki Search: Contemporary Equivalent of Historic Domicile
To me, this tool is the star of the show and what makes Mykoseki.com an indispensable resource. First, here's a bit of background.
To request a koseki record, you need to know the listed head of household (usually the patriarch of the family), the permanent ancestral domicile (honseki or honsekichi), and the contemporary municipal office the record is currently housed in. Immigration files and naturalization papers, among other records, can be helpful when looking for the historic domicile and even head of household, but knowing where to request the record from requires knowledge of the extensive border and jurisdictional changes that have occurred between when the record was filed and the present day. This has historically been quite a challenge, but this koseki search tool does away with that headache!
One must simply input the historic domicile into the search bar, and you will be presented with the reporting year, historical island, prefecture, district, type, and kanji reading for that specific municipality. 
Then, just click the Koseki Request Address link to see the present-day municipal office from which to request the record!
Now that the current location of the municipal office has been identified, users can utilize Mykoseki.com's detailed Koseki Request Form Instructions to submit a formal request for their koseki. 
Maps: The Prefectures of Japan
The Maps tab is a simple, straightforward view of Japan's current prefectures. Click anywhere on the map to be redirected to Google Maps. 
Helpful Links: For the Koseki and Beyond
Many an hour could be used to explore the vast amount of information on this page. It starts with helpful websites (including our very own LegacyTree.com) and is followed by a detailed PDF outlining other helpful resources. This is a great place to reference during any step in the koseki request process, whether you are stuck finding the domicile or even identifying the names of each individual in your ancestral family of question. 
For those who have already accessed koseki documents for their ancestors or are just looking for a challenge, there is a simple outline of other records as well. While not detailed, it provides enough information for users to reference and then dives deeper into other sites (like the ones listed earlier on this page, for example).
About Us: Heartfelt Acknowledgements and Things to Come
While I honestly usually gloss over the About Us page of any website, this one provides a touching tribute to all those who made this website possible. It also provides a sneak-peek into what's coming next, as it hints at optimization for Portuguese and Spanish use coming in the future.
I'm confident Mykoseki.com will prove to be a helpful resource for anyone interested in finding their koseki and learning about their Japanese ancestors, and I'm excited for all to see what this site has to offer!
If you have Japanese ancestors, and if digging into records on your own seems daunting, our expert genealogy researchers would be happy to help you through the process. Contact us today for a free consultation!
Disclaimer: All screenshots are from Mykoseki.com. Legacy Tree Genealogists is not affiliated with Mykoseki.com.