Legacy Tree works with researchers all over the world to access records for our clients. We asked one of our researchers to share her experiences with family history research at the Midwest Genealogy Center located in Independence Missouri.
Genealogists are in for an amazing surprise when visiting the 52,000 square foot Midwest Genealogy Center (MGC), part of the Mid-Continent Public Library system in Independence, Missouri. This unique library located just outside of Kansas City is focused solely on family history and since June 2008 claims to be the largest free-standing public genealogy facility in the United States.
Visiting the Library
From the moment you walk into the facility, researchers are greeted by a very helpful staff and surrounded by more than 750,000 resources to assist with research. When you first enter, you will notice that this is not an austere facility, but a building with a layout that encourages researchers to 'dig-in' and start researching. The staff at the main Reference Desk is ready to direct you to the resource location you seek whether you're just beginning or a seasoned researcher. After signing into the Visitor's Register, be sure to get the MGC Welcome folio that contains handouts for current events, databases, genealogy forms, and their Guide to Researching Your Family Tree brochure. And don't be shy, the staff, strategically placed throughout the building, is always super-friendly and available for your questions while perusing two floors of genealogical materials.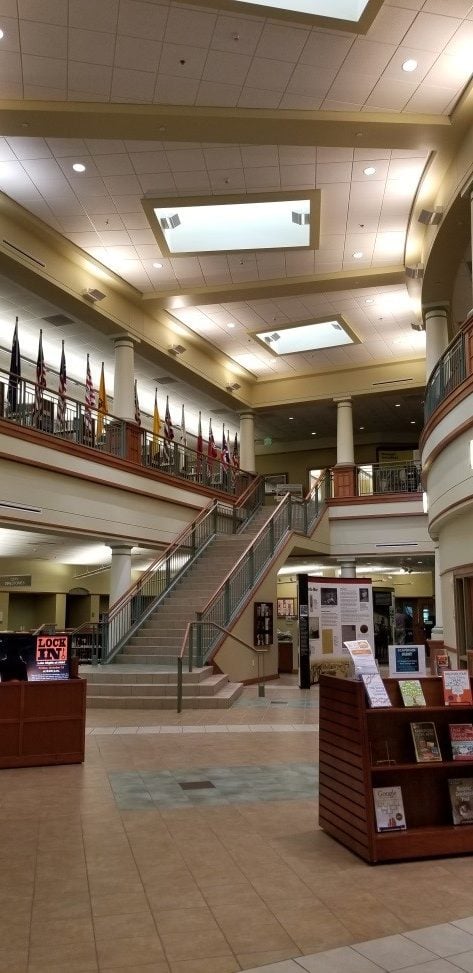 All patrons have access to the library's Wi-Fi and there are plenty of spacious workstations for you to set-up a central work area. The facility even has patron-use scanning equipment at Copy & Scanning centers strategically placed throughout the building. Also, Mid-Continent Public Library cardholders have the ability to check-out oral history recording kits for interviewing relatives or class projects.
Collections of the Midwest Genealogy Center
Their library holdings cover not just U.S. research but countries around the world. While the first floor is dedicated to genealogical periodicals, display space, meeting rooms, and copying areas, on the second floor you will find the extensive map collection and book stacks.
The MGC's reference collections include circulating book collections, microfilm, maps, periodicals, copies of the Draper Manuscripts, Papers for the Saint Louis fur trade, southern plantations and antebellum industries, and resources for Native American, African-American and Women's research. Additionally, over 20 online history and genealogy resources from popular subscription databases to specialized offerings for Ireland, Confederate Newspapers, and more are available to patrons.
Digital & Archival Collections
Twenty-first-century technology allows the Midwest Genealogy Center to share resources without requiring patrons to visit the library in-person. Several initiatives have begun and have digitized genealogy and historical resources with the cooperation of FamilySearch and the Missouri State Archives. They include:
• Plat Books of Jackson County, Missouri
• Digitized books including family history books include histories of families, county and local histories, genealogical periodicals, gazetteers, and more.
• Archival Collections relating to Jackson, Clay, and Platte Counties in Missouri
Library Events
The extensive MGC Calendar of Events offers unique family history programming which includes basic introductory classes for Beginning Genealogy and AncestryLE® as well as many discussion groups, including one for Brick Wall research and so much more. One look at their calendar and you will be hard-pressed to pick just one event to attend. And it was exciting to discover that many activities are aimed at families or teens, like their "Index It!: Teen Indexing" event.
Prep Before You Visit
Before you visit, take the virtual tour of the Midwest Genealogy Center to get a guided tour through the library. Also, their Get Started webpage introduces the genealogy basics for novice researchers. The patron-friendly facility offers lockers for personal items, seating area in which to eat your brown-bag lunch or grab a snack from the vending machines or take a seat on the cozy couches scattered throughout the building to read a book or collaborate with fellow researchers.
Midwest Genealogy Center is conveniently located east of Kansas City, just north of I-70 in historic Independence, Missouri and maintains patron hours Monday through Sunday. The library building is handicapped accessible with a large parking section in the free patron parking lot.
Community Hall Opening in 2019
Currently, the library is undergoing an expansion project for the construction of the MGC Community Hall which is scheduled to open in Summer 2019. The addition to the main building will this project will add a conference hall with seating up to 400 people offering its own entrance, kitchen and a fully equipped A/V stage area. If you live in the area of Kansas City and are looking for a place to research, the Midwest Genealogy Center should be listed high on your list of Places to Go.
Do you have ancestors from the Midwest? Our excellent onsite researchers can access this library and other resources in the Kansas City area to find what you need. Contact us today to request a free consultation!