Legacy Tree Genealogists works with researchers all over the world to access records for our clients. We asked Michele from the province of Salerno in southern Italy to give us insight into what it's like to research at the Diocesan Archives of Teggiano. Check it out!
Perched on a green hill in the extreme south of the Campania region, the picturesque village of Teggiano bloomed into a medieval stronghold, keeping within its walls secrets of an ancient past symbolized by the glorious Macchiaroli Castle. Not far from this timeless treasure is the Archivio Diocesano (Diocesan Archive) of Teggiano-Policastro. Established in 1851, this repository was meticulously reorganized by priest and archivist Don Giuseppe Cataldo from 1981 to 1984 – an effort which made it more user-friendly for visitors. Though technically belonging to a single Catholic diocese, the archive is split jurisdictionally into two offices: Teggiano and Policastro. The former is the subject of this article.
Why is the diocesan archive such an essential resource for genealogists and researchers? The answer lies in its wealth of documentation about the socio-religious reality of the Vallo di Diano region and neighboring towns. These record collections, some of which date back to the flourishing Italian Renaissance, consist of four sections: Administration, History, Clergy, and Marriages.
The "Administration" section, as its name suggests, contains all the administrative deeds of the parishes, Capitolo Cattedrale (Cathedral Chapter), Mensa Vescovile (Bishop's Revenue), Curia (Diocesan Administration) and of the Confraternities, in addition to some Episcopal Bull dossiers and inventories of parish goods. What makes this section so important is its wide range of records about the so-called 'Chiese ricettizie' regarding the creation of the new Diocese and its assets (the title comes from the verb 'to receive,' and refers to old ecclesiastical guilds typical of southern Italy).
The section headed "History," with its many features, is certainly one of the most interesting sections in terms of social and religious history of the diocese. First, in this part of the archive you can find documents recording 'visite pastorali' (pastoral visits of a priest to various communities and individual homes). Though occasionally fragmentary, these documents are numerous, covering a long period from 1580 until today. No less importantly, in this section you may find some folders about the Teggiano Seminary (founded in 1564), as well as related papers on regulations (from 1573), properties (from 1601), administration (from 1620), and memoranda (from 1581).
Here, furthermore, a very old and priceless manuscript called "Ancient privileges of the City of Diano" (1335-1536) is kept. In the sub-chapter 'Statistics,' papers called 'Stati delle Anime', also known as 'souls census' of several districts are collected. From the Latin Status Animarum, these were population censuses regularly compiled by priests in order to verify that every member of the family had received the necessary sacraments. They typically contain the names and birthdates or ages of every member of a household, so it makes sense from a genealogical perspective why these would be so valuable.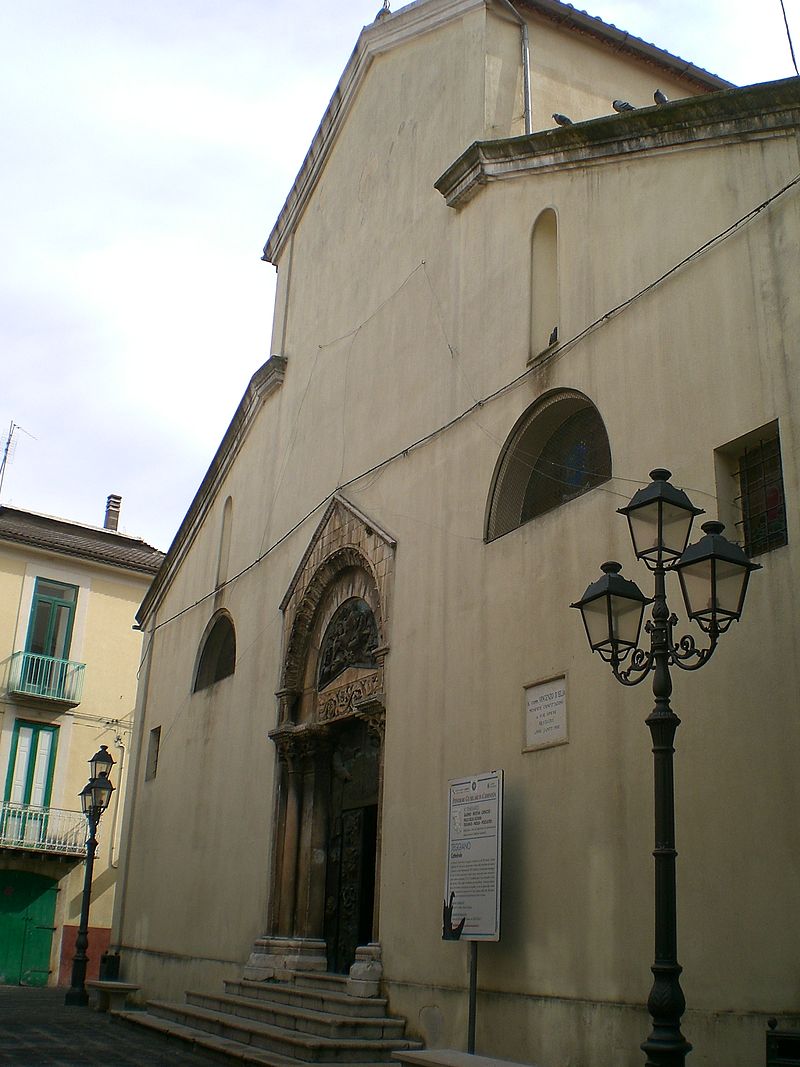 If you have an interest (academic or familial) in nunneries in southern Italy, there is an area of the archive dedicated to the
Benedictine Nunnery in Teggiano
, where young noblewomen from the Vallo and Cilento regions used to go. This section includes memoirs and essays, declarations, records of administration, suits, correspondence and rescripts. Alongside them, two bound manuscripts can be found consisting of, respectively: a report written up by Don Cono Canonico D'Elia, Attorney of the S. Benedetto di Diano Nunnery (November 1858 –December 1859); and a register of the 'Capitoli di Casa' (House Chapters, 1802-1865). The latter manuscript, containing all the chapter resolutions of over 60 years of the convent's activity (suppressed in 1902), provides a rather detailed reconstruction of the nuns' everyday life.
Finally, there are also records about the Poor Clares of Polla and Castelcivita (a Franciscan order of nuns), as well as relevant information regarding the religious teachers called Filippini, who set up in 1924 in the monastery complex that once belonged to the Benedictines.
Other parts of the 'History' collection include encyclicals and papal decrees, pastoral letters, 'Transunti Parrocchiali' (compendiums of baptisms, confirmations, marriages, and deaths), as well as matrimonial proceedings and general cases. These are the records which will likely be most useful to the average genealogist.
In the last section, called "Clergy," are the 'sacerdotal ordinations,' the oldest of which date back to the first half of the 17th century (1625).
In "Matrimoni e Stati Liberi" (regarding marriages and bachelors), you can find records of the various churches known as 'processetti matrimoniali' dating as early as 1600-1800 depending on the church. Similar to a marriage application, these are documents completed by the engaged couple and their families in anticipation of gaining permission to marry. The future grooms presented these files at the time of the function in question. The packets can contain birth and baptismal certificates, potential death certificates of parents (if applicable), and witnesses' statements (similar to reference letters, vouching for the character of the bride and groom).
So, whether you are a professional or amateur genealogist, or just wondering about your southern Italian roots, this is the right place for you!
These records are located in Biblioteca PIO XII at Piazza Mons. V. Vignone, Teggiano (province of Salerno), which opens every Monday to Friday morning from 9am-1pm. Closed on Saturdays, public holidays, and in the month of August. A consultation takes place in the library, and it has no boundaries such as time limits or number of accessible documents per day. All that is required is to fill out a form with a list containing the requested papers and volumes.
Do you have ancestors from Italy? Legacy Tree has agents throughout the country ready to visit and find the necessary records. Do you know you're of Italian descent but haven't been able to identify the exact hometown from which your ancestors immigrated? We have tons of experience helping our clients make the leap. Contact us today for a free consultation.