Many are under the impression that to become a member of the Jamestowne Society, one must have an ancestor who was a first settler of the Jamestowne colony. Although that is one route to join, the Jamestowne Society provides six pathways to membership! Learn more about them.
The Jamestowne Society, founded in 1936 and incorporated in 1958, is a lineage society based in Richmond, Virginia with the mission to discover and record the names of early Virginia settlers and their descendants. They work to promote restoration of historical records, documents, objects and edifices, and bring members into closer association through activities and the organization of state companies (see the full mission statement at http://www.jamestowne.org/). To date the society has over 10,000 members.
On 6 December 1606, the ships Susan Constant, Godspeed, and Discovery sailed from England with 104 boys and men to establish what would be known as Jamestowne, the first permanent English settlement in North America. The first English women arrived in Jamestowne in 1608. Many of the first settlers died without descendants, or have lineages which cannot be proven today with surviving records. After a series of misstarts, the settlement became an active port for new arrivals and the beginning of the establishment of what was known as the Colony of Virginia.
Pathways to Membership in the Jamestowne Sociey
Many are under the impression that to become a member of the Jamestowne Society, one must have an ancestor who was a first settler of the Jamestowne colony. Although that is one route to join, the Jamestowne Society provides six pathways to membership. You may qualify if your ancestor meets one or more of the following criteria:
One: Was a stockholder in the London Company or Virginia Company, or a member of one of the guilds which invested in the above, during the active investment period.
The stockholder did not need to have been a resident of Virginia during their lifetime. One ancestor who qualifies under this criterion is John Vassall, the builder and owner of the Mayflower, who was also an investor in the Virginia Company. His granddaughter Judith Vassall married Mayflower passenger Resolved White, whose line qualifies for membership in the General Society of Mayflower Descendants. All those with membership in the General Society of Mayflower Descendants under Resolved White also qualify for membership into the Jamestowne Society through ancestor John Vassall.
Two: Owned land on Jamestown Island or lived on the island prior to 1700.
Three: Was a resident in Virginia at the time of the 1624/5 muster or earlier.
This is the most popular category for membership. The compilation Adventures of Purse and Person, 4th edition, edited by renowned genealogist John Frederick Dorman, CG, FASG, records settlers six generations forward in two categories. The first was through "Purse," defined as stockholders in the Virginia or London Company who either came to Virginia between 1607 and 1625 and had descendants or who did not come to Virginia but whose grandchildren were residents within that period. The second was through "Person," defined as immigrants to Virginia with descendants who arrived between 1607 and 1625. The compilation has identified 109 individuals and their descendants that fit into one of those categories.
The books can be ordered thorough the Jamestowne Society merchandise page, and also might be available at your local library or archival facility. The last printing was the 4th edition in 2004 and the volumes are divided into four books: Volume One, Part A, Families A-Ch; Volume One, Part B, Families Cl-F; Volume Two, Families G-P; and Volume Three, Families R-Z.
A searchable database for those named on the muster can also be located at http://www.virtualjamestown.org/Muster/introduction.html. 
Four: Served as Governor, Secretary of State, Treasurer, Attorney General, Clerk of the General Court, Member of the Council or House of Burgesses prior to 1700; these persons shall be conclusively presumed to have had their domiciles on Jamestowne Island during their terms of office.
There are many qualifying ancestors in this path to membership. The Jamestown Society website provides a list of those who were present at the first General Assembly in 1619. Any ancestor who served in the Assembly or later Burgesses for any district or county in Virginia before 1700 qualifies.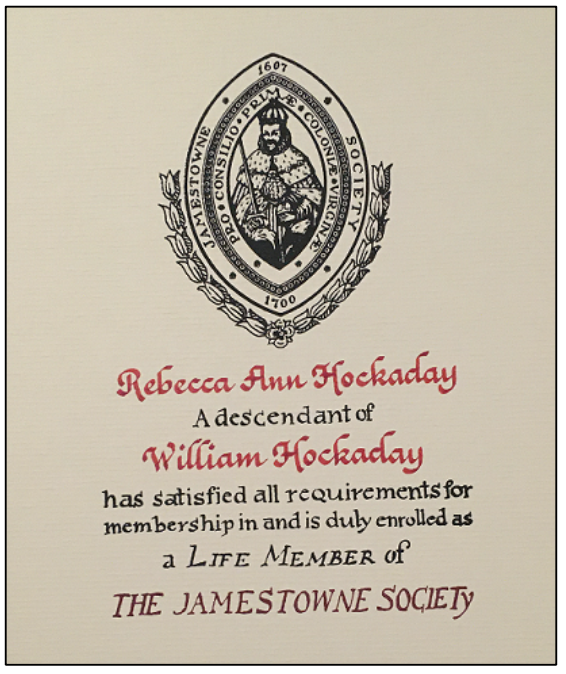 Five: Was an Anglican minister in Virginia prior to 1700.
Six: Served as an official Indian Interpreter in Virginia prior to 1700. 
A list of qualifying ancestors, organized alphabetically, can be seen on the Jamestowne Society website, while the most comprehensive and up-to-date list can be found in the Jamestowne Society booklet "Jamestowne Society List of Qualifying Ancestors," last printed in July 2019. It can be ordered on the Jamestowne Society merchandise page for $13.00.
Added and Dropped Ancestors
The Jamestowne Society welcomes any person who can document new ancestors. A list of new ancestors added from 2014 to 2017 is located on their website with a more updated list in the Jamestowne booklet entitled, "Jamestowne Society List of Qualifying Ancestors." Multiple women, Indian interpreters, and Anglican ministers have been added to the qualifying ancestor lists. Among the most notable new ancestors that have been added since 2014 is Cornelius Dabney, "Interpreter to the Queen of Pamunkey," and Mary Addy, the wife of Christopher Branch and the third-great-grandmother of Thomas Jefferson.
At one time the Jamestowne Society accepted certain settlers as qualifying ancestors, but recent evidence has proven that they do not meet the above criteria, and therefore have been removed from the qualifying ancestor list. The most common reasons for an ancestor being dropped are first, evidence of no known descendants; or second, no documented land ownership on Jamestowne Island.
Revolutionary Era
A partial name list of Revolutionary War patriots with connections to their Jamestowne ancestors can be located on the Jamestowne Society website. If a Revolutionary War patriot is listed, it is possible that an approved application has been submitted to the Jamestowne Society on this line. For example, the first Revolutionary War ancestor on this list shows Thomas Abbe (1731-1811) descendant of John Vassall, Jamestowne Qualifying Ancestor A9471. Cross-referencing Thomas Abbe to the Daughters of the American Revolution database at  https://www.dar.org/ shows Thomas Abbe of Massachusetts and Connecticut as Daughters of the American Revolution ancestor, A000038, with 65 approved applications.
Membership
Membership into the Jamestowne Society is by invitation only, but an invitation is easy to obtain. A list of local companies (chapters) can be located on the Jamestowne website. If a potential member does not reside near a company, and/or does not know a member in the society, that potential member can email the Jamestowne office at [email protected] and express interest. Instructions for membership will then be communicated. The office can also match a proposed lineage with the most current and documented application for $38.00. Instructions on how to order lineage papers is located in the merchandise section of the Jamestowne Society website.
Once approved, membership is lifetime.
Early Virginia research can be daunting. Many areas, from settlement in the seventeenth century to the Civil War, suffered a catastrophic loss of records, while some records in other areas remain largely intact. Often, no direct evidence exists which name a relationship, but indirect associations through existing documentation have survived. 
In such a case, a study can be written to argue that relationship. Legacy Tree Genealogists has a team of early Virginia experts ready to assist in organizing your application for membership. Contact us today to request your free quote!
*Legacy Tree is not affiliated with The Jamestowne Society 
1. "Seventeenth Century Qualifying Ancestors," Jamestowne.org, accessed December 2019.