If you have German ancestry, village genealogy books are an essential resource for extending your family history.
German genealogy can be intimidating—after determining the ancestral village of origin, the next step involves deciphering documents written in an archaic handwritten cursive script that can challenge even the best of us. So, genealogists seeking their German ancestors can perhaps be forgiven for wishing for any kind of a shortcut that could make their lives easier. Fortunately, for thousands of German villages, "if only" becomes a reality in records called Ortsippenbücher (the plural of Ortssippenbuch, a "village history genealogy book").
Ortsippen-what?
An Ortsippenbuch, also known in German as Familienbuch, Ortsfamilienbuch, or just plain Sippenbuch, is a volume that that pulls together the sources of genealogical information about families within a specific town, village, or parish. These are especially useful if a few family events took place in different parishes, because they can all be noted in one place.
These books generally consist of families listed alphabetically by surname, with each individual assigned a number for cross-referencing. This allows researchers to easily find additional information about a spouse, parent or child in an entry with that number elsewhere in the book.
Information is usually extracted from the extant church and civil records. A history of the village and the local parish church, lists of those killed in war, or rosters of emigrants to the United States are also sometimes included.
 Step-by-Step Look
The entries in these books are usually heavily abbreviated to conserve space, but once you "know the code"—including basic German genealogy symbols such an asterisk (*) for birth,  double rings (oo) for marriage and a cross (+) for death—you'll be on your way to loads of information about your family!
For example, entry no. 238 in a family book on the village of Mötzingen in Württemberg reveals the following data about the Brösamle family:
Anton Brösamle is the head of the household, whose sequential family number is 238
aus 237 means he is found in family 237 as a child
Taglöhner, meaning "day laborer," is his occupation
He was born 20 December 1840 and died 12 November 1916
He was married in Mötzingen on 25 July 1868 to Anna Maria Singlinger (who is found in family 2105). She was born 19 September 1839 and died 4 February 1879
Together they had five children in Mötzingen
The five children are then listed with their birth, marriage and death dates and spouses' names
Meet Me in St. Louis (County!)
The largest American collection of these books is found in the St. Louis County Library's History & Genealogy Department, 1640 S. Lindbergh Blvd., St. Louis, MO 63131.
This department has "standing orders" with major German publishers and has accumulated volumes covering more than two thousand villages when former or current German-speaking areas outside of Germany (such as Alsace-Lorraine in France and the Banat in Romania) are considered. "The collection grows continually," says Scott Holl, manager of the department and 2015 winner of the National Genealogical Society's Filby Award for Genealogical Librarianship. "We add new titles throughout the year."
Researchers can request up to three lookups (a surname, for example) by sending an e-mail to [email protected]. The library will scan up to thirty pages at no charge if the results are returned via e-mail.
St. Louis County Library also has a number of research aids such as maps and alphabetical village listings for its holdings of the books on its website.
Other Large Collections
While many libraries with German genealogy collections will have a smattering of these books on their shelves, two other repositories have hundreds of such volumes. The Family History Library in Salt Lake City, for example, has more than 800. To look for the holdings, go to the catalog on FamilySearch.org and look for the locality of interest (if that locality is attached to another church parish, you'll want to search for the parish, too). The Library of Congress in Washington, D.C., also holds several hundred family books.
Online, Searchable Books
As wonderful as these records can be, traveling to a repository to access them may not be as convenient. Fortunately, many are being digitized by the Germany-based genealogy website Compgen.de (also known as Genealogy.net). Several hundred—and the number is growing steadily!—of these volumes have been entered into a searchable database that acts like an electronic version of an Ortsippenbuch. Several hundred of the books have been converted with more than eleven million total names. They can be searched at this URL:  http://www.online-ofb.de/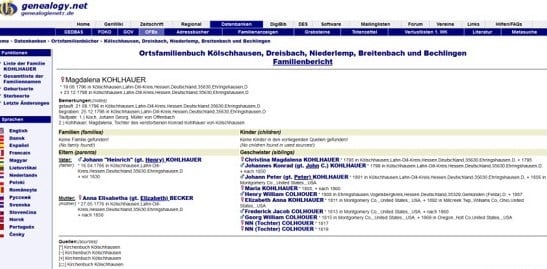 There is one caveat that should be attached to the use of Ortsippenbücher: While the people who compiled them are generally expert local historians, these are still considered secondary sources since they have been compiled from primary documents. Whenever the original documents are still extant, they should also be consulted both for accuracy and completeness.
At Legacy Tree Genealogists, we not only know where to find these German village genealogy books, but also how to interpret them for our clients. Contact us today for a free quote and to let us know what our experts can do for you.