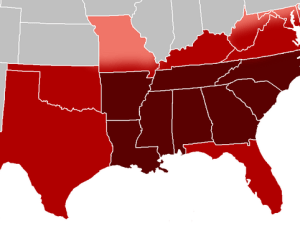 Quite often Southern records do not provide direct evidence of relationships and links between one generation and another. This is both a curse and a blessing. The curse, of course, is that without those explicit statements, there is always room for doubt about a relationship when we want total confidence in our tree. Therein lies the blessing as well. Because of the uncertainty, we must build a case for the proposed line through a preponderance of evidence. This requires an accumulation of records and depth of analysis which would not be necessary otherwise, giving a much more complete picture of the ancestor, his wife, children, siblings, neighbors, locale, and pertinent historical events. Through this effort we come to know and appreciate the life of the ancestor and can generate far more interesting reports than the "data dump" of names, dates, and places so readily available in more straightforward research.
What makes Southern research so challenging?
Two words – burned counties. While originally this term was attributed to counties which suffered severe destruction during the Civil War, it can refer to any county courthouse disaster, whether natural or man-made, which results in record loss. And please don't think this is just a thing of the past – a courthouse burned down in Georgia as recently as last year. While this can happen anywhere, it is far more common in the southern United States.
Another reason for the challenges of southern U.S. research is the nature of life in the south. For well over two hundred years, the south was primarily agrarian, made up of farmers who cultivated land. Due to their lifestyle, many of them were illiterate and/or did not keep detailed records, which results in the inconsistencies in name spellings, birth dates and places, statements of familial relationships, etc. It could require a day or more to travel to a county courthouse, or even a church, so many events, particularly birth, marriages, and deaths, were never recorded. However, remember that because such a society was land based, there are often extremely detailed and numerous land, tax, and court records available which can help document an individual throughout their life.
How do we overcome these challenges?
Here are several tips to help you get the most information possible in your southern research:
Always go from what you know to what you don't know. Gather as many details possible from every existing record pertaining to the ancestor, and sometimes his wife, and his children, his siblings, cousins, etc. rather than just trying to make a "leap" to the next generation. Timelines can be very useful in doing this, and then look for people with the same surname in each area that the ancestor resided.
When analyzing the records, look for FAN club connections. Often people in the south moved around in groups, which could be made up of direct relatives, in-laws, or just close associates. Tracing the FAN club can often lead to breakthroughs in your target line.
Determine if you are researching in a burned county. The county pages on FamilySearch wiki will have a section entitled "Record loss" under the "History" headings. If you are working in a "burned county", there is an article on FamilySearch wiki entitled Burned Counties Research which provides a good overview of how to approach this challenge.
Understand the genealogy of the county you are researching. Just like people, places have a genealogy, and because the south was such an agrarian society, it is critical to know the boundary changes which occurred during an ancestor's lifetime. Their land could have been located in several different counties in the course of their lifetime, and therefore records might exist in various record sets. We recommend using MapofUS.org, which provides maps of each state for dozens of different dates showing the boundary changes which occurred, as well as links to every county with information about the history of that county.
Understand the different types of probate, land, tax, and court documents available and research any and all of them for challenging research. Look through indexes and note every instance of not just the ancestor, but anyone with the same surname, in-laws, and the FAN club. While these records may not explicitly state the relationships between individuals (but sometimes they do, and you don't want to miss those!), generally a pattern or preponderance of evidence will emerge pointing towards a certain conclusion. If you are uncertain about some of these types of records, FamilySearch.org wiki has excellent articles on all of them in general and often specific to state, as well as numerous articles on the internet and in books.
Don't spend a lot of time in published genealogies, whether book, journals, or the internet. They very rarely provide actual documentation, which means you are going to have to do the actual research anyway, so just start in the records. If you do look at published information, do so very briefly for clues when other avenues of research are becoming exhausted.
Patience is a virtue. Life moves a little more slowly in the south, and so should genealogy research there. Be sure to spend plenty of time at the Family History Library to examine all the entries in the index for the ancestor, and follow any leads they provide. Take time to fully read, transcribe, and analyze the documents. Spend a few days away from the project, then come back to it with fresh eyes. You will often be surprised at the new connections you see or ideas for additional research that present themselves. You cannot rush through southern research.
Don't feel bad about negative results. So long as you research to the best of your abilities, there is nothing to feel bad about. If the records do not exist, or for some reason the ancestor does not appear in records when and where he should, that is not your fault! Focus on the positive – you have spent so many hours researching, and now you have eliminated ALL those records sets as avenues of research, allowing you to really hone in on other records in the future.
Though challenging, it IS possible to break through southern genealogy brick walls and find your early Southern ancestors! We've seen it done time and time again!
About: how to do genealogy research in the south, Virginia ancestors, Kentucky ancestors, Tennessee ancestors