Discovering your immigrant ancestor's origin can be exactly what you need to break through your genealogical brick walls!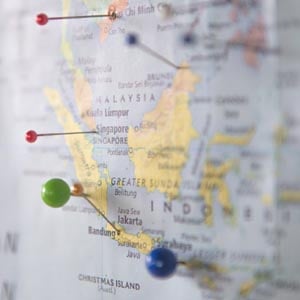 It can be deeply satisfying to discover where your international roots lie and trace your immigrant ancestor's origin. We've helped many clients do this, and offer the following tips to help you trace your own lineage.
Getting Started
Often family stories will provide clues about where your ancestors came from "way back when." With or without that as a start, there are some key records that will help you discover your ancestor's origins.
First, census records are very helpful in gathering information about your ancestors, including their immigration information. Federal census records were created every ten years in the United States, and similar patterns were followed in many other countries, such as in Canada, Great Britain, and Australia. These records often asked for birth information for each person in the household, and sometimes for birth information for each person's parents. Although this information is often not more specific than the general country, it's a start. Later census records asked for even more immigration information, such as the year a person came into the country and whether or not that person has become a naturalized citizen. Some state census records asked for even more detailed information, so be sure to check those as well.
Tracing Ancestor's Origins Through Immigration Records
After gathering information through census records you'll want to search immigration and naturalization records. If your ancestor immigrated to the United States, databases at the National Archives, Ancestry, and FamilySearch should be searched, among others. For other countries, a google search of your ancestor's original country and "immigration," should help you find great resources.
In general, from here you'll want to continue researching in the country your ancestor immigrated to before jumping to records in the country of origin. It's important to remember that most countries, especially in early periods, don't have national indexes, and if they do, there may be many different people in an index with the same name and approximate age as your ancestor. How do you know which one is right? You'll very likely need to find out specifically which town or city your ancestor came from, and the best way to do this will be through records of the country your ancestor came to. This can be a time-consuming process, and sometimes involves very in-depth and creative research strategies, but once that town or city is known, your chances for successful research are far greater.
Sources like death records, obituaries, marriage records, and county histories will sometimes reveal an immigrant ancestor's town of origin. If these things don't work, searching records regarding your ancestor's spouse and children may provide the clues you need. For example, if an ancestor was married prior to immigration, it's likely that the spouse's family lived nearby in the country of origin. Finding out where the spouse came from can narrow down the area to search for both families. In addition, children's birth, marriage, death or obituary records will sometimes list the place of birth for their parents.
Sometimes, especially If your ancestor immigrated early (pre-1870 or so), you may need to look at probate records, land transactions, tax lists and other obscure sources for clues. It also sometimes becomes necessary to look at immigration trends. Are your ancestors living in an area where it is known that most people came from a specific place? Do they have neighbors or friends who might have immigrated with them?
Things to Keep in Mind
As you search census and other records, you may find that sometimes your ancestor's recorded birthplace changes. While one record might say Germany, the next one might say Poland, Bavaria, or Prussia. Because boundaries have changed over the course of time, it's possible your ancestor was from a place that has been a part of several different countries, and all listed locations are technically correct.
Also, when you find the name of the town or city your ancestor came from, there are several other things to consider, such as town boundary changes, town name changes, and whether there is actually more than one town of that name in the country. In addition, it was common for immigrants to state the closest large city as the place they came from, rather than the smaller town they might actually have been from, so if the city or town you find is a large place, it might be necessary to consider all the surrounding towns and villages as well.
After you've discovered your ancestor's specific place of origin you can confidently search records of the original country. Some countries and time periods recorded births, marriages, and deaths on a wide-scale basis and others did not. If your ancestors came from a country that didn't record these events, or a time period before it started, parish church records are another good option.
Extending the Line
Although, and probably also because, the process of preparing your family for research in their country of origin can be difficult, the excitement you feel when you do find them is so great! Once you locate your family in a specific town or parish you can generally trace them back to the beginning of those records without too much trouble. People didn't often move around from place to place, and if they did, it wasn't very far. If they stayed in the same location for several generations and the records survived, you can extend your family tree as far back as the records go. And don't worry, if they moved there are ways to discover where they came from.
With dedication and diligence, in most cases, it is possible to trace your family back to their country of origin and extend their lines. It's a wonderful feeling to know more about where you, and your family, came from
We have carefully selected the members of our team at Legacy Tree Genealogists to make sure they each meet our standards for excellence. We'd love to help you with your family history, whether that is finding your immigrant ancestors' origin, uncovering the stories of your ancestors, or using DNA analysis to solve a genealogy "brick wall". Contact us today for a free quote.