Legacy Tree Genealogists' Elyse Hill specializes in African American and Southern States research. In this blog, she provides information about a private savings bank established in 1865 in emancipated communities. In addition to inventory lists included in wills and probate records of enslavers, these bank records can be a valuable source to find an ancestor's name and other information.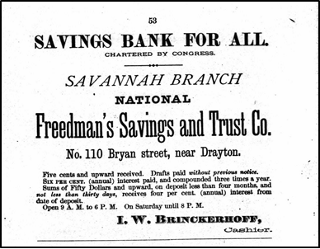 The Freedman's Bank, also known as Freedman's Savings and Trust Company, was established in 1865. The initial goal of the bank was to assist formerly enslaved African Americans to have a safe place to deposit their funds after the Civil War. During a period of time when few documents recorded the identities and relationships of these individuals, the bank records can provide a rich resource for genealogists.
The Freedman's Bank was a private financial entity with no connection to the Freedmen's Bureau. Its headquarters was initially located in New York City and later relocated to Washington, D.C. in 1867.
Between 1865 and 1871, approximately 37 branches opened in major cities in Alabama, Arkansas, District of Columbia, Florida, Georgia, Kentucky, Louisiana, Maryland, Mississippi, Missouri, New York, North Carolina, Pennsylvania, South Carolina, Tennessee, and Virginia.
Deposits exceeded approximately $57 million; unfortunately, the banks closed in 1874 due to numerous reasons such as mismanagement, the Panic of 1873, abuse, and fraud. Some depositors were refunded a small percentage of their account, while others received nothing.
Who Were the Depositors?
Depositors consisted of a variety of individuals whose occupational fields were professional, military, and labor. Most depositors were African American, both formerly enslaved and free persons of color before emancipation.
There was also a substantial number of depositors of other nationalities. Birthplaces included Ireland, Germany, Italy, England, Sweden, and Switzerland. While many of these individuals kept accounts in the New York City branch, many had accounts in various southern states.
Other depositors were social clubs, churches, schools, and social agencies, such as homes for the elderly and orphans.
Where Are These Records Located?
Original records are kept at the National Archives and Records Administration in College Park, Maryland, and some are available on microfilm. These consist of various documents such as letters, passbooks, and loan papers. Ancestry and FamilySearch also provide some online dividend payment records.
The records that provide the most valuable family history information are the Registers of Signatures of Depositors, whose indexes and images are available online at Ancestry and FamilySearch. All names that appear on these registers can be searched.
Information Provided in the Register of Signatures of Depositors
Because these registers served as a form of identification, they usually provide a good amount of information regarding the depositor and their family members.
In addition to the account number and depositor's names, other information can include the place of birth, where the person grew up, residence, occupation and employer's name and location, names of parents, siblings, spouses, and children, and other miscellaneous information as well as the depositor's signature. For formerly enslaved African American depositors, names of former owners and plantations are sometimes provided.
Depositor Information
Below is only a sampling of the type of depositors and information accessible. These records should be available in the search for sources for anyone or any entity, such as a church or club that existed during the years the banks were in existence, especially those who lived in or near a city that had a bank branch.
Boston Fenderson opened his account in 1870 at the Bank's New Bern, North Carolina branch. He was a 37-year-old farmhand residing in New Bern's 5th Ward and was married 14 years to Lydia Hill. Boston was born in Green County, Alabama, to Sam Fenderson and Lettice Blackledge. He last saw his father at the age of 7, when Sam was sold away. Boston also provided the names and ages of his four children, names of several siblings, and signed his register with the letter X.
Mary Ann Thompson was born in Limerick, Ireland, and opened her account in 1873 at the New York City Branch. She was 37 years old, had no occupation, was married to Thomas Carpenter, and resided on Leroy Street. Her parents were Joseph Berry and Harriet Thompson. Mary Ann had lived in the U.S. since the age of 11, and she provided the names of a brother and five children.
The Spirit Creek Baptist Church Building Trust Fund's account was opened in 1873 at the Augusta, Georgia branch. The trustees were Deacon Ben Hammonds, John Ward, Philip Maynor, Daniel M. Horton, William Hampton, Henry Johnson, and Frank J. Beales. A note stated that monies were to be drawn on an order signed by those individuals.
Although the Freedman's Bank was ultimately a business failure, the records the bank generated are valuable. They allow historians and genealogists to piece together identities of African Americans and their family groups, many of whom were just coming out of enslavement into freedom and establishing themselves in the post-Civil War era.
If you have African American family history and need assistance locating information about your ancestors, we can help! We have researchers that can help you overcome brick walls to extend your lineage. Please complete the form on our Get in Touch page to request a free quote, and a member of our Client Solutions Team will reach out to you.