It does not take long delving into the world of genealogy to see that death and high mortality rates were more intimate and frequently encountered facts of life for our ancestors than for us in modern times. Lacking much of the knowledge and technological advancements of later eras rendered even everyday life more dangerous, and learning about disease and its impact on history can provide great insight into our ancestors – their habits, fears, superstitions, diets, religious beliefs, and more.
Most of the time, communicable disease was caught and spread as a result of poor hygiene, unclean environments, and even unsafe food practices. Regular bathing didn't really take hold as a common practice in the Western world until the mid- to late-1800s. Even then, "regular" often meant only once a week, particularly since running water (and hot water) in every home was still decades away. Soap manufacturing for sale in stores happened around the late 19th century. Prior to that era it was just one of the many items that had to be made at home, and was a fairly involved process that was probably low on the priority list when more important things needed to be done. And without modern refrigeration techniques, food spoilage of meat, dairy, and other items could present difficulties and lead to illness as well.
Charles Conyers of Wilson County, Tennessee, was a blacksmith and young father when he died in the national cholera epidemic in August 1849 at the age of 24. His wife, 20-year-old Harriet (Arrington) Conyers had died within the last year as well, and though the exact cause of her death is unknown, the same sickness is not an unreasonable guess. Their one child, an infant boy named James William, was left an orphan to be raised by his maternal grandparents. (In contrast to his own origins, James would go on to marry and father twelve children – all but one of which survived to adulthood and had numerous offspring of their own.) Cholera is contracted through dirty water – a fact which was not known during this period. A poster distributed by the New York Board of Health over a decade earlier linked the disease instead to drinking cold water and unripe fruits and raw vegetables.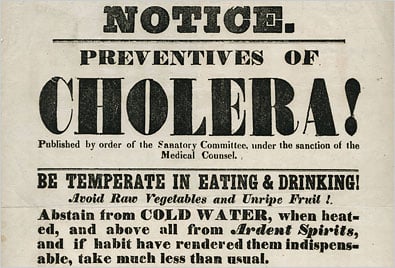 Urban living, especially for the poor, only exacerbated these issues. The poor tenement housing of cities like New York, with thousands of people packed into as small a space as possible, ensured that diseases spread like wildfire purely from close contact. Yellow fever reached epidemic status in Philadelphia in 1793, killing a full 10% of the population of the city. In 1918, the transatlantic movement of ships near the end of the First World War brought the Spanish flu to America. Over the course of two years, this strain infected 1 in 4 Americans and killed as many as 50 million people worldwide.
While the occasional vaccine was invented here and there over the course of two centuries, these were few and far between. Antibiotics to fight even normal bacterial infections and illnesses would not reach the public until the 1940s. Women historically were doubly susceptible. Even if they avoided catching a contagious illness, childbirth brought a whole host of other concerns.
When Mary Kramer gave birth to her third child in 1873, she may have hoped the worst was over when baby Ida came healthy into the world. But as the days wore on, it became clear that all was not well with the mother. She came down with a fever, chills and vomiting, her body's temperature fluctuating wildly as she kept to her bed. The doctors diagnosed her with pyaemia, a form of staph-borne septicemia which, among its more visible symptoms, may have caused the growth of abscesses on Mary's reproductive organs. The infection was no doubt caused by the unsanitary conditions present during labor. Typical for the time without antibiotics, the 23-year-old passed away.
Even as late as the 1930s, infections which would be simply treated in the 21st century still claimed lives, even as other hygienic practices had improved.
Such was the experience with 34-year-old Catherine O'Connell Bodenhorn. A housewife in Fort Wayne, Indiana, Catherine was admitted to the hospital in March 1932 for appendicitis. The operation revealed instead, however, that her fallopian tubes were infected. Whether the inflammation had spread to her reproductive organs from the appendix or whether that had been the cause of her abdominal pain the whole time was not made clear by her death certificate. Either way, there was little means of treating it. She died within 24 hours of entering the hospital, leaving a husband and two young children.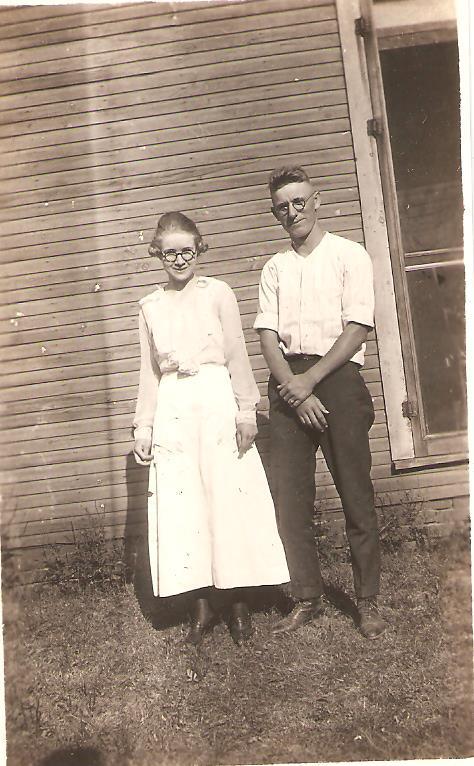 All of these historic factors, combined with the frequent lack of public health knowledge or even scientific understanding of disease, creates little wonder that our ancestors' lives prior to the mid-20th century were fraught with such frequent and, in many instances, tragically preventable peril. Death and disease are but two of the many clues we as genealogists can use to write the stories of our ancestors' lives and to understand the societies in which they lived. Knowing the cause of death for as many of your progenitors as possible can also serve a more immediate function, informing you of genetic risks you may have inherited. Perhaps cancer, diabetes, heart disease, or some other condition runs in your family. The earlier you know of the possibility, the better your ability to make proactive choices for your own health.
Cause of death can be found in a number of documents generally accessible to genealogists and historians. Be sure to check for death certificates or county death registries, newspapers, family Bibles, mortality schedules, and even church records, which will frequently list such information. Many of these are available online at major genealogy sites like MyHeritage, Ancestry, or FamilySearch. Others can be obtained on microfilm from the Family History Library, viewed on other sites, requested from local libraries, or ordered from archives and government facilities.
If you're curious about the causes of death of your ancestors, or what various epidemics may have affected the area(s) they lived in during the time they lived there, the experts at Legacy Tree Genealogists have expertise and access to necessary records to help you learn more. Contact us today for a free consultation.
Genealogical References:
Tennessee, State Marriages, 1780-2002 (index and images), marriage of Charles Conyers and Harriet L. Arrington, 23 December 1847, Wilson County, http://ancestry.com, subscription database, accessed March 2017.
U.S. Federal Census Mortality Schedules, 1850, Civil District 24, Wilson County, Tennessee, p. 903, Charles Conyers, http://ancestry.com, subscription database, accessed March 2017.
1850 U.S. Census (population schedule), District 5, Wilson County, Tennessee, sheet 356A, James Conyers in James Arrington household, http://ancestry.com, subscription database, accessed March 2017.
Indiana, Death Certificates, 1899-2011 (index and images), death certificate of Mrs. Catherine Frances Bodenhorn, 2 March 1932, Fort Wayne, Allen County, http://ancestry.com, subscription database, accessed March 2017.
Deaths, 1870-1881 (register), Mary Kramer, died 26 September 1873, Allen County Genealogical Society of Indiana, http://acgsi.org, accessed March 2017.
General References:
"Bathing," Wikipedia: the Free Encyclopedia, http://en.wikipedia.org, accessed March 2017.
Maureen A. Taylor, "Major U.S. Epidemics," 9 November 2009, Family Tree Magazine, http://familytreemagazine.com, accessed March 2017.
Molly Billings, "The Influenza Pandemic of 1918," Human Virology at Stanford University, http://virus.stanford.edu, accessed March 2017.
"1918 Flu Pandemic," History Channel, A&E Networks, http://history.com, accessed March 2017.
Every Woman's Encyclopaedia, "Common Ailments and Their Treatment," vol. 4 (London: [s.n.], 1910-1912), http://chestofbooks.com, accessed March 2017.