Doing genealogy often means piecing together scraps of information from various compiled family stories and documents to reconstruct our family history. Sound genealogical research demands that we, as researchers, place each fact into proper context and evaluate each piece in light of the whole picture. This valuable gathering of facts and supporting them through documentation can be side-railed if we allow common genealogical myths to dictate our research conclusions.
myth /miTH/
During our first steps as the family genealogist, we can be led astray by genealogical myths that color our interpretation of the facts and information we gather. At first, it may be hard to recognize the lore in a story that has been passed down. However, as we expand our education and hone our skills as family historians, we can learn to separate fact from fiction.
This post discusses common genealogical myths that make the rounds in genealogical discussions worldwide. As genealogists practicing sound research methodology, we should look beyond any of these statements and evaluate the information conveyed. Task yourself by proving (or disproving) the family story through more than one source.
Often, we hear the following by well-meaning family members, and sometimes by fellow family history seekers.  Let's take a closer look at three "infamous" statements. How many of you can relate to hearing these during the course of your research?
MYTH:  The "correct" spelling of our surname is…
MYTH:  The records were destroyed in the War (or a fire).
And the most famous of them all…
MYTH:  Our name was changed at Ellis Island.
Here is some food for thought regarding these particular myths while you do your due diligence and exhaustive research.
Spelling, Grammar and Literacy – Researchers need to understand the common social and economic factors of a community, and their impact on any particular family within that locality. Education standards and language standardization are fairly modern concepts. Researchers need to remove these modern expectations from their analysis when researching.[1] Seek out historical analysis on literacy for the time period and geographic location you are researching. Also, do not overlook surnames that are spelled slightly different but may have been pronounced similarly in the same area and timeframe of research—they may prove to be the key.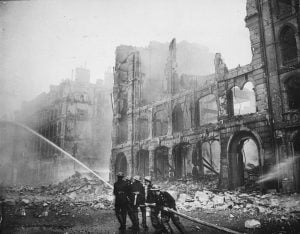 Records Loss – The fact that records have been lost over time due to neglect, fire, or war cannot be disputed. However, anyone who encounters this statement should examine the context in relation to the records being sought. Confirmation of the event's correlation to the time period for the records is critical. There is no need to worry about a fire in 1890 if you're seeking an 1898 record, for example. Another aspect especially important for European research can be the impact of wartime activity in ancestral towns. It is certainly possible that some records were lost or moved elsewhere because of a war, but we should avoid assuming all records were destroyed. Exploring archival inventories and assembling a master list of records in the area is an important step all researchers should take to confirm or refute this statement before assuming that it applies in every instance.
Name Changes at Ellis Island – This particular myth ranks as one of the most popular that genealogists encounter. And it is totally untrue.[2] While we may be lured into believing this falsehood by its prevalence in Hollywood movies (such as in "The Godfather, Part 2"), in truth our ancestor's travel documents, including passenger manifests, were created prior to their departure from Europe. The duty of the immigrant inspection station clerk was to verify the information with the traveler upon arrival with the assistance of numerous translators available during the processing of immigrant arrivals. Most name changes were actually made later by the immigrants themselves or their descendants, in order to fit into their new culture.
Genealogical Detective Work
As you compile your family's history, look to create the most complete picture of your ancestor's lives through the gathering of multiple documents, social history, and more. Do not conduct research using only a narrow view of the types of records or the information contained within, or you might overlook valuable familial connections or records. Build your arsenal of documents or sources to support your family's history. And just because you heard it from someone else or read it in print, that does not necessarily make it true.
Need help with your family history research? Uncertain how to negotiate fact from fiction? Contact Legacy Tree today for a free consultation! 
[1] Val D.Greenwood, The Researcher's Guide to American Genealogy, (Baltimore, MD: Genealogical Publishing Company, 2000), page 32.
[2] Schelly Talalay Dardashti, "Ellis Island: Was your name changed?," MyHeritage Blog, https://blog.myheritage.com/2017/11/ellis-island-was-your-name-changed/, accessed February 2018.