The Family History Library in Salt Lake City, Utah is a great place to start when conducting Chinese genealogy research!
The Chinese genealogical records found at the Family History Library (located in Salt Lake City, Utah, USA), feature treasures for all people who are interested in researching Chinese ancestry. With millions of microfilmed records from various areas and time periods in China, one single Chinese name can open up a world of rich content. Stories of ancestors may lead to books, biographies, genealogies, and even maps of ancestral hometowns.
Getting Started
There are many reasons to take the plunge into Chinese genealogy, and if you live in the United States, the Family History Library (FHL) should be at the top of your list as a place to start your research efforts. Whether you are an American Born Chinese (ABC) hoping to learn more about your family history and your Chinese ancestors' immigration, or simply a genealogist who wants to learn more about Chinese record keeping, the resources available at the Family History Library are sure to help.
Visiting the Family History Library
The Family History Library has been a source for Chinese genealogical assistance since the 1980s. It includes the largest collection of genealogical records in the world, so while it is natural to feel a little overwhelmed at first, with a little time you will find that the layout of the library is well-managed and easy to navigate, and the volunteers and employees there are happy to help you get started.
Walking into the Family History Library, you are immediately greeted by a diverse and knowledgeable volunteer force. The Chinese collection is located just a floor away, one level below the entrance.
Chinese Genealogy Records at the Family History Library
When thinking of Chinese records, the Family History Library may not have been the first place that came to mind, but for anyone interested in Chinese genealogical resources, it is an excellent place to begin. In fact, if you are planning a trip to China, you will certainly want to dive into these records first to see if family names are connected to locations so that you can visit those places when you go.
Particularly interesting collections at the Family History Library include: The China Vital Records Index, clan records, gazetteers, records of officials, family histories, and The China Collection of Genealogies.
Records produced in China contain genealogical information such as family names 姓, locations and migrations 地方志, biographies 傳, appointments to government office 政府, education levels achieved, and even relationships to inclusive clan lineages 氏. The Family History Library's collections are full of such details.
5 Tips for Overcoming the Chinese Language Barrier
Perhaps you haven't attempted to work on your Chinese genealogy because you don't speak, read, or write Chinese. Maybe you have English spellings for names and places, but are uncertain what the Chinese equivalents for those places are. Maybe you know your ancestors were from China but you don't even have names or places.
Whether you are doing your own family research or helping a friend research their family line, if a visit to the Family History Library will be your first exposure to the Chinese language, it is not uncommon to find yourself feeling overwhelmed at the thought of learning a new language. Here are some tips to help you overcome the language barrier:
You don't have to learn the whole language.

 Learning just a handful of Chinese characters will be enough to empower you to search the Family History Library's records for names and locations. You don't need to know the whole language. For example, the word for Chinese characters is "漢字" and is pronounced Hanzi (No matter how you say it, you will be close enough to be understood by the people at the library). The second half of the word is "字", this is the word for "word." As you learn more, you will feel more confident. Can you see the "子" character in "字"? 子 is the word for "son".
New words will build off of the words you already know. Now that you know the word for son (子), you can move onto words like, "女" the word for "woman." For example, "好" is the word for "good." Family relationships are written very clearly in most Chinese genealogies. Looking for these two characters (for 'woman' and 'son') in the records can help you quickly identify names of ancestors.

Look for simple characters within more complex characters.

After you have learned a character or two, you can expand your vocabulary by looking for simple characters within more complex characters, thinking about which words will be most useful in your research. If you have a book written in Chinese, take it into the library and ask for help identifying names and places.
Many family names and location names can be found by searching with romanized spellings of Chinese words. Remember, finding someone at the Family History Library to help you learn what the spelling for "北京" (Beijing) is will take very little effort. With this knowledge you will be able to start using many of the records organized by location.

Identify which characters will be most relevant for your family history research

. As you continue to add to your knowledge, you will be able to better identify personal records or documents. The characters 氏 "shi" and 姓 "xing" will be invaluable words to know. 族谱 "zupu" and 地方志 "difangzhi" are also essential words to understand.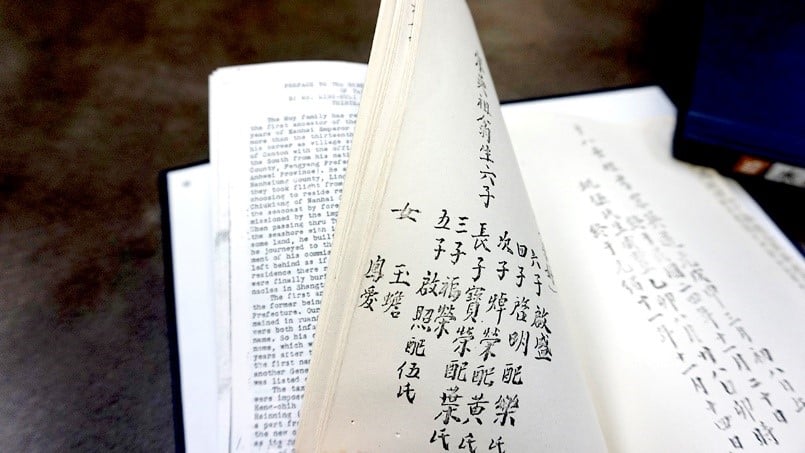 Online Resources for Chinese Genealogy Research
Online translation resources like Google Translate can open up a world of characters for you without requiring you to know all the ins and outs of the Chinese language. The most popular translation programs will even show you the spelling for these words so you can type them into your computer using English.
In addition to the resources available at the Family History Library, many documents are available online through FamilySearch.org's collection of Chinese genealogy. Searching FamilySearch's database and wiki articles will also lead you to a list of common surnames with their English spelling, which can be helpful.
If you have Chinese ancestry it is likely that at some point your research will need to be conducted onsite in China, but the Family History Library can give you an excellent head start and help you lay the foundation for future research efforts.
If you have Chinese ancestry, our team of professional genealogists can help you learn more about your heritage. With our headquarters located only blocks from the Family History Library, we have access to the extensive record collections housed there, or, if onsite research is necessary, one of our onsite genealogists in China can conduct further research. Contact us today to discuss your research goals!