This article is part one in a series evaluating the different admixture tools available from the main DNA testing companies – MyHeritage, 23andMe, Family Tree DNA, and Ancestry. What can we glean from ethnicity estimates from each company?
We've all heard the warnings: take DNA admixture predictions with a huge lump of salt. But can those ethnicity estimates provided with an autosomal DNA test still yield some valuable clues? The tools available at testing company 23andMe include some unique features that provide broad context and may point us in a new direction.
Accessing Your Ethnicity Estimate at 23andMe
To access your admixture estimates at 23andMe, look under the Ancestry menu for "Ancestry Composition." That link will take you to a display of your predicted biogeographical origins in a table of percentages, determined by comparing areas of your chromosomal DNA to reference populations. The groups in the table are color coded to a map, as seen in the example below.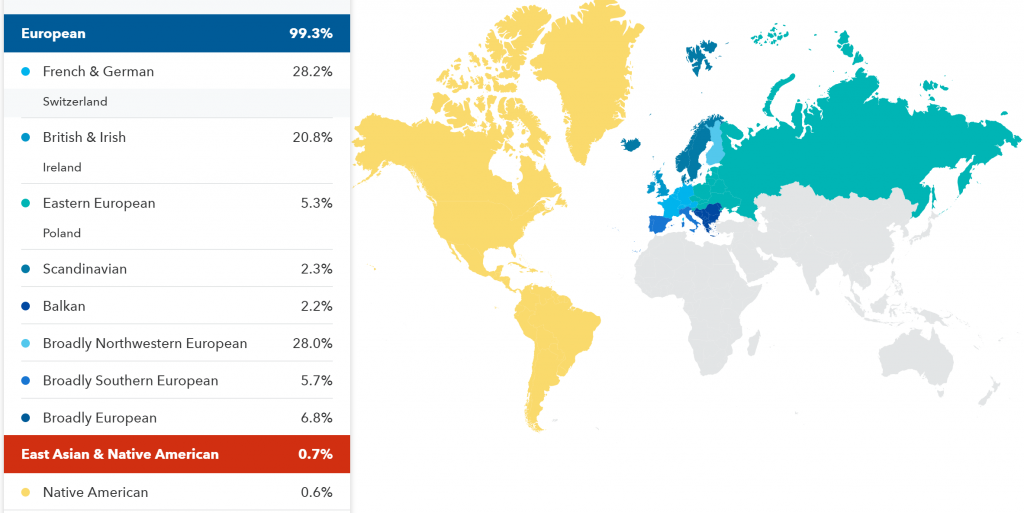 Note that the three estimates with the highest percentages also specify particular areas within their regions: Switzerland, Ireland, and Poland. This feature is termed "Recent Ancestor Locations" and is further explained on another page we will explore.
Understanding Your Ancestry Timeline from 23andMe
Below this table and map is a display entitled "Your Ancestry Timeline." This plots your ancestors on a timeline to give you an idea of how many generations ago your most recent ancestor from a population may have lived. It refers to when you had a single relative who descended from a single population, or put another way, how far back you would need to go to find the most recent ancestor who was 100% of that heritage. Each of us inherits 50% of our DNA from each parent, about 25% from each grandparent, and about half again for each additional generation. If you have approximately 12% admixture from a unique or isolated ethnic region, it could indicate that you have a single great-grandparent from that ethnic region. Alternatively, you could have several more distant ancestors from different ancestral lines (perhaps two second great grandparents or four third great grandparents) who came from that region. If you rest your cursor on the population's colored bar, a pop-up will tell you what range of grandparent you can expect this ancestor to be, as well as the span of years during which they were most likely born. You can then look in your tree for ancestors from the corresponding time frame to identify candidates from whom the ancestry may have been inherited. For more on how the timeline is determined, see the company's white paper, "Ancestry Timeline."[i]

Continuing further down the page, you have the option of seeing what ancestry you inherited from which parent. This assumes you have the benefit of having tested one or both parents. You would first need to "connect" with your parent(s) through either the Share and Compare tool or the DNA Relatives tool. Once you have connected your results to those of one or both of your parents, 23andMe will separate your ethnicity admixture percentages into paternal and maternal categories. This process may lead to an update in your ethnicity percentage estimates.
In the next section, you can view a circle graph of the biogeographical ancestry of other testers to whom you have connected. Keep in mind they may not be genetically related to you, such as a spouse whose test results you manage.
Using the Chromosome Painting Tool at 23andMe
Near the bottom of the page is one of the most useful features of 23andMe's Ancestry Composition report, "Chromosome Painting." Each of your 22 pairs of autosomal chromosomes is represented by two bars. In addition, if you are a female, the 23rd pair represents your two X chromosomes, whereas if you are a male, the 23rd pair has only one active X chromosome bar, since your other sex chromosome is a Y chromosome, not an X. The table to the left of the chromosomes is a reiteration of the table associated with the map above. The colors on the chromosome bars coordinate with the populations summarized in the table. By default, the confidence level of this representation is speculative at 50% (the minimum required to report an ethnicity). You can adjust the confidence level in increments of 10% up to as high as 90% (conservative). The higher the confidence level, the less detailed the breakdown, but the surer you can be about the predictions. Here is a portion of the chromosome painting which corresponds to the biogeographical estimates for the test we are reviewing.
It is important to understand that, although you receive one chromosome from your mother and one from your father, scientists cannot tell which chromosome of the pair is from the maternal source and which is paternal. Likewise, they also cannot say that all of the chromosomes represented as the top of each pair are from one parent and all chromosomes at the bottom of each pair are from the other (whichever parent that may be). It cannot be determined with current science. Finally, it is important to note that even within a given chromosome pair illustration, we cannot assume that the entire ethnic admixture shown on one member of the pair came from a single parent. Representation of a maternal ethnicity might jump back and forth between the top and bottom chromosome of each pair, though connecting your results to those of a parent as described above might help to sort out which ethnic contributions come from which parent.
A great feature of this tool is that you can rest your cursor on a particular population in the table and be shown only the corresponding areas in the chromosomes. This makes it easier to visualize, for example, what proportion of your DNA is associated with a particular heritage. More importantly, you can see ethnicities which are found on both members of a given pair and are, therefore, likely present in both of your parents' heritage. Similarly, you can also see which ethnicities might have only one parent as their source. In the examples below, French and German appear to be strongly represented through both parents, while Eastern European may have originated from just one.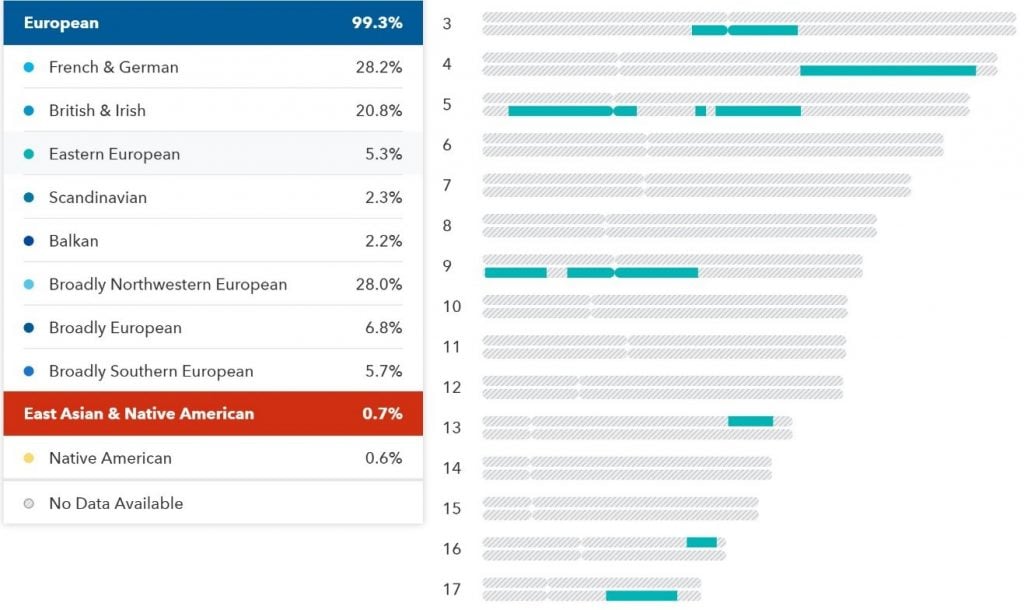 How is My Ancestral Breakdown Calculated?
At the very bottom of the page is a link to "View Scientific Details." This page explains in general how your ancestral breakdown is calculated across 31 reference populations and also how your "Recent Ancestral Locations" are determined from over 120 countries and territories. The results across all 151 evaluated populations are summarized in a table with an indication of match strength. Here is where we see the sub-regions mentioned earlier in conjunction with the map's table of percentages with Switzerland, Ireland, and Poland being the most significant for this tester. For more on how these Recent Ancestor Locations are determined, see the FAQ "Why did my Recent Ancestor Locations change?" and choose the link to Read More.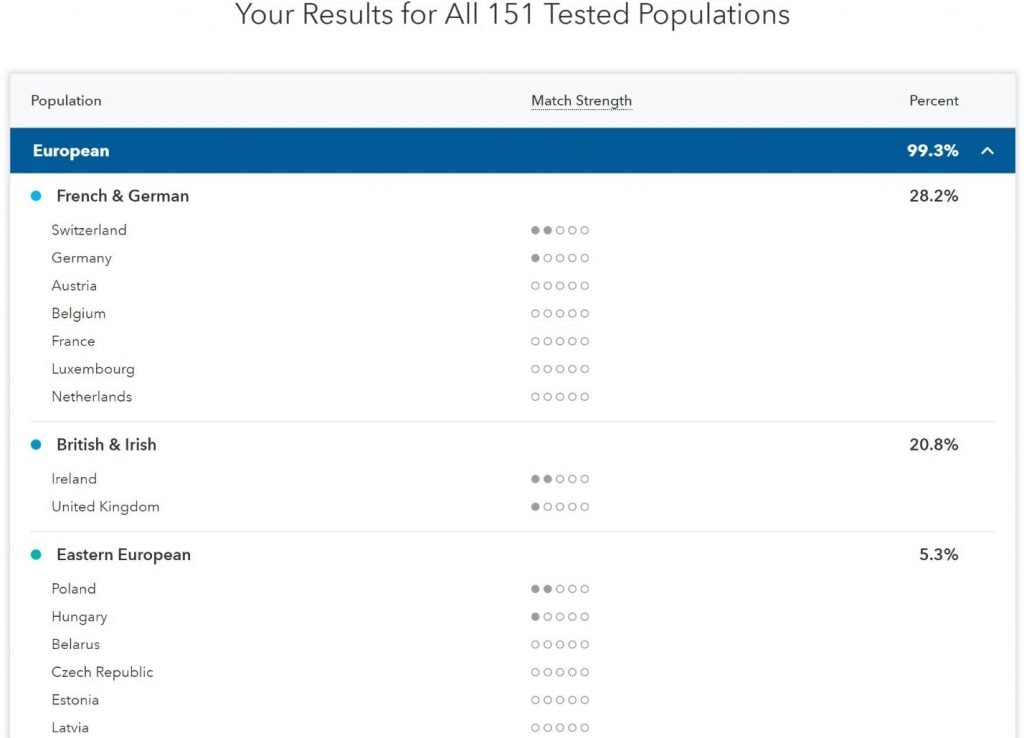 From the Scientific details page, you can also download a spreadsheet of the start and stop locations and segment data for each reported ethnic region. These can be used in comparison to other chromosome mapping strategies to determine which ancestors might be the source of specific ethnicity results.
Using Ethnicity Estimates to Aid in Genealogical Research
Sometimes, even though you can't tell from the results alone which ethnicities are maternal and which are paternal, you can still make some deductions about which populations do not originate on the same side. It's similar to working a complex logic puzzle. Here is a very different example of a tester's chromosome painting.
What can we conclude from ethnicity estimates that might help in our genealogical research? It should be acknowledged that some of the estimates used here are trace levels and may be false positives, but the principles illustrated can still be applied to other results.
First, comparing the Korean DNA with the European segment on chromosome 6 tells us these ethnicities are from different parents.
Similarly, comparing the European segment on chromosome 1 above with the Manchurian and Mongolian segment there and comparing Manchurian and Mongolian segments on chromosome 14 with the Western Asian segment there reveals they are also from different parents.
Examining the X chromosome pair below might lead us to conclude that its European segment comes from one parent while the South Asian comes from the other. But keep in mind, as we mentioned earlier, that representation of a maternal ethnicity might jump back and forth between the top and bottom chromosome of a pair. The only time we can be confident of distinct origins is if the segments are overlapping opposites. Two segments on opposite members cannot be from the same parent if they overlap and, at least in part, occupy the same position on the two members of a pair.
Taking all the above analysis into consideration, if we make the speculative assumption that the tester's European DNA comes in its entirety from one parent, and given that we also concluded that the Manchurian and Mongolian DNA and the Western Asian DNA are from different sides, these deductions result in the following profile for this tester's heritage:
| | |
| --- | --- |
| Side A | Side B |
| Chinese | Chinese |
| Korean | |
| Manchurian & Mongolian | |
| | European |
| | Western Asian |
| South Asian OR | South Asian |
For more about the science behind 23andMe's Ancestry Composition tools, see their publication, "Ancestry Composition: A Novel, Efficient Pipeline for Ancestry Deconvolution."[ii] Although there are certainly significant limitations to the reliability of biogeographical predictions, the deductions we can make from Ancestry Composition can give us a working hypothesis to prove or disprove and can give direction to our research.
Legacy Tree Genealogists has been at the forefront of genetic genealogy research services for over a decade. Our team of experts have solved hundreds of DNA-related cases, and can help you solve your DNA puzzles! Contact us today for a free quote.
[i] https://permalinks.23andme.com/pdf/23-14_admixture_date_estimator.pdf
[ii] https://www.biorxiv.org/content/biorxiv/early/2014/10/18/010512.full.pdf